Blog Insights

Social Media – Part 2: Natural Disasters
Another day, another aftershock.
These ongoing trembles are a nagging reminder of the terrifying April 2015 Nepal earthquake that occurred this spring, killing over 8,000 people and injuring more than 19,000. The quake flattened entire villages and decimated historical relics, and it created numerous avalanches on Mt. Everest, which killed scores more, officially earning it the title of "most deadly day ever recorded" in Mt. Everest's history. As the death toll steadily rose across much of Kathmandu and Nepal following the April 2015 earthquake, survivors tapped into social media as a way to organize themselves and immediately communicate their safety to concerned loved ones. Social media's role was critical not only in relaying information, but also in empowering those affected to use social channels to create instant neighborhoods, help locate survivors, and funnel critically needed resources and communities of other survivors.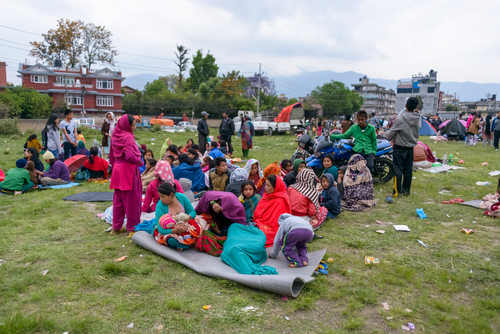 Communication via Social Media – A Lifeline to the Outside World
Technology has quickly become a powerful tool during natural disasters, by offering an information lifeline to people who might otherwise not be able to reach their loved ones through traditional means (via phone or media networks, etc.). Its importance is so necessary, in fact, that the Red Cross states that access to information technology is now as critical as access to food and water.
The instant community aspect that social media offers was seen in China in 2008 after thousands of volunteers showed up to help victims of a giant earthquake in Sichuan Province; it was seen again during the 2010 Haiti earthquake. And few will forget the March 2011 earthquake in Japan, which resulted in a powerful tsunami that decimated the region, killed more than 18,000 – mostly from drowning – and led to the Fukushima nuclear disaster. In the aftermath of that disaster, Twitter, Facebook and other social networking sites proved to be the easiest way for survivors to reach out to relatives, and for people around the world to share information with those in badly hit areas. The U.S. State Department even published emergency numbers on Twitter, and Skype became the only reliable phone service since so many mobile phone networks were unable to handle the influx of people trying to call and text simultaneously.
Google Person Finder as a Vital Tool
Immediately following the quake in Japan, Google launched a Japanese-language "Google Person Finder" to serve users in affected regions throughout the country. Person Finder acts as a directory and message board so people can look for lost loved ones or post a note saying they are safe. It is designed to be embedded on websites and social network pages to reach as wide an audience as possible. It also raised awareness of how critical the disaster really was, which helped to mobilize volunteer efforts throughout the region: According to Prem Ramaswami, Google Project Manager with the Person Finder project:
"There [are] so many people out there that want to contribute and help out. This isn't an area where you want to compete, this is an area where everyone should have the same database and be working together, so we try to make that as easy as possible."
Person Finder is now live in Nepal and is actively tracking more than 4,200 records of people affected by that quake. Facebook followed suit last fall with "Safety Check", an online Facebook app which offers almost identical functionality but works solely via the Facebook platform.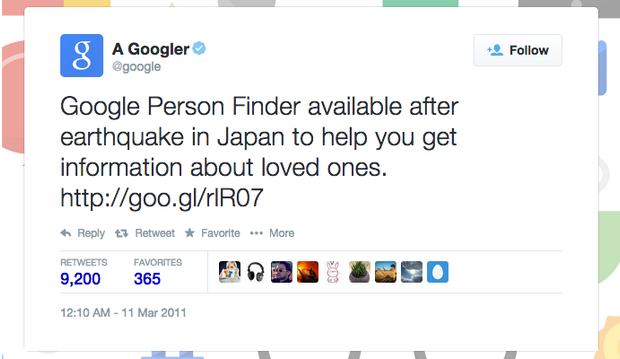 The Outside World: Turning Tragedy into Philanthropic Giving
Beyond helping victims in the aftermath of disasters, social media has been instrumental in giving people across the globe access to images and stories from those affected.
"Social media enables response organizations to quickly push information to the public — something that has not been possible on such a wide scale until recently," Rep. Susan Brooks, R-Ind., chair-woman of the House subcommittee on emergency preparedness, response and communications.
In Nepal, the near instantaneous ability to upload accounts of the earthquake, videos of the Everest avalanche, and images of the destruction on Twitter has helped the world see the scope of the damage. China, in particular, is following the earthquake via Weibo and Weixin (similar to Twitter and WhatsApp).  With over 100,000 Chinese tourists a year, many Chinese people who are in Nepal are sharing their first-hand stories, which have engaged the Chinese public. It also allows organizations like GlobalGiving to help raise funds for disaster relief. GlobalGiving has already raised over $3.1M towards a $5M goal in a matter of two months. Other organizations have followed a similar trajectory, with The Red Cross pledging over $1,000,000 in the wake of the disaster.
Scams Related to Disasters
Social media amplifies everything, regardless of whether it is used to promote good or to cause harm. In the wake of the Nepal earthquake, according to one outlet, numerous online donation sites have been created by con artists, who use scam donation "asks" to collect banking information from ill-informed users, pocketing their donations. Others are created by well-meaning people or groups. They may intend to do good with the donations, but they lack the infrastructure of an established charity. Still others are "click bait" designed to create a large number of followers that can later be sold to a new page owner. In the end, however, social media channels are increasingly seen as critical players in disaster preparedness and response. Now more than ever, immediate, real-time information about events can provide greater situational awareness, leading to better decision making before, during, and after a catastrophic event.
Feature Photo Credit: Dutourdumonde Photography
This blog post is a continuation of our online series: The Impact of Social Media Around the World. Check out our last post!