AI's Place in the Mission-Driven Sector: Panel Summary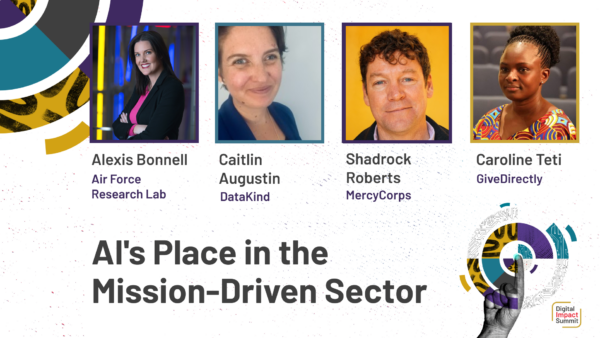 While everyone from Fortune 500 companies to educators are grappling with the potential—and potential pitfalls—of advanced AI, we were pleased to bring together an expert panel of practitioners in the government and nonprofit space to discuss the real-world applications of AI in their work.
This Digital Impact Summit 2023 session could not be recorded, but we've compiled key insights from each panelist, as well as their relevant background and related resources, to help continue the conversation started at the Summit.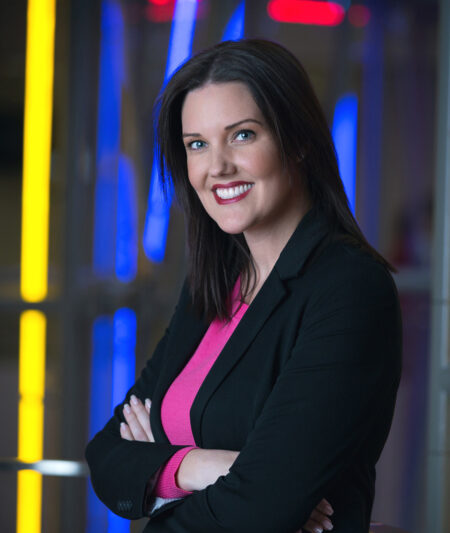 Alexis Bonnell
Alexis Bonnell is the Chief Information Officer and Director of the Digital Capabilities Directorate of the Air Force Research Laboratory. Her focus includes catalyzing the discovery, development, and integration of warfighting technologies for air, space, and cyberspace forces via digital capabilities, IT infrastructure and technological innovation across the lab's operations and culture.
Prior to her current position, she was the Emerging Technology Evangelist at Google, driving the use of emerging technologies such as Artificial Intelligence, cyber security/zero trust, API First, Big Data, Cloud Computing, and others to drive efficiency and innovation within government organizations. Bonnell co-founded the Global Development Lab, the premier innovation lab of the United States Agency for International Development (USAID).
Panel insights
Serving as moderator and panelist, Alexis highlighted the current and prospective uses of advanced AI, including tackling problems of information overload.
She noted that the vast majority of information resources–reports, white papers, briefings and more—in the international development space are never read by more than three people. AI has the power to sift through organizations' own information and processes and reduce the time needed for repetitive and inefficient processes. Reducing the time involved in procurement, report writing, analysis, and more could free up space for innovation.
Unlocking the relationship between data sources, she said, should fundamentally change what we do and what we know about the people we serve.
Relevant resources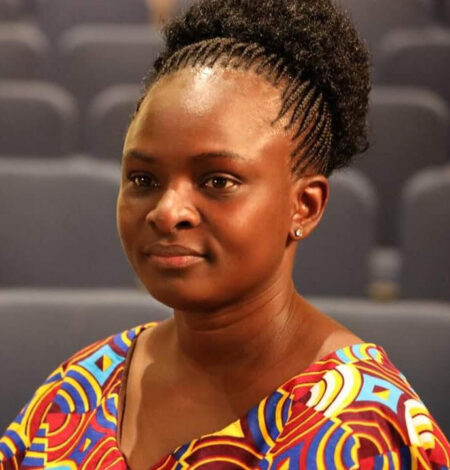 Caroline Teti
Caroline Teti is a social scientist trained in Development Communications, Gender, and Human Rights. She has 20 years experience working for non-profits in Africa in program design, implementation and advocacy. In her role at GiveDirectly, Caroline and her team explore lead on internal accountability for recipients safety and protection and the representation of their voices in relation to their interaction with unconditional cash.
As a public speaker and advocate, she represents GiveDirectly in multiple forums and publications discussing diverse issues associated with unconditional cash and Risk mitigation. Before GiveDirectly, Caroline worked for non-profits in East Africa and Europe and for the government of Kenya in various capacities. Caroline's portfolio currently covers 10 countries in Africa as well as US and Humanitarian programs. In prior roles she worked in Gender and Human Rights, Parliamentary advocacy, HIV/AIDS and Reproductive Health, NTDs, water and sanitation, and Microfinance.
Panel insights
Caroline emphasized that we cannot run away from the reality of how fast poverty is affecting the world. We need to have solutions that can help us move fast to help impacted people.
The anticipatory and predictive capabilities of AI can allow us to get ahead of crises. She cited the capabilities of GiveDirectly to use historical weather patterns and documented experiences of communities suffering the effects of cyclones in Mozambique as an example of how analysis in advance could allow aid partners to pre-position funds and other solutions for communities and individuals who are likely to be in crisis.
Caroline emphasized that big data generated by AI and machine learning is available across sectors. We need more cross-sector collaboration, she noted, because crises in health or humanitarian or education sectors are affecting the same humans.
Fundamentally, she stressed that those in the nonprofit and public service space should not lose sight their purpose in pursuit of AI or other technology. "Let's not do AI to make our organizations look good. There are 700 million people who are waiting on us to offer solutions to make their lives better."
Relevant resources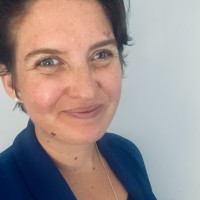 Caitlin Augustin
Vice President of Product and Programs, DataKind
At DataKind, a global nonprofit that harnesses the power of data science and AI in the service of humanity. Caitlin is responsible for delivering DataKind's core offerings, ensuring that high-quality, impactful data science interventions are delivered within the social sector.
Prior to DataKind, Caitlin worked as a research scientist at a digital education company and as an engineering professor at NYU. A lifelong volunteer, she is a tutor with the Adult Literacy League and a leader of a community civic tech meetup.
Panel insights
AI is just one tool in a toolbox, Caitlin noted. It's a way of using data and technology to solve problems a little bit faster.
Generative AI is a new class of tools and models that have become accessible in the last six to nine months. The social impact space now has a big opportunity to democratize tools that are low-code or no-code, making access to tools possible that were once technologically prohibitive.
DataKind works with organizations like MercyCorps and GiveDirectly to build the tools that help programmatic teams do work more effectively, and explore ways to link vast amounts of data sets that were previously disconnected, effectively hidden within organizations or within sectors, that can be of significant use and provide powerful insights across sectors.
Caitlin stressed that tools mean nothing without understanding the end use. In any build, you have to understand how it will be used.
Relevant resources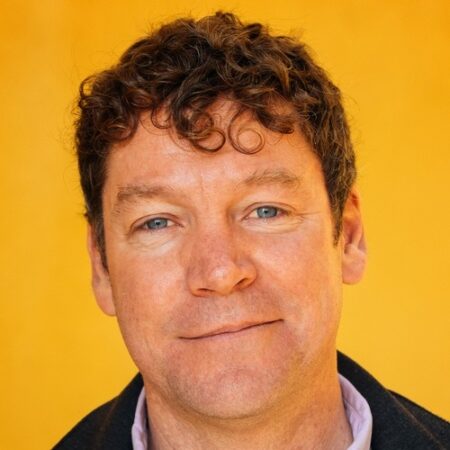 Shadrock Roberts
Director of Global Data Protection and Privacy, Mercy Corps
Shadrock is a geographer, data analyst, and strategist with more than 15 years of experience in the humanitarian sector. He combines extensive experience implementing technology in complex environments, applied research, and software program management and his career has touched every point of the data lifecycle across a range of organizations in multiple countries and regulatory landscapes. He is a co-founder of USAID's GeoCenter, where he established legal and technical workflows for community generated data and has worked on humanitarian AI projects since 2018.
Shadrock is committed to ethical and practical use of technology and helping organizations build their capacity to ensure "no harm." Shadrock currently serves as the Director of Global Data Protection and Privacy at Mercy Corps. He understands that data are never neutral and that technological advancement without change management is not a very good way to spend your time.
Panel insights
Shadrock noted that AI has become relevant now because the capabilities have vastly improved. Individuals and organizations within the humanitarian space began efforts years ago to harness data and interactive models to respond to needs, but accuracy and relevance weren't good enough: they are now.
He cautioned that all practitioners need to examine bias and intentionality. While there is greater awareness of bias, we still need to work on tools and practices that test our hypotheses of "success" and truly include the needs of end users.
On intention and purpose, if AI saves time in report writing, but if the reports aren't of greater value—if they still go unread—then AI hasn't helped. A more compelling pursuit is to change the institutions and systems that require inefficient information sharing.
Relevant resources
This Digital Impact Summit panel took place on October 19, 2023. Learn about all the sessions and panel discussions at digitalimpactsummit.live.