Blog Insights

A Collaborative, Inclusive Approach to Brand-Building
Building or updating a brand, and doing it well, requires the input and deep engagement of people and stakeholders across an organization. Having recently relaunched the Forum One brand, we'd love to provide an inside look into how a collaborative and inclusive approach guided us toward an updated brand that truly demonstrates our commitment to creating impact in the world.
It's been 25 years since Jim Cashel and Dave Witzel began Forum One. Founded on the idea that the internet could bring people together to collaboratively solve the world's most pressing challenges, collaboration and teamwork are in our DNA. Striving for impact is in our nature, so it was the most logical place to start when building our new brand.
Rethinking how we package impact
If you're not having an impact, everything else is just noise.

— Jim Cashel, Forum One founder
Pulling in insight from folks throughout the organization, we defined what makes us different and how we help the organizations we partner with truly achieve—and measure—impact. It starts with understanding the challenge or issue at hand, who it affects, and taking a human-centered approach to designing a solution for that challenge. This led us to our tagline and brand promise:
Forum One amplifies the impact of mission-driven organizations through transformational digital solutions.
Through iterative brainstorming sessions, we built content that would help us convey this sentiment, ensuring that we took into consideration the needs of our audiences; diversity, equity, and inclusion; and our colleagues' aspirations for the future of Forum One.
Visualizing impact through a flexible brand system
Updating our logo was a big decision, just as it is for any organization embarking on a rebrand. It was important to retain visual aspects that resonate with our audiences while seeking to create an anchor visual that best embodies our brand today, and positions us for growth.
We made the decision early in the process that a new logo could better represent who we are today.
With our messaging in hand, our visual branding team began brainstorming, sketching, and refining visual directions. We approached the review and refinement process just as we would for our clients, bringing in company stakeholders at key stages for review and discussion.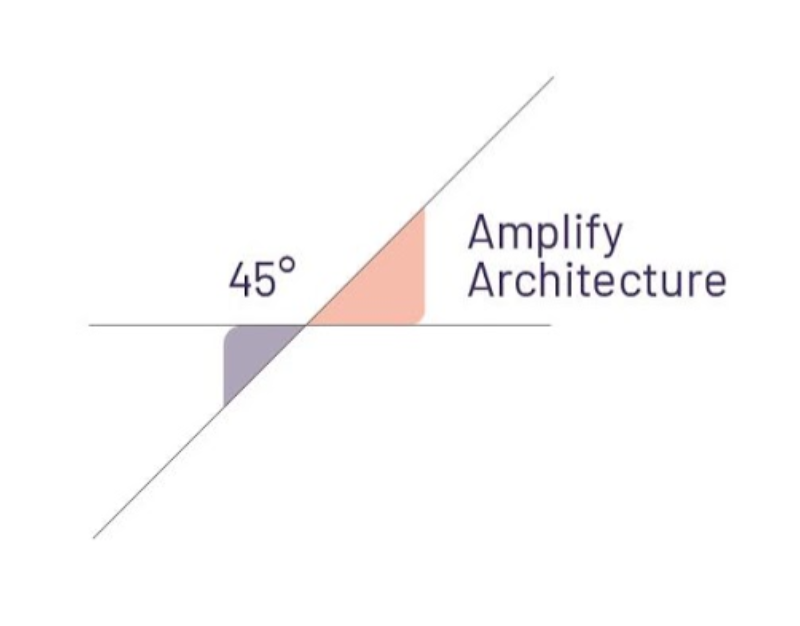 Our brand visual system is built on the shape of our logo, which we call the amplify icon. The shape is derived from a system of lines and rounded edges which visualize the process of turning ideas into impact.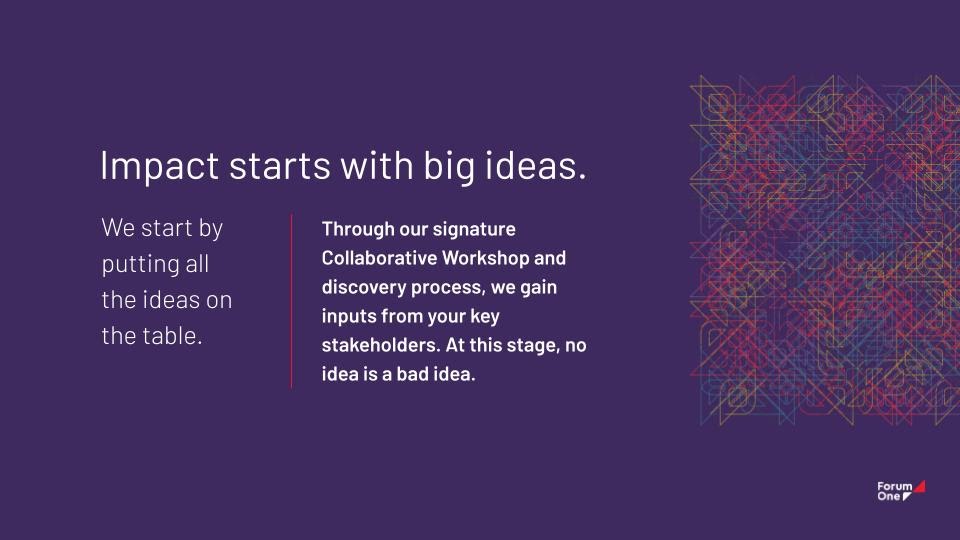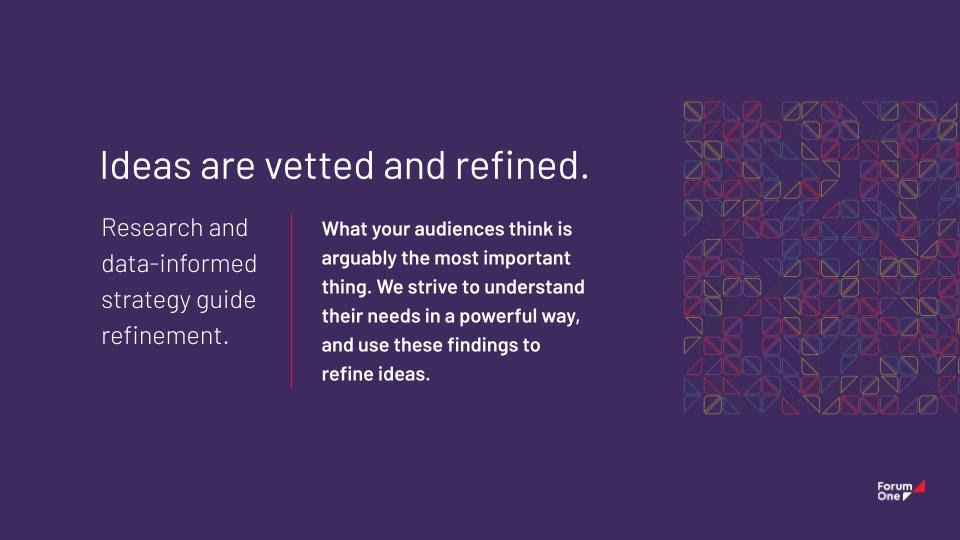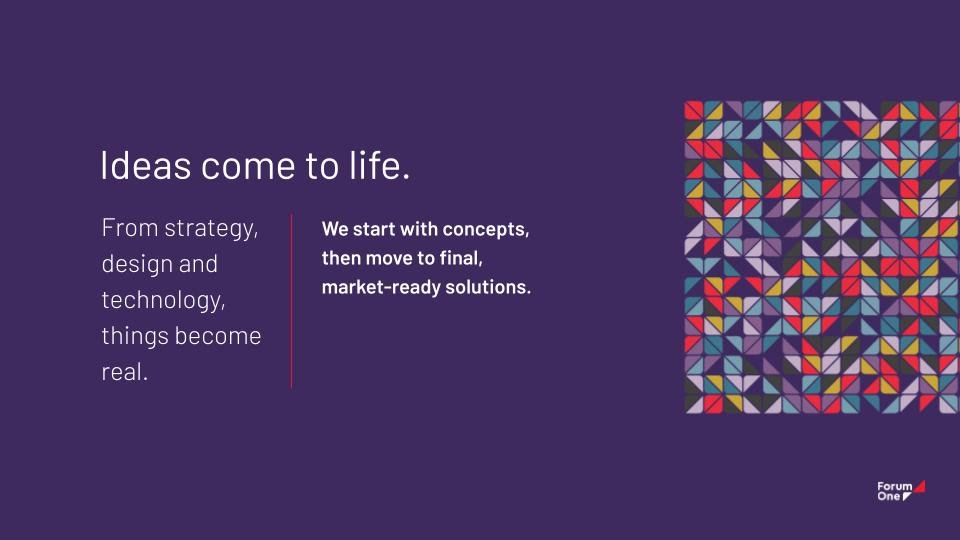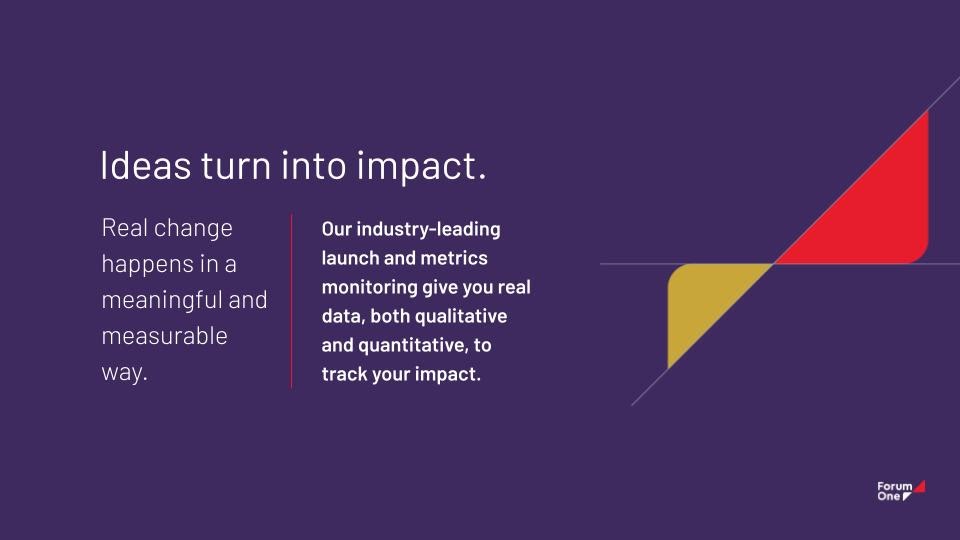 Spreading the word about impact
Inviting our staff to participate in our story is an important part of our process. We've created "Impact-Maker" swag and encouraged staff to use their own platforms to talk about how they have helped amplify the impact of our clients' work.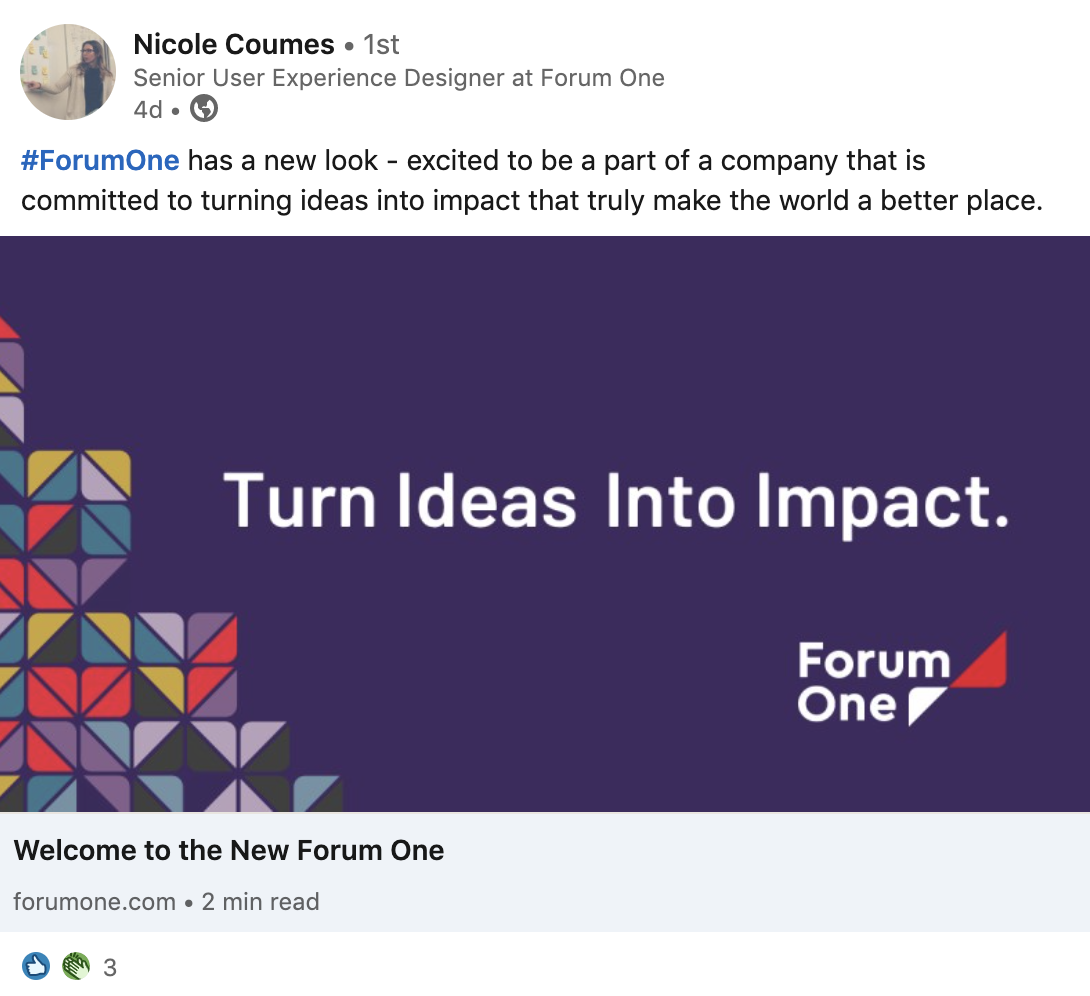 Going through a rebrand or developing a completely new brand is by no means a walk in the park. The steps we took above were both exciting but also challenging in order to get to the right final look, feel, and message. The best advice we can give you is to make sure that you are being inclusive in your approach, that you are iterating and testing along the way, and that you are ultimately launching something that you are proud of and have the support and buy-in that you need across your organization.
More ideas like this directly in your inbox
Sign up to the Forum One newsletter to receive more content like this as well as invitations to upcoming events and training for digital communicators.