Blog Insights

Build Online Experiences that Spark Community Engagement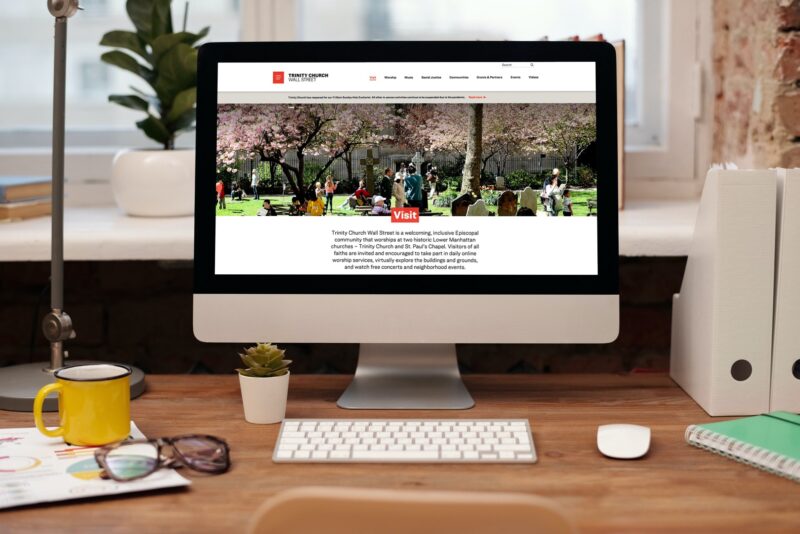 It was true even before the pandemic, but now—with nearly every aspect of our lives moved online in some way—the expectations of what a mission-driven organization can and must do to connect and engage with its community have changed.
Organizations can no longer use their digital platforms to simply explain their mission or successes. Instead, interactive tools, customization, and smart strategy allow nonprofits to go far beyond this to involve supporters in meaningful actions online that accomplish their mission.
Three recent examples from Forum One's work with mission-driven organizations show how centering online community engagement allows direct service to key constituencies and builds upon what digital tools can deliver. These experiences offer lessons for organizations of any size to re-imagine what it means to build community online.
Personalization to drive community participation
Trinity Church Wall Street (TCWS) has a diverse set of audiences, all with different needs. The church has parishioners, of course, who may access worship services in person or online, and join community-building groups. The church also has popular music programming, making choral music accessible through performances. As a historic site in the heart of lower Manhattan, the church interests history buffs drawn by Alexander Hamilton's gravesite, the church's architecture, and other memorials and monuments. Finally, in its work for social justice, the church has an active grantmaking program and draws participants from its congregation and beyond for community service, lectures, days of action, and more.
All these audiences have unique interests, which may be served online or offline, and may overlap. Even before the pandemic, TCWS had begun streaming worship services to expand accessibility and reach those for whom in-person worship isn't possible. The move to put more programming online, such as concerts and historic information, wasn't a big leap, but devising a menu and navigation structure for the church's website that would meet all audiences and their interests was a huge challenge.
That challenge led to the development of a unique personalization tool, created by Forum One, as a way to serve discrete audiences with different journeys and needs. Built as an open-source Drupal tool, the website attempts to learn what visitors want from the TCWS site and deliver related content over time. A user that visits and explores choral music may find, on a second visit, that the site suggests more items related to music.
The paths aren't rigid—music seekers will still see worship services and social justice volunteer opportunities—and TCWS can adjust the settings and "weights" of each category, for different types of visitors, on a continual basis. In this way, the church can also introduce social justice activities to parishioners seeking worship services, for example, or vice-versa. All events can be found together on the site's calendar, an important organizing tool for the site.
Removing barriers to community engagement
For organizations organized around and highly energized by in-person conferences, moving events online during the pandemic was a painful but necessary choice. Many hoped online conferences would be one-time deviations, and safe in-person gatherings would mark a return to "normal" operations.
Academy of Managed Care Pharmacy (AMCP) members—which include pharmacists, physicians, nurses, health plan administrators, and other managed care professionals—have cherished annual conferences to learn about new developments and practices, network with colleagues, and understand policies and regulations that affect their work.
But in 2021, a virtual option was necessary. To ensure participation, Forum One assisted AMCP with online advertising to promote and explain the options. Data from these ads revealed some surprising information.
Ad click-through rates among rural members were exponentially higher. For these colleagues, a virtual event was highly welcome. For some, the annual conference had long been out of reach. While conferences are always located in cities with multiple transit options, such as Chicago and Las Vegas, a rural pharmacist might still have to take multiple flights or inconvenient routes to participate, adding days of travel and making the event unaffordable and inaccessible.
While AMCP will continue to prioritize in-personal annual conferences, including virtual options going forward allows them to serve all members more evenly. Some barriers to participation for rural members, perhaps the group most in need of networking with colleagues because of their relative isolation, have been removed.
Programming that extends community reach
With schools partially or fully remote in parts of 2020 and 2021, families and educators scrambled to find educational material to use at home or in virtual instruction.
The Pacific Science Center in Seattle realized they had material that could be repurposed online, but that was just a start. They fully invested in "Curiosity at Home," a suite of activities, on-demand videos, and virtual field trips, reaching tens of thousands of youth, families, and teachers with new, free digital education programming.
While the physical space will always be key to the mission of Pacific Science Center, delivering science education to previously unreachable audiences online actually extends their mission-driven activities. Rather than a short-term replacement while the Center needed to temporarily close, online programming will remain a critical component of their activities going forward and reach people who will never visit the site in Seattle, but benefit from science education nevertheless. 
Community-building lessons for organizations of any size
Mission-fulfilling websites and engaging online community-building events are possible for organizations of any size. While resources and budgets can certainly drive the development of advanced tools, keeping a few tips in mind can help any organization scale up their offerings:
1. Understand your community
Get really close to your audiences and understand what they want. Trinity Church Wall Street invited community members to participate in the site development process, to get an even better understanding of what different groups and parishioners would look for from the website.
2. Remember who's left out
When most of your audience seems well-served by your content, is there anyone still left out? Is there a digital solution that brings them in? Like AMCP, parts of your community may face different barriers than others, and while online solutions don't meet all needs, they can play a critical role in expanding access.
3. Build community first, then tools
While it's tempting to try to build a community-oriented web platform from scratch and hope the community will coalesce around your site or tool, make sure your community is established first. Particularly for organizations with limited resources, building community-responsive activities on existing platforms like LinkedIn or Facebook may be the best first step. An active community, built on trust, can then be transitioned to a more independent platform.