Blog Insights

Design Sprints: An Exercise for Product Teams
A design sprint brings together business strategy, innovation, and design thinking to create and test a product in just five days. As you look to develop new digital communication products or campaigns, a design sprint is a great way to both get things moving and release creative ideas.
By using the design sprint method, you can compress potentially months of time into days. Instead of waiting to launch a minimal viable product (MVP), you can create, test, and gather data from a realistic prototype in one week. This allows teams to see a finished product and user reactions before making any substantive time or monetary commitments.
"The sprint is a five-day process for answering critical business questions through design, prototyping, and testing ideas with customers."
-Jake Knapp, Author of SPRINT, and Design Sprint co-inventor
Design Sprints are great for:
Kicking off new products or features
Unblocking an existing design project
Working through a company pain point e.g. losing donors
Working through a user pain point
Writing and testing content
If you're interested in taking on a design sprint, here's a quick overview of how it breaks down:

Day 1:
Map out the problem you want to solve. Design sprints are especially valuable at the beginning of a big project; however, they can be used throughout the design process.
Day 2:
Brainstorm ideas to solve your problem and start sketching solutions.
Day 3:
Select the strongest idea and build it into a testable solution.
Day 4:
Create a high-fidelity prototype.
Day 5:
Test your prototype with five real users and gather insightful feedback including user reactions and if your product is usable. By the end of the Design Sprint, you'll have a prototype of a new or improved idea, product, or feature and clear user insights to plan your next steps. You'll know where you can improve and polish the existing product and can begin planning for the implementation phase.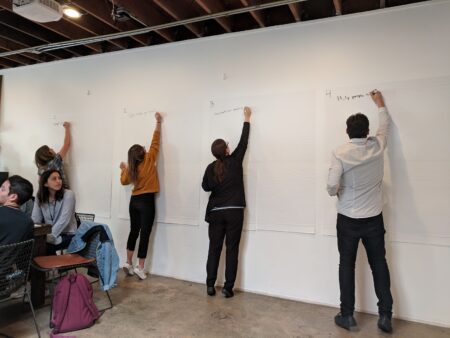 Who should be on the design sprint team?
Generally, a design sprint team is made of the following roles:
The decider: This is the person with the final say. While most often it's the team leader, product owner, or senior-level budget holder, the decider can also be the lead engineer or project manager. Whoever it is, everyone must agree that they ultimately get to say yes or no.
A facilitator: This person ensures that the design sprint runs smoothly and modifies the sprint activities to best fit the team's needs.
A customer/user representative: The person on your team that knows the target audience best.
A designer: The person (or team) who will transform the idea into reality.
Design sprints are successful when there is at least one person representing each of the above four roles, but we recommend having sprint teams of 5-7 people for the best results. Additional sprint members may include:
An engineer: The person that will ultimately help develop the product. They'll have great insight on whether an idea is possible.
A marketer: The person that can brainstorm, pitch, and write with ease.
Reinforcements: More designers, more customer representatives, more engineers, and more marketers provide additional ideas and insights.
Looking for a design sprint partner?
If you're interested in running a design sprint, or are ready to move to the implementation phase, our design team would be happy to chat.