Blog Insights

Digital Platforms for Greater Impact: Examples for Foundations
Foundations can make greater progress on addressing critical social issues by using digital platforms to elevate the work and success of the many players in their sector. Let's look at a number of shining stars who are doing this really well.
Foundations are in the business of making the world a better place by providing grants to organizations they see making an impact on the issues that they care about deeply. Today, most foundations already use digital strategies to communicate effectively about the work and impact of their grantees; however, there are still so many opportunities to expand these digital strategies to make better use of interactive digital platforms to raise awareness and communicate impact. In this way, a foundation can make scalable investments that benefit a wide range of players within a given sector.
Think of a digital platform as:
a toolkit, not a bookshelf

a collaborative effort, not just a single department or team's responsibility

a starting point for future work, not just a collection of past work

a set of "lego blocks", rather than a static book or shrink-wrapped product
The functions that digital platforms can provide include:
Getting answers from real people:

Digital platforms allow users to find and interact with people who have similar work needs and get answers to their questions from real people.

Helps people get tasks done:

Digital platforms can be a toolkit that help users get things done by providing assets like models, datasets, ir even templates

Provide services:

Services that people or organizations can themselves repackage and tailor to their own needs can be provided via digital platforms. This can be done by making data or key content available via APIs.

Collaborative efforts:

Various organizations contributing their own resources, content, and data to create a common service that none of them would have been able to develop on their own is possible through digital platforms.
The following four examples developed by foundations demonstrate the value of a digital strategy in fulfilling a variety of awareness and impact needs.
1. Images of Empowerment
"Photography is a powerful medium for telling stories—but not all stories are equally visible."
There are a lot of organizations working to support women around the world in having full and fair opportunities to earn a living and to control their reproductive choices. A common need for these efforts is how to tell the story of the roles women around the world play today in decision-making, income earning, and accessing and using reproductive health care information and services.
To address this need, the William and Flora Hewlett Foundation, in partnership with the David and Lucile Packard Foundation and Getty Images, created Images of Empowerment. The online platform provides professional-quality images of women in decision-making, income earning, and reproductive service and information-using roles around the world. The images are available for free for non-commercial use, which allows the platform to play a role in elevating the communications efforts of a wide array of mission-driven organizations.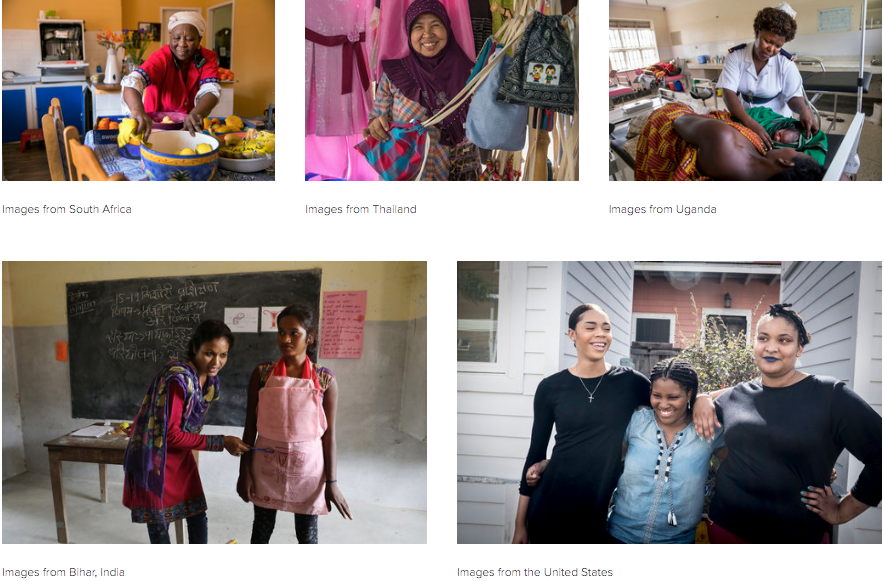 Images of Empowerment was created in 2015 and was extended in 2018. Images of Empowerment was made available to Getty Images' worldwide customer base, which includes news organizations, marketing and creative agencies, and other businesses.
(Forum One worked with the David and Lucile Packard Foundation in their social media marketing efforts around a 2018 update to Images of Empowerment.)
2. Grand Challenges Awards Repository
A platform to aid in, "solving global health and development problems for those most in need."
Organizations that provide grants to address critical global problems are able to make smarter investments if they know who else is investing in similar problems and locations. But that information, from across many organizations, can be hard to get and use.
The Grand Challenges Award Repository (GCAR) is an online platform built through a collaborative effort of more than ten organizations — including the Bill & Melinda Gates Foundation, Grand Challenges Canada, Grand Challenges India, Grand Challenges Africa, and USAID, among others — to address this gap, by sharing information across major grant-making organizations focused on the world's greatest challenges. The Repository is a shared database that centralizes universally-collected metadata for awards given across Grand Challenge partner initiatives. The data is useful for business intelligence analysis, portfolio analysis, and other public good applications.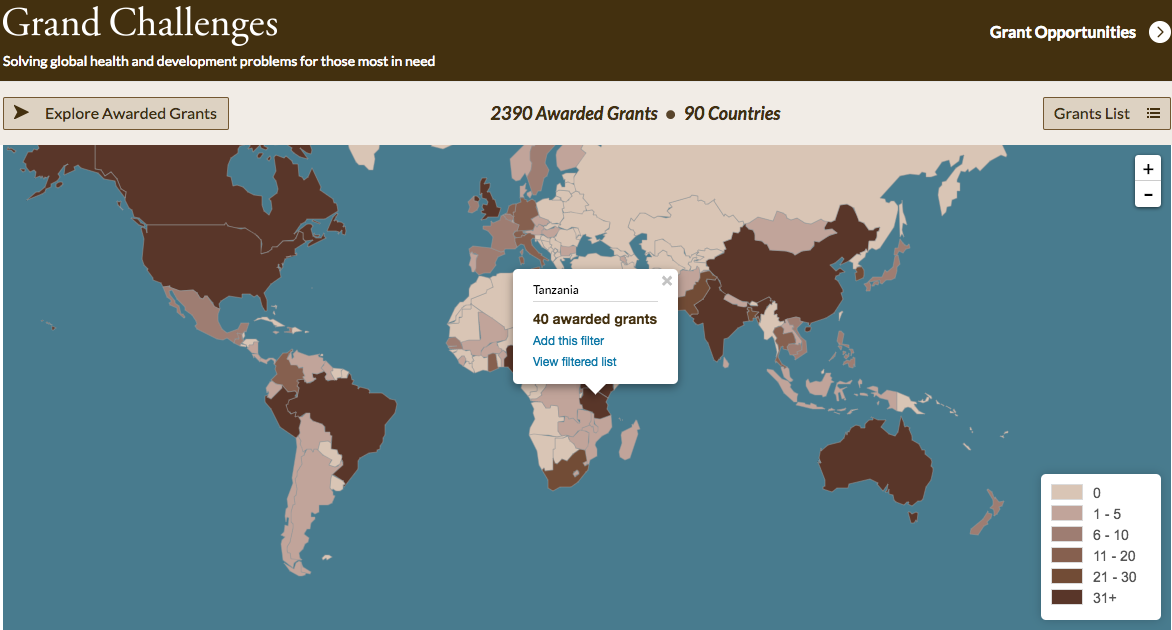 What I find especially exciting about the online repository is how it provides valuable information online now, and also can be extended and tailored to meet specific existing needs of partners or groups working on a specific topic or issue. For example, the GCAR platform powers the publicly-available map and database of grants which is a great way to quickly see where initiatives are being supported across the globe.
(Forum One works with the Bill & Melinda Gates Foundation in developing and extending the GCAR.)
3. County Health Rankings & Roadmaps
"A starting point for change."
Improving public health in the United States needs to include actions at the local community level and across many sectors. However, data on the health status of different local communities, and which actions are most effective, are hard to come by.
The Robert Wood Johnson Foundation, in collaboration with the University of Wisconsin Population Health Institute, developed a data platform to address these information gaps and to engage local community leads in taking action. County Health Rankings & Roadmaps aims to build awareness of the multiple factors that influence health. The platform provides a, "reliable, sustainable source of local data and evidence to communities to help them identify opportunities to improve their health."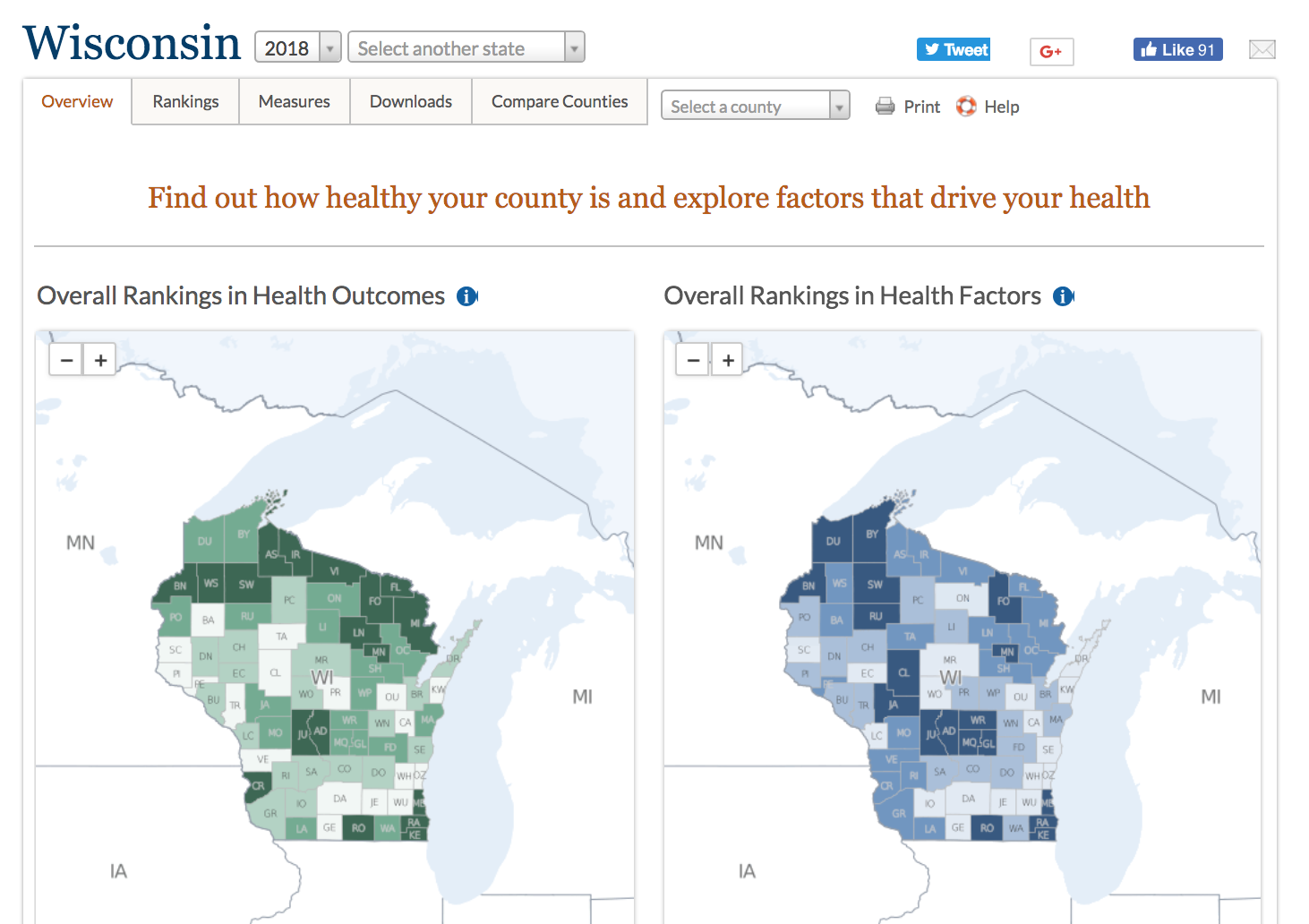 What I find exciting about the Rankings platform is how it combines data and analysis from numerous sources to provide not static reports and charts, but useful tools. It allows people with different needs and perspectives to explore the factors and communities of interest to them, to compare counties (a powerful motivator!), to download the datasets, to see examples of what has worked for others, to reach out to get help and advice, and to join the "Take Action Cycle."
(Forum One works with the University of Wisconsin Population Health Institute in developing and expanding the County Health Rankings & Roadmaps platform.)
4. The Ocean Health Index
"Open data science tools and resources for marine science and management"
Today more than 40% of the population lives within 100 km of an ocean coast. More than one billion people depend on fish for their basic protein, and by 2050 our human population will need almost twice as much food — with much of that required from the oceans. And yet, data and information are hard to come by and not consistent to assess ocean health across factors such as economic contribution, water quality, biodiversity, food production, and others.
The Ocean Health Index is the world's "first ocean assessment tool that scientifically compares and combines key elements from all dimensions of the ocean's health—biological, physical, economic and social — so that leaders, managers and the public can promote an increasingly beneficial future for all ocean life, including us." The Index is a powerful platform, providing more than 100 layers of data in a consistent format to feed its global assessments. It also allows independent groups to use the Index themselves to assess ocean health for a specific region or community.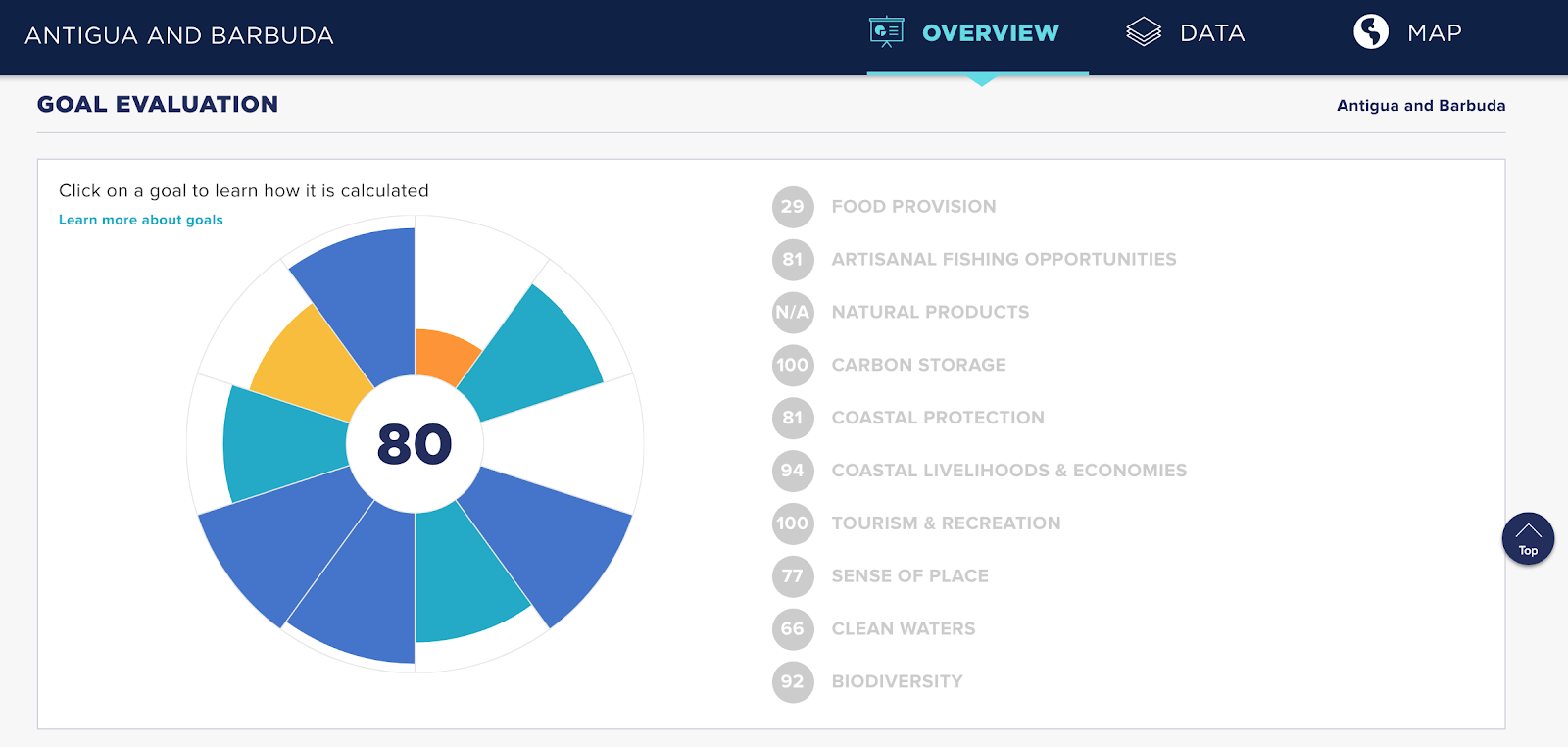 What is also exciting is how the Index is built as an open source platform, using the data management, coding, and workflow tools that major technology firms like Google and AirBnB use, namely GitHub, R Code, and others. This allows many organizations to take and leverage the hard work and investment already made in the OHI toolbox.
The Ocean Health Index is not run by a single foundation itself, but a collection of organizations, supported by numerous foundations and other partners. It's a fascinating example for foundations of how a platform can lift up the work of a wide range of players in a key sector, a great example of a scalable infrastructure investment.
Get more ideas like this directly in your inbox
Subscribe today to the Forum One mailing list to receive regular advice, resources and event invitations to help make your digital strategies shine.