Blog Insights

Digital Transformation in 2022: Trends for Data-Driven, Strategic Thinking
"Digital transformation" may sound grandiose, but it just means the people, processes, and systems that leverage digital tools to help organizations realize impact.
As we look toward a new year, it's important to acknowledge that in one way or another, every organization has already accomplished a massive digital transformation brought on by COVID-19.
Reshaping nearly every aspect of how mission-driven organizations work and deliver services, the COVID-19 digital transformation sparked new ways to work together remotely, transition in-person events to online experiences, and deliver services digitally.
But that transformation was imposed without warning and caused many organizations to react rather than plan, pouring digital water on fires.
Today, with time and experience behind us, digital transformation in 2022 means deep strategy and prioritization. There are a number of trends worth exploring:
Technology that fuels data-driven storytelling
To succeed, mission-driven organizations need to honestly evaluate their efforts.
Our work with the Service Employees International Union (SEIU) shows the power of harnessing data for impact storytelling. SEIU's Education Fund supports service worker members' professional development, in partnership with state employers and large employers.
While individual members were seeing results, it was difficult for SEIU to capture the impact of the program, especially in a timely way that supported ongoing fundraising to keep the Education Fund growing.
Understanding the goals and objectives, and the potential data that could serve these goals, Forum One helped develop a system to aggregate payroll and advancement data from employers, then map it to internal data attached to members who had matriculated through the professional development program.
With this system, reports that previously took months could be done in minutes. With real-time data, SEIU has been able to show potential funders the efficacy of the program. The data provided evidence that the professional development program was creating results for members in continued employment and advancement.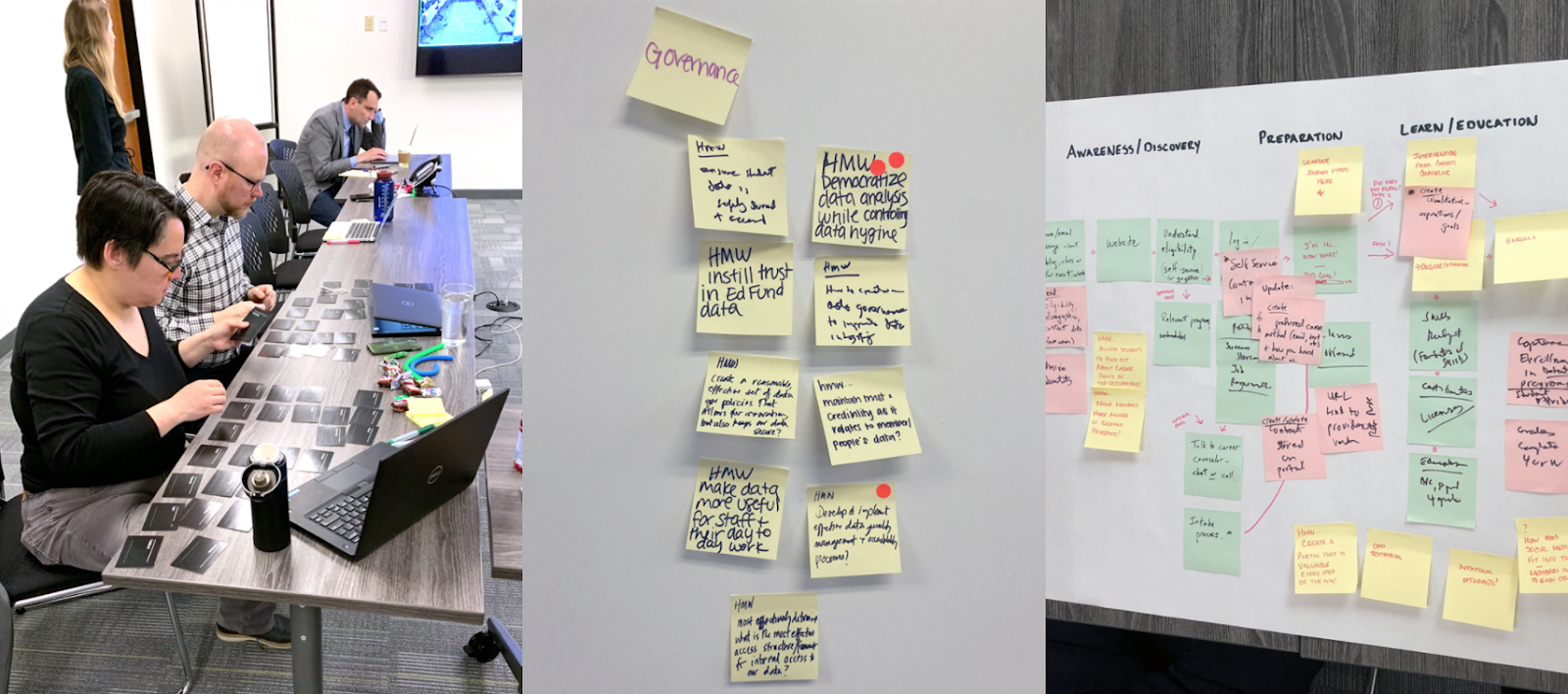 The impact was real, but the story had been difficult to access until digitization of this specific process. Before digitization, the process started with planning. We had to begin by drawing insights into how SEIU could better tell their impact story, then develop a system to support that story.
Pilots and prototypes to test digital transformation
Sometimes we don't have as clear of a picture of the tools or processes that will deliver the greatest impact.
In truth, many nonprofits already have several high-powered tools at their disposal, deployed at different levels of sophistication. Over and over again, we hear from organizations with a sense that "We're not getting enough out of it," where "it" might be a CRM, an automation tool, or a data tool.
The mistake can be thinking there are a couple of golden screws that–once turned–deliver instant success. But the reality is the bigger picture prioritization and planning is what's important. Then the tools can be tuned.
One way to get at these answers is with pilots and prototypes. Using existing tools or quick-set approaches, we can sprint toward a hypothesis to see if an idea is viable. This approach feeds planning and prioritization. We test and modify, as opposed to trying to create a whole new system or automation process and assume it's going to deliver the desired results.
New integration of "whole-of-organization" operations
Another trend for powerful digital transformation is taking a holistic look at the organization, examining how to use digital tools to create greater synergies.
Often organizations are siloed between "back office" functions, like membership, administration, and accounting, and "front office" functions of program delivery, like client services and communications. We're starting to see a recognition that when both sides can share information to create a more cohesive picture of an organization's constituents, they can realize a virtuous cycle of benefits.
Business systems are already built to serve customers (or members, supporters, etc.). Teams in the "front office" working to create meaningful, engaging experiences for target audiences can leverage data and information that the administrative office understands about those individuals. And vice versa: the front office can capture data that makes for smarter decision making in fundraising, membership, and development.
The trend is in understanding that efficient business operations and "telling our story" are connected, and the core of what connects them is audience data.
Getting creative to reach the audiences you want, not just the ones you have
The last transformative trend is utilizing tools to develop new audiences. For good reason, nonprofits spend a lot of time with the audiences they already have. Associations, foundations, and research institutes have put a lot of effort into developing systems that serve the needs of their members and those who are already engaged.
But once established, nonprofits benefit from looking beyond existing audiences – defining who they want to engage. How? Using third party customer data enrichment, targeted list building, and segmentation, organizations can much more proactively reach the specific people they want to influence and engage around fundraising, events, and membership.
There isn't a revolutionary change in how to attain and retain the attention of influencers. Organizations continue to rely on solid storytelling and messaging, with an understanding of target audiences, their needs, and behaviors. But we can create more immersive, tailored, sophisticated experiences now. On the tech front we can explore AI, JavaScript approaches, and more that—as part of a cohesive whole—enable more interactivity and engagement.
The best trend? Planning ahead
With all the promise of digital transformation, there can be a lack of direction. We don't want to get distracted by shiny objects; success depends on prioritization and internal organization toward shared goals.
Our partners recognize that the future of operations is digital. The challenge for 2022 is investing in the planning, assessment, and understanding of digital tools that support a more resilient and robust future for each organization.
Your powerful digital transformation is easier than you think!
Let's chat! Our experts are here to answer any questions you may have.