Blog Insights

Essential Strategies for Your Foundation's Next Website Redesign
While the look and feel of a new website is often top of mind and absolutely essential in making a resounding impression, there are also a number of non-design-related strategies that you need to take into account. Your foundation's website is the entry point for the majority of your audiences, and so ensuring that all parts of your digital strategy and digital ecosystem are connected to it is of utmost importance.
There are many things to consider when planning a website redesign. From improvements in user experience to new trends in visual design and technical performance, there are a lot of factors that are fundamental or high on your priority list. As we consider what makes a website successful in 2022, here are four strategies we believe are absolutely essential for foundations to consider when approaching a next website redesign.
1. Think beyond the website
Your digital ecosystem, which encompasses all of your digital properties, including your website(s), engagement channels, and technical support platforms, allows for a number of entry points through which your target audiences think and feel about your organization. This global ecosystem includes the digital brand and voice of your organization, the main source of knowledge and data about the programs and issues you work on, as well as detailed information about the audience you are reaching. Planning and managing your entire digital ecosystem is critical to furthering your mission and accomplishing your organizational goals. For large, complex foundations, you can't only think about a "website redesign" as a standalone event, but instead one of a number of digital avenues for your foundation to communicate and engage with audiences.
A digital ecosystem may include some or all of the following:
Public platforms, such as websites (both central and program/initiative specific), mobile applications, and social media handles
Email and content distribution platforms, such as email marketing, podcasting, webinar, and video platforms
Data management applications, such as data visualization tools, data storage, and data librairies
Knowledge management platforms, such as intranets and online communities
Internal management platforms, such as a CRM, issue tracking software, and task management tools.
How do these various elements connect and work together to vocalize your mission and brand? Do they have a unified visual voice and brand? Are the various tools speaking to one another to share data and inform your decision-making? As you work through your website redesign, keep these connections in mind as they are essential to how you are able to both communicate your messages and provide the right value to your audiences.
2. Plan for a personalized experience
Today's best digital experiences are not one-size-fits-all solutions; they are customized experiences for your key target audiences. Website personalization is the process by which individualized, relevant, and targeted content is created to suit a user's online experience. Whether the visitor is known or unknown, the experience is tailored to fit their profile dynamically through data analysis, behavior, user attributes, and characteristics to create a more meaningful experience.
Creating a personalization plan
Personalization is key to standing out in an increasingly crowded digital media environment. According to a study by Everage and Researchscape International, personalization leads to a 55% increase in visitor engagement, a 55% improvement in customer experience, a 39% improvement in brand perception, and increased conversion rates by 51%. Those are pretty significant numbers, and by ignoring them you could be leaving serious support from potential donors and advocates on the table.
Here are some questions to answer when looking at forming a personalization plan:
Why are you personalizing? Determine what you are trying to achieve, e.g., improve brand loyalty, increase donations, grow your contact database, etc..
Who are the audiences you are looking to target? Look at your data and use it to segment your audiences. You can look at things like past behavior, interests, demographics, and more.
What elements will you be personalizing and where will they occur? Decide what will change based on user segmentation and where this will occur on the website. For example, images and content displayed on the homepage will change based on past clicking and scrolling behavior.
3. Establish new digital governance and implement change management
Creating, maintaining, and evolving an effective website for your organization can't be done by your communications department alone. An effective website strategy includes defining the people, processes, roles, and responsibilities across the organization—from programs and development to operations and research—that create a framework to make sure the entire organization is aligned on how to use digital communications effectively. This framework is known as digital governance.
During the process of your redesign, you will need to bring together representatives from different departments from across your organization to establish your digital governance, and then you will need a change management plan for rolling out and adopting these new ways of working.
Change management is quite simply a proactive approach to managing change in an organization's processes, goals, or technologies. The purpose is not only to affect and control change but also to help staff and stakeholders adapt to these changes. One effective way is to take an agile approach to change management.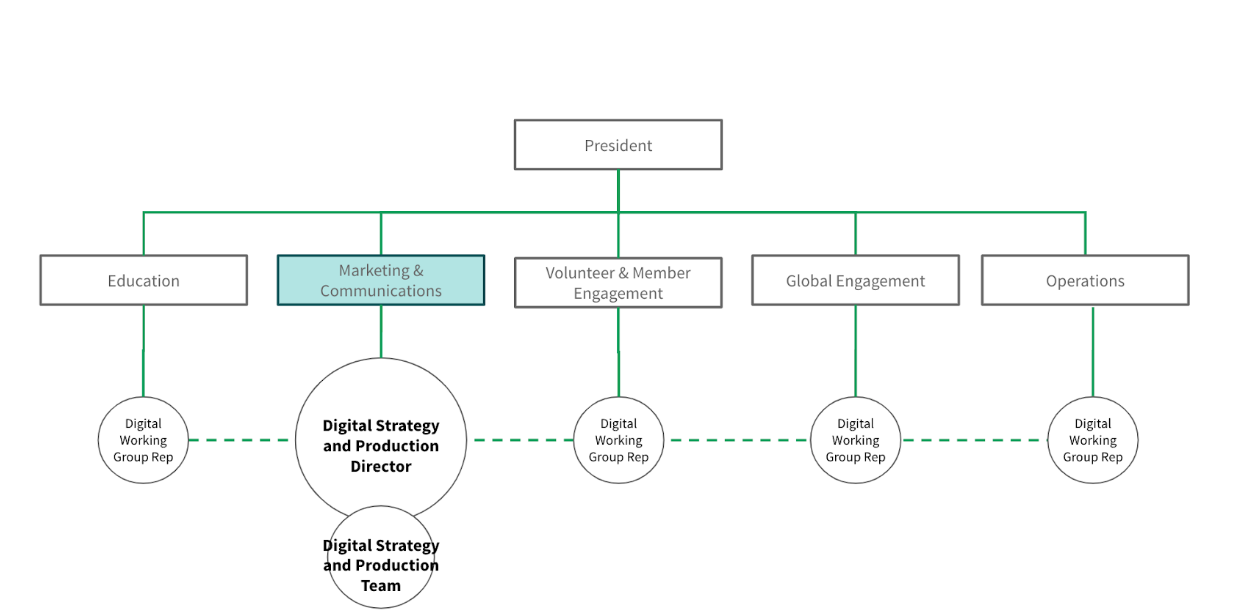 An example of how a Forum One nonprofit client is organizing its teams to effectively manage digital operations across the organization.
Your digital governance plan can help you address a number of needs for managing digital operations, including:
Establish clear senior management responsibilities for digital execution
Create formal processes and structures for evaluating digital opportunities and coordinating digital investments across the organization
Create processes to coordinate digital initiatives and priorities across the organization
Establish how centralized resources for digital production will be coordinated and used by all teams
Define what-in house digital production capabilities your organization will need to support its digital development
The importance of a change management plan
During your redesign, workflows and responsibilities are likely to shift, which can potentially cause friction between teams or individual team members. Individuals and teams will interact in new ways and ownership can become a sticking point. An effective change management plan (created in advance) alleviates these stress points to ensure a successful redesign by helping you manage changes both seen and unseen.
Steps to take when creating your change management plan:
Demonstrate the reason for the change; don't assume it is completely understood
Determine the scope
Identify stakeholders and create a change management team
Clarify what benefits are expected from the change
Clearly outline milestones and costs associated with the change
Develop an effective change management communications plan
4. Plan for "life after launch"
Your website launch is in many ways just the beginning of your project. Following the launch, you will need to continue to optimize your website, update content, and check the health of the site regularly.
Here are five tasks to include in redesign planning specifically for post-launch:
Create an editorial calendar
Set analytics benchmarks and a plan for optimization based on performance
Monitor and optimize for keyword performance (Search Engine Optimization)
Develop and align an optimization plan with your organizational goals
Execute a plan to regularly update, patch, and maintain the health of your website
In summary
Your global digital ecosystem, personalization strategy, change management plan, and post-launch planning are all critical pieces to consider when planning for your next website redesign. Taking these pieces into account can increase the impact of your redesign.
Ensure your various digital properties work together to positively influence your brand perception and data collection goals.
Implement and optimize a personalization strategy to increase audience engagement.
Plan for a way to manage change in order to effectively measure progress and stay on track.
Include post-launch updates and activities in your website management plan to prevent your website from becoming stagnant.
Keep these key elements top of mind as you approach, execute, and launch your next website. All four will go a long way to ensuring its success and helping you meet your digital goals.
More ideas like this directly in your inbox? Sign up for the Forum One Newsletter!
Join a community of over 5,000 mission-driven communicators and technologists. Receive regular updates, event invitations, and resources that focus on insights and advice for the nonprofit and public sectors. Sign up today via the below form.