Blog Insights

Inclusive Design: It's More Than a Checklist
Optimizing your digital platform to ensure that it incorporates inclusive design is not just about designing for people with disabilities. It's about keeping the diversity and uniqueness of each individual in mind as you create all your communications materials.
At Forum One, we spend a lot of time working with clients — both federal agencies and mission-driven organizations — to ensure that their digital platforms and communications materials incorporate inclusive design (also known as accessible design). The biggest piece of advice we can give when it comes to inclusive design is that it's not just about checking boxes off a list. It's about knowing your users, understanding what their accessibility challenges are, and adjusting your design approach to ensure that each and every one of them can successfully engage with your platform.
What is Inclusive Design?
Inclusive design is the creation of products or services that are accessible to, and usable by, as many people as reasonably possible. While inclusive design has its roots in architecture and industrial design, the principles are equally relevant and important in the digital world.
How does Inclusive Design apply to your digital platforms?
Roughly one in 12 males is color blind. So if you are not using color in an inclusive way on your web platforms, it's possible that a significant percentage of your audience may not be having the digital experience you think they are. Looking at your audiences as a whole — regardless of whether users have the ability to use a mouse, have limited vision or hearing, or limited use of their limbs — you want to ensure that everyone can use the exact same website. In digital design, this means you need to code your websites so that assistive technology (AT) can read and categorize the content.
Inclusive design standards and guidelines
For an introduction to the latest 508 accessibility requirements, as stipulated by the U.S. government, watch this helpful (and fully accessible!) Webflow presentation to learn more.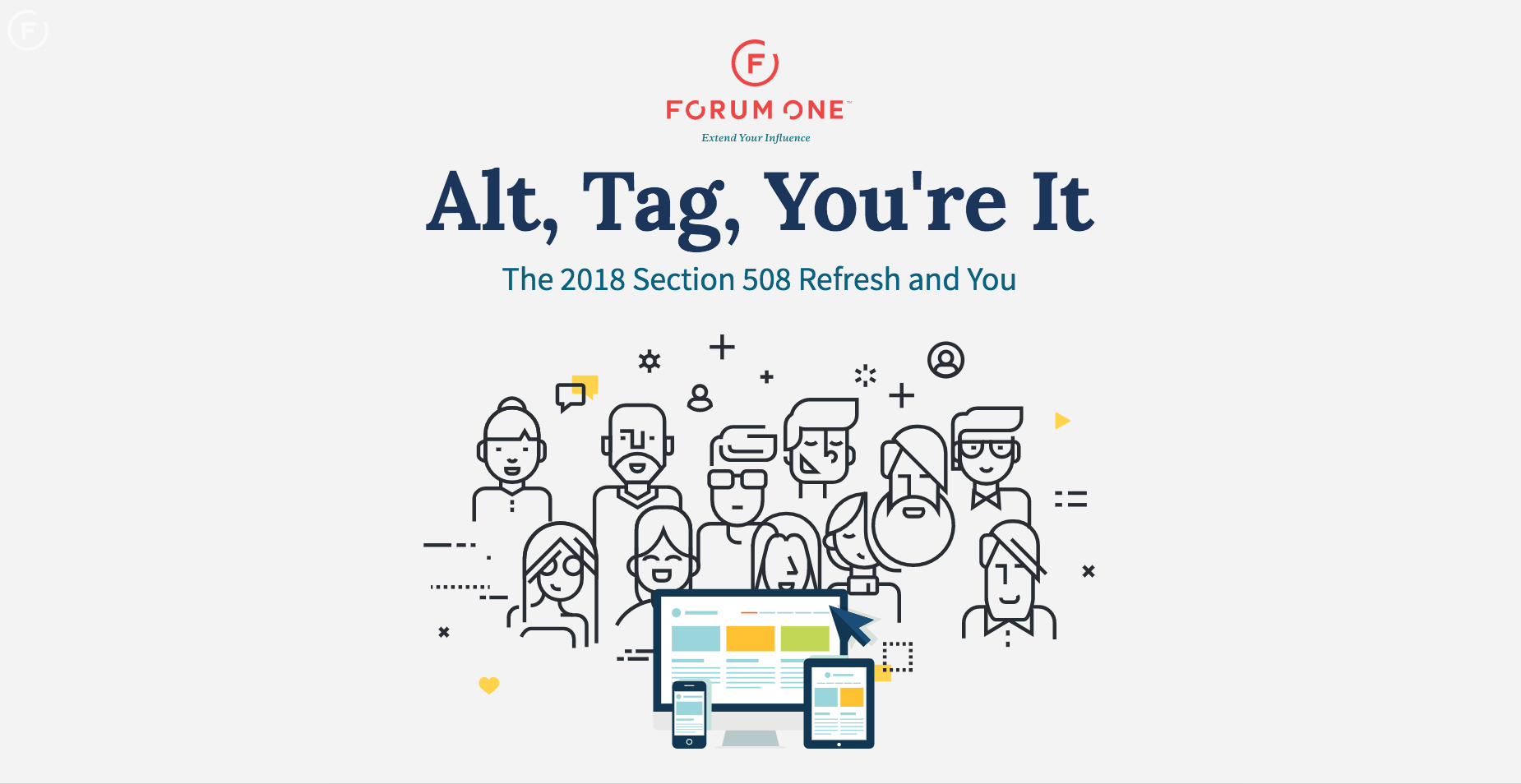 In 2017, the
U.S. Access Board
published a
final rule
that updated the requirements for
Section 508 of the Rehabilitation Act
(which
aims to eliminate barriers in IT
, to make new opportunities available for people with disabilities, and to encourage the development of technologies that will help achieve these goals) and
Section 255 of the Communication Act
(which requires telecommunications equipment manufacturers and service providers to make their products and services accessible to people with disabilities).. As of 2017, Federal agency websites must also be compliant with the
World Wide Web Consortium Web Content Accessibility Guidelines (W3C WCAG) 2.0.
WCAG is divided into three priority areas – Level A, Level AA, and Level AAA. The most recent Section 508 law requires that all Federal websites altered after January 18, 2018 be compliant with Level A and Level AA. What used to be a set of 16 rules is now a far more complex process. To check whether or not your website is compliant with the new rules, we recommend you
refer to this checklist
.
How can you make your digital platforms more accessible?
One of the most important things you can do as you build an accessible website is to learn from your actual users. Web AIM (Accessibility in Mind) has conducted
a number of informative surveys
of users of assistive technology users that we find extremely helpful. Again: it's not simply about checking boxes off a list. It's about understanding your users' biggest frustrations and making the necessary adjustments.
Make inclusive design a priority in 2018
Our accessibility experts would be happy to explore how you can make sure your platform supports all users. Get in touch today.