Blog Insights

Prototyping Augmented Reality for the Nonprofit Sector
Augmented Reality (AR) is making its way to the tech for good sector as a powerful and exciting way to tell stories, engage audiences, and reach goals in a new way. Is Augmented Reality something that your organization is interested in pursuing in 2018?
If you watched this year's Winter Olympics Opening Ceremony in Pyeongchang, as a TV viewer, you got a special treat that live participants did not: you got to experience a virtual dome of stars above the performers through Augmented Reality (AR). In addition to experiencing the opening ceremonies in AR, the New York Times brought US Olympic athletes to life for its readers through a new AR experience that carried the excitement of the Olympics to them directly through their phones.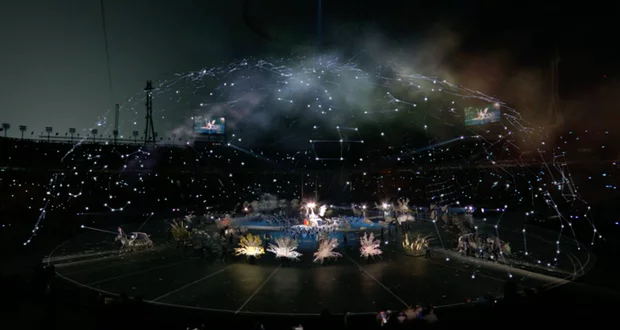 At Forum One, we are intrigued about how AR can support mission-driven organizations in their work. As the NYTimes brought its reader closer to the Olympics on the other side of the globe, can AR create new and powerful opportunities for nonprofits to better connect with their supports and make their stories heard? To start to answer some of these questions, we decided to delve into AR ourselves. 
Developing an AR Prototype for Nonprofits
We needed a guinea pig. As the agency behind the design of the Communications Network's most recent Winter 2018 Edition of Change Agent, we brainstormed around ways in which we could bring an additional layer of engagement to the printed piece of content using AR.
Creating the angle. As the theme of the magazine focused on storytelling for social sector communicators, we decided to explore how bring them into the experience of designing such a magazine. Why had we made certain design choices? What design elements traveled throughout the magazine? How did visual designs help tell the stories on the pages? The angle was that as we brought them into the design experience, they would have a better sense of how to approach their own digital and print products in the future.
Creating the experience. Playing on the concept that a story has no beginning and no end, we developed a spiral element that repeated itself in different ways throughout the magazine—most prominently on the front cover. Using the front cover as our AR "trigger", i.e., what an individual's mobile camera would need to launch the AR experience, we decided to bring the cover blocks and spirals to life. Have a look:
 
What Did We Learn?
As we worked through our prototype, there were a small handful of steps and questions that we now see as fundamental for any AR project:
Be clear on what problem you are solving. For our prototype, we were looking to add an additional layer of connection to our readers' experience. If you were to develop an AR experience for your audience, what would you want them to get out of it?
Be realistic about what is possible. There is so, so much that's possible with AR—many of which come with custom development. There are however a number of ways to create simple interactions without blowing past your budget.
Design to scale. A single experience is powerful, but to get your audience to engage with you beyond that one moment, you'll want to see how you can bring AR to future content and moments that your organization wants to share.
Are you thinking of using Augmented Reality to support your mission?
If so, we'd love to talk! Get in touch today.