Blog Insights

PSI Launches Dynamic New Career Portal
We are sending joyous high-fives to our friends at Population Services International (PSI) on their recent launch of a new careers section at PSI.org.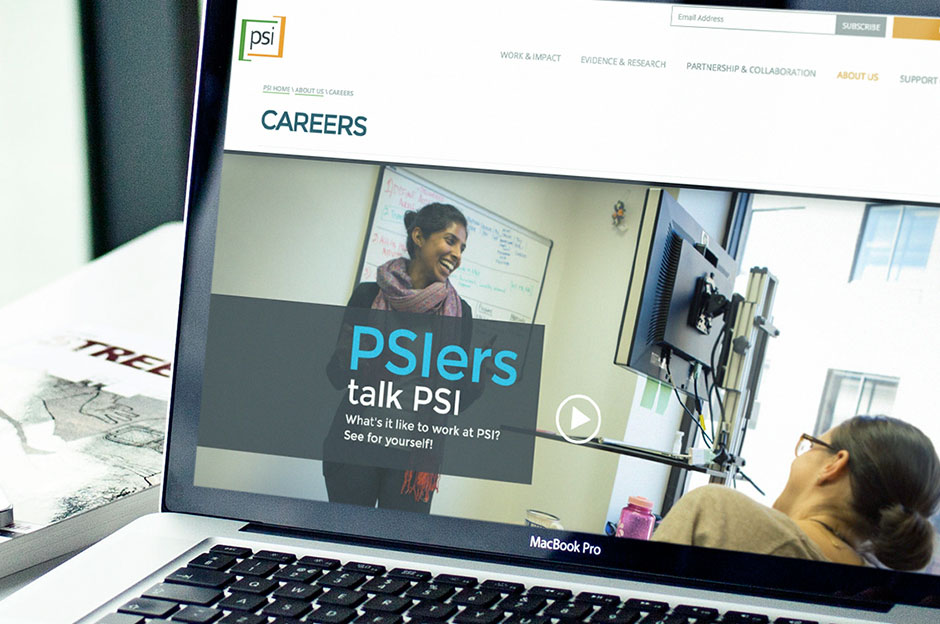 As part of an internal revitalization of their employer positioning, PSI came to us for help in demonstrating the dynamism of a career within their organization. Leveraging their great video and photographic assets, we designed and developed an engaging new Careers landing page and enticing section for job seekers. Be sure to watch the fun video on their landing page! The design of the Careers section extends and enlivens PSI's existing brand and website design, which we helped launch about 18 months ago.
Challenging job seekers to "bring your creativity for something great," the new site shows how a career at PSI is a great opportunity to not only learn and grow, but have fun and be part of creating real impact around the world.
Part of our strategy was to allow departments to tell their own stories and showcase their own job positions. For instance, check out this page by the Evidence team. Also, there are lots of exciting job opportunities in Eastern Africa, if you are interested.
The WordPress-based solution seamlessly integrates job positions from the Jobvite recruiting platform that publishes new job openings to pages within the PSI.org  website.
"Forum One was able to really understand our brand and objectives to create a career site that embodies PSI," said Katie Aung Din Taylor, PSI's Culture and Communications Manager. "The team was collaborative, creative and able to easily troubleshoot when we hit speed bumps along the way. We are so happy with the final product. Not to mention, we had a blast working with them too."
If you are seeking a dynamic new career, we encourage you to learn more about the fantastic job opportunities at PSI.