Blog Insights

Spotlight: The Forum One Strategy Team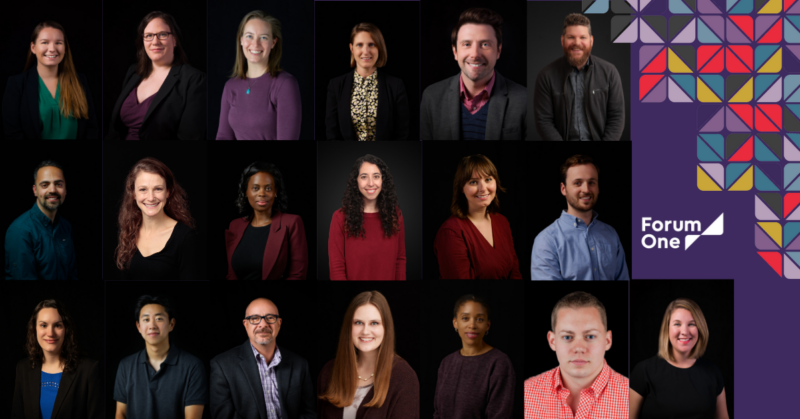 Thinking strategically has always been part of the Forum One approach. We're thoughtful about who we work with, exclusively serving mission-driven organizations and institutions. Partners like ours have to answer the same strategic questions we ask ourselves every day: How can we advance our mission? How can we make meaningful impact?
In our 25-year history, Forum One has developed thousands of digital platforms and websites, campaigns, brand strategies, and custom tools that help nonprofits and government agencies communicate, deliver programs, and cultivate financial support. Our approaches have always been about much more than technology, though—technology is most effective when it advances the strategic priorities of our partners. Over the past few years, we've formalized what had long been in practice: a strategy team that ties together key practices across communications and data.
As head of the team, I'm thrilled to introduce the Forum One strategy team and the forward-looking, effective work we accomplish with our partners.
What the strategy team does
We understand goals and increase impact: Sometimes our partner organizations come to us with a project that clearly sits within strategy. They might be ready to rebrand, or launch a new initiative, and see the project as a multi-part, strategic opportunity that requires definition and planning.
But just as frequently, challenges without clear parameters emerge. Clients might say, "we know our marketing needs to change, but we're not sure how." In these cases, we'll spend time developing a plan that starts with listening, goal setting, outlining constraints, and exploring solutions. Our deliverable is an action plan, a roadmap for organizations to understand how to approach and implement new systems or practices to achieve the impact they seek.
We take a strategic perspective that strengthens our partnerships: Our dedicated strategy team provides the space and insight to deeply understand the needs of our partners. While we're often engaged from the beginning for the "roadmap" work described above, sometimes a strategic problem is revealed during a technology build for a new website or digital product.
Forum One's ability to meet client needs at all stages sets us apart from traditional technology partners. We're able to assess and revise a digital project from a strategic perspective, rather than forging ahead with a technical solution that no longer meets an organization's needs. We go beyond technical best practices to understand the nuance and challenges facing mission-driven organizations and develop customized solutions that achieve client goals holistically.
Meet the strategy team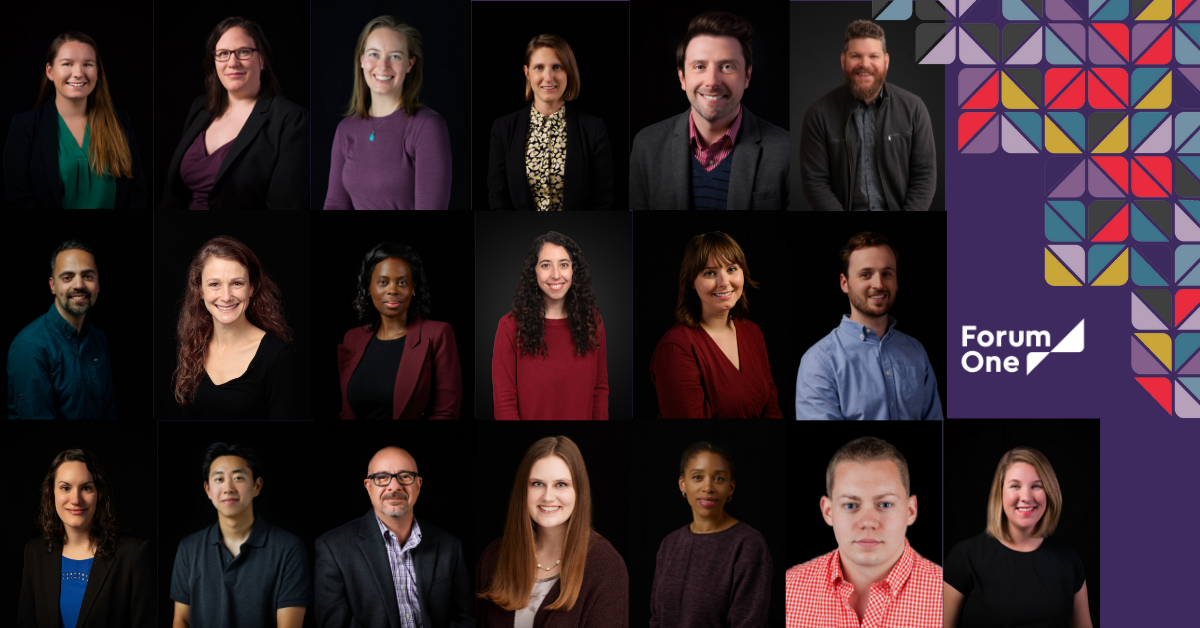 The Forum One strategy team comprises six focus areas:
Strategic communications: All the ways that mission-driven organizations communicate matter, from email to social to fundraising campaigns. Our strategic communications team develops content strategies, storytelling strategies, and press outreach to ensure clients are communicating with impact.
Branding: The storytelling of strategic communications continues through branding. The branding team takes on full organizational brand development or re-brands, as well as branding of shorter-term initiatives or new products.
Digital marketing: Our digital marketing team leads outreach strategy to help clients maximize engagement with key audiences across channels, including paid and organic media, SEO, and detailed marketing planning.
Digital product & ecosystem strategy: We partner with organizations to define goals and strategies for digital products and ecosystems that drive organizational impact. By taking a holistic view of a client's digital presence we can help prioritize investments and plan for long term success
Data & analytics: Data & analytics measure the success of campaigns, websites, and more, offering opportunities to learn and refine products to ensure their success.
Insights: The insights team works side-by-side with data analytics to get a clearer picture of both client needs and impact through qualitative research.
What does it take to succeed on our team?
The key requirement on our team is a problem-solving mentality. Technical skills can be taught and experience grown over time, but a combination of curiosity and strong analytical skills are what makes our team members suited for strategy work. Being interested in the problems our partners face and getting excited to explore the options–that's the fundamental attitude of our strategy team.
Team members also bring a passion for the mission. Some of us come from nonprofit or government agency backgrounds, and some of us don't. To succeed, we have to care about what drives our clients and believe in the positive impact they're making in the world. We understand their challenges, and our passion and understanding to help them solve these challenges is what brings our strategy team to work each and every day.
The Forum One strategy team is growing and hiring! Take a look at our careers page to learn more.