Blog Insights

Start Planning Now! Three Pillars for your Digital Strategy in 2017
The end of the year is approaching fast, a new administration is around the corner, and an ever-changing landscape of tech and marketing trends is staring you in the face – if you haven't already, then now is the time to get ahead of your 2017 digital communications planning.
Influential nonprofits, NGO's, government agencies and programs are continually looking for ways to increase their impact and effectiveness. Especially in this time of uncertainty and transition, where initiatives and investments will surely be questioned and scrutinized in the coming months and perhaps years – organizations need now more than ever to demonstrate their impact and hone their messaging to be heard in this new climate.
Looking ahead to next year, there are three areas in particular that I think every nonprofit should include as pillars of their communication and digital strategies. 
The first is doing a better job of showing the impact of your digital efforts on your mission through smarter use of analytics. Second, is to re-assess your communication positioning and messaging in light of the changing national tone and dialogue we see. And the third is to put data center stage in telling your impact stories. 
Measuring Impact with Analytics Strategy, Implementation, and Reporting
You need to be able to accurately quantify your online success in terms of your organization's overall mission so that you can know what to keep doing, what to improve, and what to do differently.
To do this well means designing solutions and campaigns that are inherently measurable and testable – they must be clearly mapped to what you are trying to achieve in the real world.  As our Director of Analytics, Autumn Rose will tell you..
 "You must provide metrics that tell the story of how you are moving your mission forward; not how many links were clicked."
One of our clients, the USDA Farm to School Census explores how 18,000 school districts use local food. Forum One led an analytics review of the first website we launched for them in 2013. Based on the analytics data, we worked with FNS to improve the site's UX and design and launch the second Census in early 2016. Our data-driven improvements decreased the bounce rate by 79%,  increased the on-site conversion rate by 250%, and increased participation in the program overall with a 105% increase in local food purchases over the first Census, increasing access to local food for students and generating $789 million in economic activity for local food producers.
Doing this well also means measuring across multiple channels – across your entire ecosystem of websites, email products, social presences, campaigns, and in person events. We've just started working with the General Services Administration to overhaul how they are using Analytics, and in 2017 we'll be taking this approach to transform how the collect their performance data and how they report out to the entire agency on their progress against mission goals.
Integrated Multi-Channel Campaigns
In this time of uncertainty and transition, it is important for every nonprofit and NGO to take stock of who you need to be reaching moving forward, what new and different messages you must be communicating to them, and how you will reach them. I recognize that this is communications 101, but I believe 2017 needs to be year of honing your messages. It is unlikely that your core mission and organizational brand needs to change – but it is clear that in 2017 there are new audiences to reach, new types of influencers, and new ways of getting your messages heard that will need to be tested.
Your campaigns in 2017, whether they are to raise awareness, empower advocates, build movements, influence change, or raise dollars must not be one dimensional. Multi-channel campaigns will integrate social, web, in person events, physical advertising, earned and paid media.
One multi-channel campaign we've recently run, for example, was part of the "Million Hearts" initiative run by the Centers for Medicare & Medicaid Services. In order to recruit doctors' participation in a large study, we used a combination of web, blog, social media, paid social media and radio in an integrated campaign. We had particular success with some of the channels, including paid promotion on Twitter. Ultimately, the program generated over 500 practices in the study, which will include over 20,000 health care practitioners and over 3 million patients.
Data Applications and Platforms that Connect
One of the sector's most valuable, yet under-utilized assets is its data. Organizations need to do a few things well in 2017 with their data.
First, tell your impact stories with data. We've collaborated with USAID's Global Innovation Lab to create a marketplace that connects social entrepreneurs and innovators with funders and resources.  The impact? More than 16,000 collaborators have shared more than 4,000 international development innovations, and now have access to more than $90M in funding opportunities. And we're sharing those results in real-time on the Exchange's Results Dashboard.
Second, integrate data visualization and exploration tools into your program's reports and outputs. Most organizations that are in the business of producing ideas that change minds and behaviors – whether policy analysis or health service programs – communicate via reports, white papers, and policy briefs. We're working hard to help our clients up their game here, giving their analysts the data tools they need to include interactive maps, charts, graphs, and visualizations directly into their content outputs. We see this as a critical replacement to the heavy reliance on PDFs that has historically dominated as the distribution medium of choice for nonprofits.
You should also be able to look to your data-heavy research or survey projects as excellent candidates for 'digitizing' in 2017.  We've been working with the National Assessment of Educational Progress for several years now, making their data digestible, distributable, and downloadable.
Third, look to create platforms for aggregating, sharing, and discovering data across networks of partners and collaborators with shared goals of your organization. The Global Partnership for Sustainable Development Goals established its data and resource sharing marketplace this year. By using data as a cornerstone for cross-organization collaboration, we can work to solve the world's most pressing problems faster.
Lastly, your data strategy needs to think "application" not just marketing website. What do I mean by that? Well, the web is a software platform, not just a 'publishing' platform. You can make your programs' work more efficient by building custom web applications that streamline the tasks and services your program provides. We're working with What Works Cities, a program that helps cities use open data more effectively,  to build the web application they use to manage their interactions with the cities they support.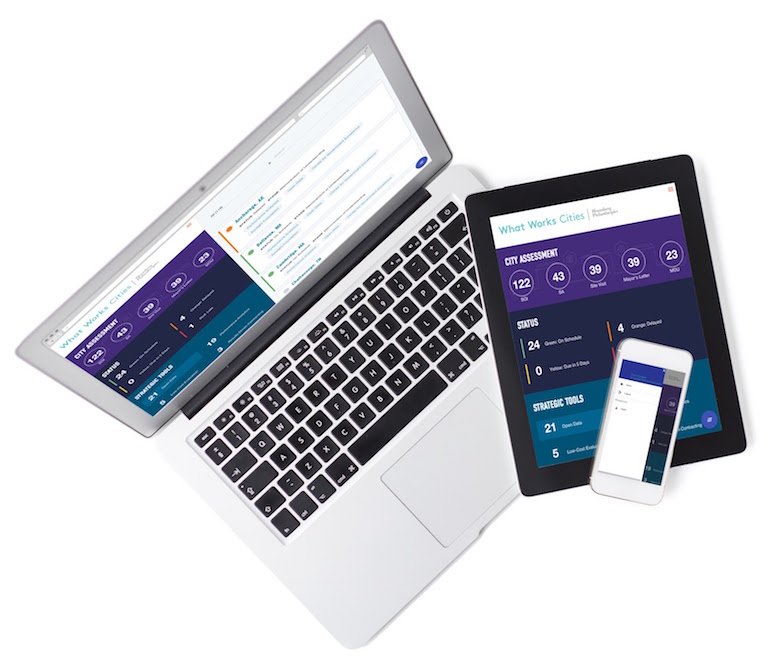 These are three important pillars that we think should be part of every organization's communication and digital strategy in 2017. Are they on your radar?