Blog Insights

Technology & Passion for a Cooler Planet
Climate change is – if you'll excuse the pun – a hot issue this year, and that's not likely to change.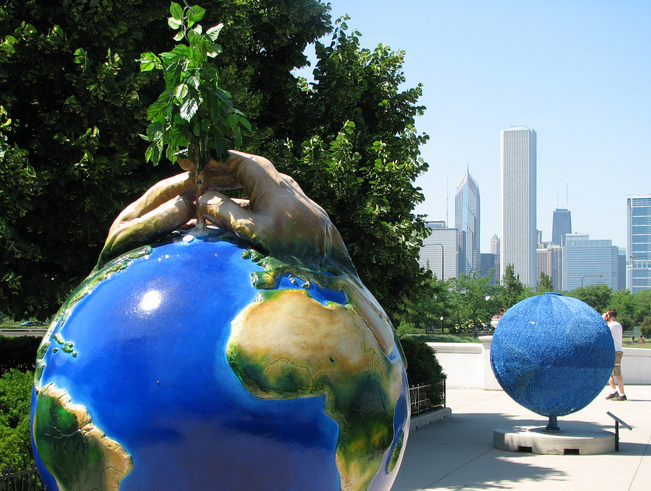 Events have aligned to create what political scientists call a policy window: a confluence of an identified problem with a policy to address it and the political will to make it happen. Last week, the President and the EPA released the first draft of the Clean Power Plan, that creates the first-ever standards for power plant emissions of greenhouse gasses, and provides each state with a target for reducing those emissions.
The Obama Administration and the nonprofit sector have been accelerating their efforts to address climate change for some time, and Forum One has been on the front lines. Our clients trust us to help tell the story of our changing climate because of our policy and communications expertise, and our passion for making the world a better place through our work. Here are a few examples of how we've helped tell the story of climate and energy.
Greenhouse Gas Emissions Tool / EPA.gov
in 2011, the EPA approached us to help design a tool to help policymakers and the public access data on major emitters of greenhouse gasses in a meaningful and intuitive way. The available data shows major GHG emitters – over 6,700 of them – down the county level, and the EPA wanted to be sure people could easily use the tool to slice and dice the data in useful ways. We started with some research to identify best practices for visualizing this type of data, and then spent time talking with some of the people that would eventually be using the tool. Once we understood their needs, we developed storyboards to illustrate how they would actually use the tool. Finally, we developed the visual design and user interface for users and suppliers of data.
Shortly after the tool went live, the EPA announced that they were awarding Forum One the contract to build the next-generation EPA.gov website, One EPA Web.
Solar Energy Industries Association
In 2012, we redesigned and rebuilt the website for the U.S. Solar Energy Industry Association (SEIA). The Association represents thousands of solar businesses across the country in the media and to policymakers in Congress and state capitals, and their members work every day deploying carbon-free energy technology in every state. SEIA needed a new, modern design for their site that reflected the cutting-edge nature of solar technology and highlighted the explosive growth in the industry.
Our team worked with SEIA communications and policy staff to develop a new information architecture to help users understand the complexities of solar technology and policy, and an engaging visual design to bring those issues to light. We also rebuilt their web platform in Drupal 7, and implemented responsive design to create an intuitive experience on every type of screen and device. In 2014, SEIA's new website was honored with a nomination for a Webby Award.
Energy Foundation
For more than twenty years, the Energy Foundation has supported nonpartisan, practical solutions to build a clean energy economy. They came to Forum One looking for a new visual design and open-source platform for their website, and to give potential grantees and the public better access to information about the types of projects they support.
Our new design for ef.org used large-format images to highlight their work in energy and climate-related projects, and create a visually-impactful experience for their audiences. We also built an integration with their custom grants database to allow users to search within EF's grants directly from the website.
GlobalChange.gov
This website is the home of the National Climate Assessment, the most comprehensive scientific report on the effects of climate change on the United States. The report is produced by the U.S. Global Change Research Program, a small team of scientists and experts that coordinate and integrate research on global change across 13 federal agencies. The report is written in plain language, and tells the story of how climate change is already impacting different regions and sectors of the U.S. economy. We spent over a year working with the scientific staff at USGCRP and a technical team at NOAA to build the new globalchange.gov, which received quite the reception.
USAID Office of Global Climate Change
For nearly two years, Forum One has been working with our partners at Training Resources Group and Engility to provide support for several offices within USAID that focus on environmental issues, such as climate change, clean energy, and biodiversity. As part of that effort, we've been working with the Office of Global Climate Change for the past year to build a new knowledge portal focusing on climate change programming in international development. The site will be launching soon, and will provide a one stop shop for news, resources, and online trainings to help USAID staff and their development partners understand how to incorporate climate change into their efforts.
Looking Ahead
Our clients choose to work with us because they value our technical expertise and our passion for the issues. Through collaborating with hundreds of organizations working in a variety of policy areas, we've cultivated a deep understanding of the issues we focus on. We're committed to making a difference on the issues that matter most, like climate change, global health, education, and international development.
Before I came to Forum One, I worked for advocacy organizations helping to make the case for clean energy solutions to climate change. Part of the reason I love working here is that I'm able to contribute to solving the issues I care about, and I know that feeling is shared by my colleagues. A lot of firms advertise digital strategy services and technical chops, but our passion for our work at Forum One sets us apart. For just one example of this, take a look at the recent op-ed I wrote on President Obama's Clean Power Plan for Mlive.com, the statewide news website for my home state of Michigan.
Our clients love working with us because we bring more to the table than solid coding skills and smart strategy. We genuinely care about the issues we work on, and that makes all the difference.
Photo Credit: John LeGear.