Blog Insights

The Power of Animation and Motion Design
This post is the first in the series "Motion for Good" where we explore the world of motion graphics through the lens of nonprofit and cause-driven organizations.
Motion Graphics and Animation — often referred to as MoGraph in the design industry — has really exploded in the past several years and its impact and influence is undeniable. I have always felt that, as designers, we carry a tremendous amount of power and responsibility. The power to influence, inspire and effect change. With so many people engaged in streaming and online video content, it's not hard to find a captive audience.
Today, I want to explore a selection of examples of what I have coined as #MotionForGood, design work that aims to create real-world change for the better. Many of the examples below are videos created by the nonprofit sector that demonstrate the power of animation and motion design.
The power of storytelling
This first video I want to share was not produced for a nonprofit; however, it is a wonderful showcase of storytelling to create change and save lives. Like any great cause-focused video, the goal is to make you feel something.
Animation for good
In this next video, produced by Forum One for the United States Department of Agriculture (USDA), we see a balance of playful animation, photography and data to convey the value and importance of quality nutrition in our schools.
Shedding light on major issues
Water insecurity is a major issue worldwide. Many of us take for granted the fact that we can just go to the water cooler or spigot and get a drink of fresh water. This animated video by charity: water sheds light on this important issue. The way they draw parallels between cultures seas apart allows the viewer to relate to the issue.
Illustrations that empower
The next video is a brilliant showcase of a style that is mostly illustration. The use of texture, color, and camera create a sense of depth and mood to explain the context of humanitarian crises and the importance of supporting and empowering women and girls.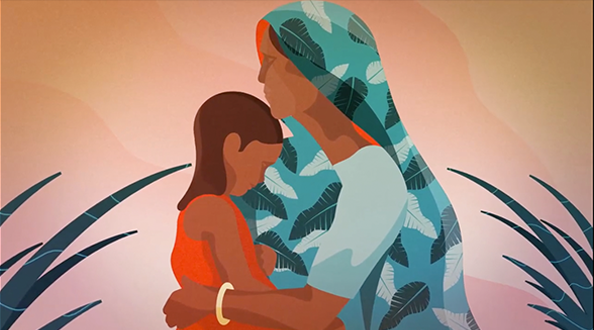 Character animation to celebrate life
There are many ways to animate characters. In this example, the use of silhouettes creates a sense of ambiguity that allows all viewers to connect with the characters.
Data storytelling
Sometimes, all you need are compelling proof points to communicate your message. This example uses text, data and simple characters paired with camera motion to tell a story of the challenges young woman face across the globe.
While the above videos are excellent and inspiring examples of the power of motion graphics and animation, you may be wondering, "How can my organization even begin to create an animated video that captivates, inspires and brings awareness like these ones?" My suggestion is to start by thinking about what you want to achieve. What are you hoping to spark in your audience's hearts and minds? With even just a rough idea, you can start exploring how motion graphics and animation can help. If you'd like to dig deeper into some brainstorming, I'd love to chat. It all starts with a conversation!
Thinking of embarking on a motion graphics project? Let's talk.
Corey leads Forum One's animation and video production and is always open to chat with cause-driven organizations about their next big idea. Get in touch today and we'll set up a time to talk.