Blog Insights

Vote for Our Webby Awards Nomination!
The 27th Annual Webby Awards nominations are out, and Forum One design has made the list!
We are excited to share the news that Forum One's design of the Pacific Science Center website has been nominated for the best site in the Science category of the 27th Annual Webby Awards—the leading international award honoring excellence on the Internet.
About the Webby Awards
Established in 1996 during the Web's infancy, the Webby Awards are presented by the International Academy of Digital Arts and Sciences (IADAS)—a 2000+ member judging body. The Academy is comprised of Executive Members—leading Internet experts, business figures, luminaries, visionaries and creative celebrities—and Associate Members who are former Webby Winners, Nominees and other Internet professionals. According to the New York Times, the Webby Awards are "The Internet's highest honor."
Pacific Science Center: Nominated for excellence in the Sciences
Born in the spirit of innovation at the 1962 World's Fair in Seattle, the Pacific Science Center has ignited curiosity for more than 60 years. Since its founding as the nation's first science and technology center, PacSci has worked to expand access to science, serve as a vital resource for educators, and fuel discovery and experimentation as a vibrant community laboratory.
Singled out among the top 9% of all work entered as one of the five best sites in the world in its category, we are truly honored to see the Pacific Science Center's new website included in the nominee list and are so thrilled to see it receiving some extra well-deserved attention because of it.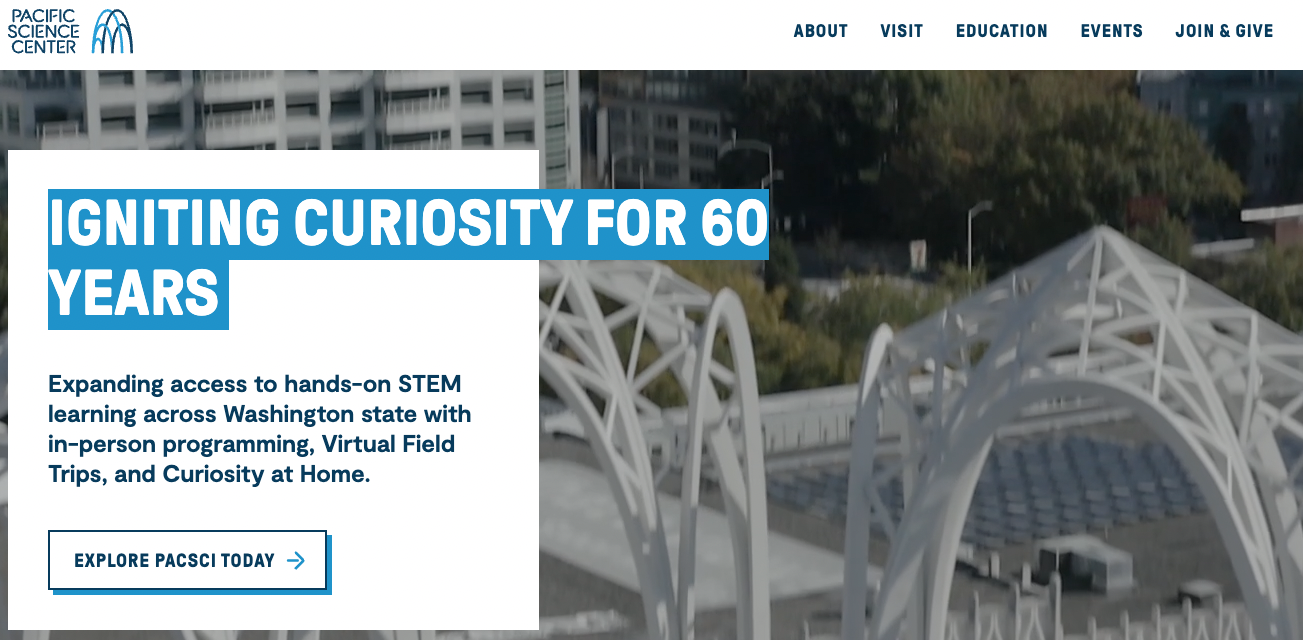 Next Steps: Vote for the Webby People's Voice Award
While the Webby Award is chosen by the Academy, the Webby People's Voice Award is voted on by the public. Both awards are a mark of international distinction for Internet excellence, so we'd be grateful for your vote for the Pacific Science Center's nomination of this award. Last year, people cast nearly 2 million votes from 230+ countries and territories worldwide! Voting is open today, April 4th to Thursday, April 20th, at 11:59 pm PDT. Cast your vote now!
All Webby Winners will be announced on April 25th and honored at the 27th Annual Webby Awards in New York City on May 15th, 2023.