Blog Insights

We are looking forward to MuseWeb23 in Arlington, VA!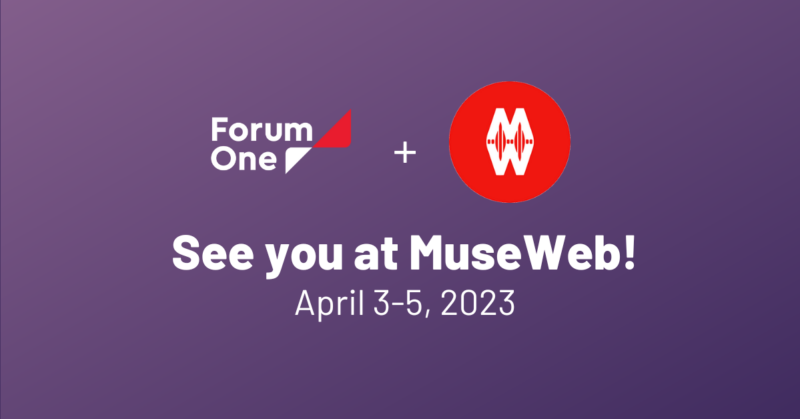 The Forum One team is excited to be participating in this year's MuseWeb23 conference, April 3-5. We would love to connect with you while we're there!
Exhibition Hall
Forum One Booth
Monday, April 3rd to Wednesday, April 5th
Please stop by and say hello! We'll have lots of goodies, helpful tips, and advice, and would love the opportunity to meet you and learn about your nonprofit communications activities.
Sessions
Conducting Inclusive Audience Research
Wednesday, April 5, 2023: 2:30 – 3:30 pm
Many cultural institutions understand the value of speaking directly to their audiences. Your museum may even be planning some audience research in the near future. Who you talk to and how you structure your research has a significant impact on the findings you gather and insights you can take action on. What does it mean to conduct this research in an inclusive way?
Using the National Gallery of Art's experience conducting ongoing audience research, we'll discuss what inclusive research looks like and give you concrete tips for how you can ethically structure your research to ensure you're designing impactful experiences for your audiences. Specifically, we'll cover:
How to think critically when you consider the research participants, methodology, and moderator.
Ensure that your communications from recruitment to follow-up are based on inclusive principles.
How to mitigate the extractive nature of research.
How to conduct ongoing audience research.
How a Virtual-First Exhibit Informed the In-Person Experience
Wednesday, April 5, 2023: 11:15 am – 12:30 pm
Most often you see museum exhibits that have an online component to complement the already-existing physical exhibit. What if you were to turn the table and start with a virtual exhibit in order to learn what resonates best with your audiences beyond those who can easily visit your institution, and use those lessons to inform your in-person experience?
In this session, we will share how the Gates Foundation's Discovery Center embarked on a virtual exhibit journey to change the narrative about COVID-19 from one of trauma to one of resilience and how lessons from the virtual exhibit process and its outcomes informed their eventual launch of the in-person exhibit experience in Seattle, Washington. The exhibit shares first-person stories of communities coming together to heal, fight the disease, and spread joy while navigating the pandemic. Hear how the team collaborated to bring community, curatorial, marketing, and digital expertise to create an accessible and engaging online platform.