Blog Insights

We've Been Nominated for a Webby!
The 21st Annual Webby Awards nominations are out, and Forum One's design made the list!
We are excited to share the news that Forum One's design of the Smithsonian's National Museum of African American History and Culture website has been nominated for best site in the Cultural Institutions category of the 21st Annual Webby Awards — the leading international award honoring excellence on the Internet.  
Singled out among the top 9% of all work entered as one of the five best sites in the world in its category, we are truly honored to see the design included in the nominee list and are so thrilled to see the museum's website receive some extra well-deserved attention because of it.
Next Steps: Vote for the Webby People's Voice Award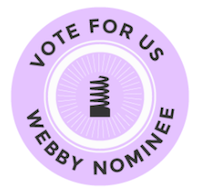 While the Webby Award is chosen by the Academy, the Webby People's Voice Award is voted on by the public. Both awards are a mark of international distinction for Internet excellence, and so we'd be grateful for your vote for the museum's nomination of this award as well. Vote here!
All Webby Winners will be announced on April 25th and honored at the 21st Annual Webby Awards in New York City on May 15th, 2017.