Blog Insights

Staff Spotlight: Lourdes Sanders, Chief Financial Officer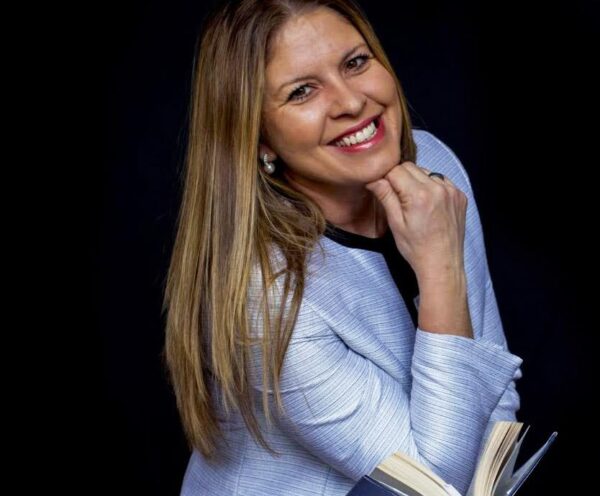 Our talented staff is the backbone of all our work at Forum One. With diverse backgrounds, experiences, and specializations, they share a curiosity and passion for the mission-driven work we embrace every day.
Meet Lourdes Sanders, Forum One's Chief Financial Officer. Lourdes directs our financial strategy to support our long-term business goals and ensures clients experience excellent accounting service. Lourdes sat down with us recently for the following interview to talk about her life at Forum One and beyond.
So…what do you do?
My role as a Chief Financial Officer includes managing the financial health of the organization. That includes tracking cash flow, analyzing strengths and weaknesses in the company's finances, and overseeing all aspects of Forum One's financial success.
You've been at Forum One for nearly 20 years. Can you tell us about your experience over the years, both personally and in how you've seen the company grow and change?
I started with Forum One when there were about 25 team members and now we have over 120 full-time employees. Back then, team members wore many hats within the company. It wasn't uncommon to have the business development lead helping out with accounting, the CEO helping with data entry, or someone in accounting helping test websites. We've come a long way and now have more than 24 department functions and budgets with specialized skills and leadership in marketing, recruiting, strategy, client services, and more.
Our physical presence has also changed. We started with headquarters in Alexandria, Virginia, then expanded to DC, Seattle, and even a presence in Germany. And of course today, about 90% of staff work remotely.
What's your proudest accomplishment?
Over nearly 20 years, the company revenue is more than 10x from when I joined in 2003. The finance and accounting team has only grown by one full-time employee. Beth Hetrick (Accounting Manager) and I work very closely together; we have developed a very close friendship over the years and I'm proud to say that as small of a team as we are, we are highly efficient and effective in managing the accounting and finances of Forum One. We meet deadlines and achieve results as a team and keep Forum One running as a well-oiled machine. 
What are the hardest and most rewarding parts of your job?
The hardest part of my job is having to make cost reductions. There are times we've had to focus on generating short-term savings by identifying and removing expenses. We've had a Reduction in Force, and we've had to pause, postpone and/or eliminate strategic investments. Getting alignment and consensus on the order of priority can be challenging.
However, as challenging as getting alignment can be, that is also the most rewarding part of the job. I work with leadership team that is smart, unselfish, and good steward of resources. They are always willing to collaborate, listen, and do what is in the best interest of our people and the organization.
What's it like working with the rest of the team?
Beth and I have worked together for over 10 years. She is a true professional. She is smart, knowledgeable, timely, honest, respectful, and a woman of integrity and moral character. She gets things done and many times handles situations without me even asking. We've worked together for so long that she "gets me." I'm truly thankful and feel very blessed to have Beth as a colleague and a friend.
What sets Forum One apart from previous places you've worked?
A true focus on cultivating a culture where we can all thrive. The most recent focus on diversity, equity, inclusion, and accessibility (DEIA) provides a safe place where voices are heard, people are seen, and diverse opinions are appreciated. This truly sets Forum One apart from other places I've worked.
What do you love to do outside of working at Forum One?
I love spending time with my husband Joseph and my children Isaiah, Jasmine, and Josiah—watching TV, talking and laughing, going to the gym, or paddle boarding across the lake. I love sports, especially football and AAU basketball tournaments. I love leading a women's Bible study group called Mujeres Virtuosas for Latin women who enjoy growing in the Word and learning about Jesus. I also love working and ministering to at-risk minority youth, by providing opportunities and experiences to help them thrive and contribute to their families and community.
Thank you, Lourdes, for sharing your thoughts and for all that you do!