Blog Insights

The Phases of Service Design
There are 4 key phases for service design: Align, Research, Ideate, and Prototype.
Phase 1: Align
You've decided to embark on a service design project! Maybe you've realized your service delivery could be better, or perhaps you have an idea for a new service. Before you jump into coming up with solutions, you should focus on alignment. It's crucial to understand why you're embarking on this project and to ensure other stakeholders understand it as well. This is a good point to get representative members of different teams in a room together to map out the current service delivery. Some activities we like to do with our clients include stakeholder interviews and workshops, preliminary service blueprints, and an ecosystem map.

⇒ We'll illustrate each of these 4 phases with an example of how we've done this for one of our clients, an organization in the health industry that provides an education program for their members. For Phase 1, we aligned in this project by talking with key stakeholders to learn how they operate, what members need, and where they hoped to see improvements.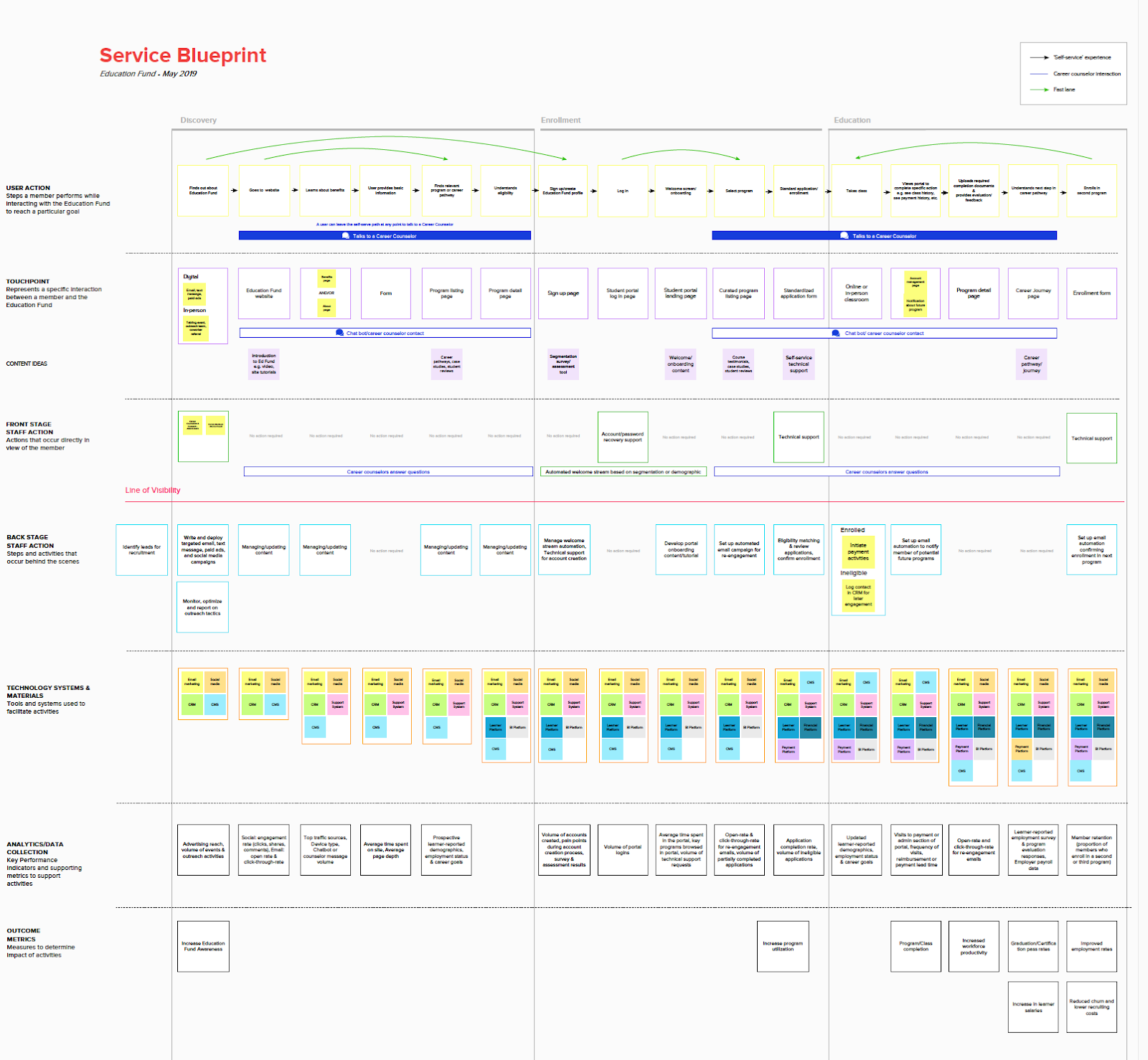 Here's an example of a preliminary draft service blueprint. There are many different ways to illustrate service blueprints.
Phase 2: Research
The next phase is research. This is where we expand on the stated problem or opportunity and work to better understand the people involved in the service delivery process. This includes customers and the people who interface with them.
This phase may include audience interviews, surveys, field studies, an experience map or journey map, experience principles, or personas. You likely choose the right methods from that list based on the context and goals of the research.
⇒ For the education program, we spoke with staff, collected data, analyzed audience segmentation, and undertook a comprehensive audit of the technical ecosystem. We created journey maps to understand the actors' current journeys and how they experienced touchpoints and navigated the systems. Journey maps are a critical service design artifact. We also created service blueprints to map out their current service delivery processes, identify who was involved, what were the systems, and where there were gaps in service.
A persona is a great way to synthesize the audience research you've done. We recommend creating a persona for the top two or three audience groups for your service.
Phase 3: Ideation
Once you've created a solid understanding of the problem, opportunity, and audiences, it's time to ideate! Depending on your situation, this could involve improving the current service or creating a new one. We brainstorm and generate possible solutions. This can be a fun stage to bring your team back together to generate as many different ideas as you can. This can also help to break down silos between teams and push your innovative thinking.
⇒ For the education program, this is where we revisited the current-state service blueprint and together with the program staff, we ideated around how to improve and fill in the service delivery gaps.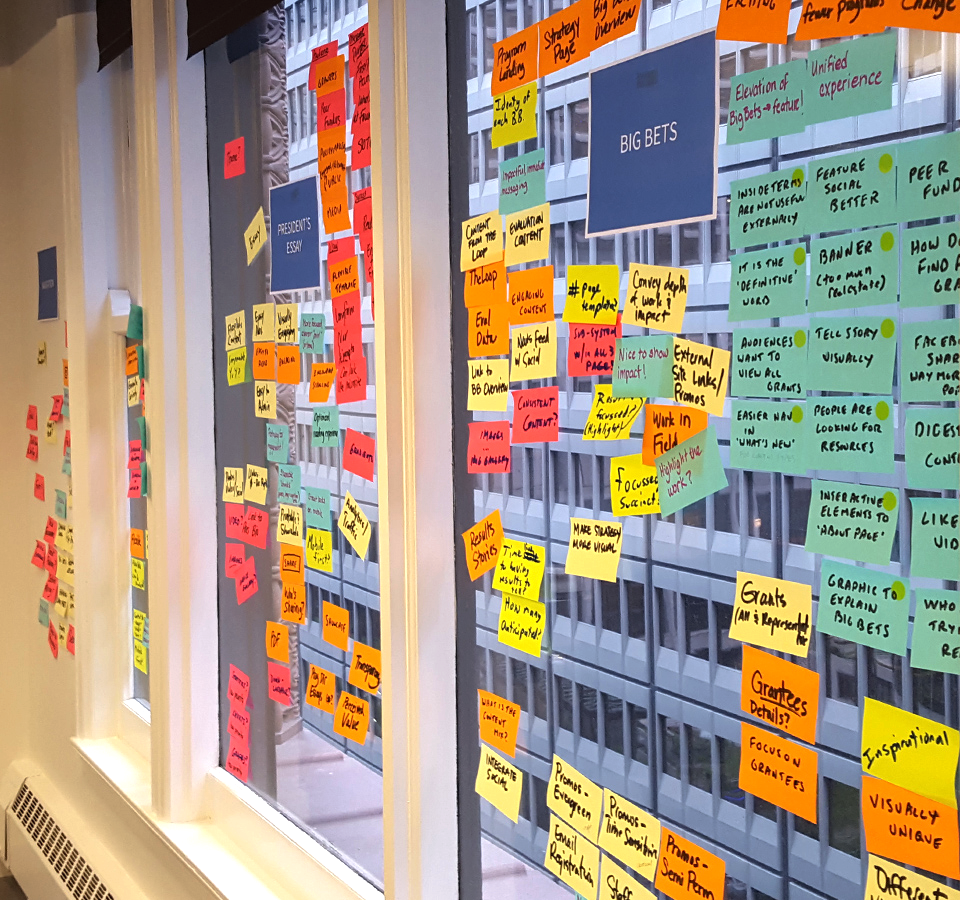 This phase usually involves a lot of sticky notes. Put each idea on an individual sticky note and use dot stickers to vote on the most impactful ideas.
Phase 4: Prototype
At this point, they should be one or two solid ideas from the ideation phase. Now it's time to prototype and test them. There are a few ways to prototype, including storyboarding, paper prototyping, role play, and setting up a booth. Following the pilot, you may find yourself circling back to Phase 3 to continue to ideate, or you might decide you need to do more research, so you circle back to Phase 2. No need to fear – all of this is totally normal and expected!
⇒ For the education program, we mapped out what that ideal, future-state service delivery could look like. From there, we created a comprehensive 3-year roadmap and overarching digital strategy. This is what we used to create strategic initiatives to actually move the needle and move toward this blueprint.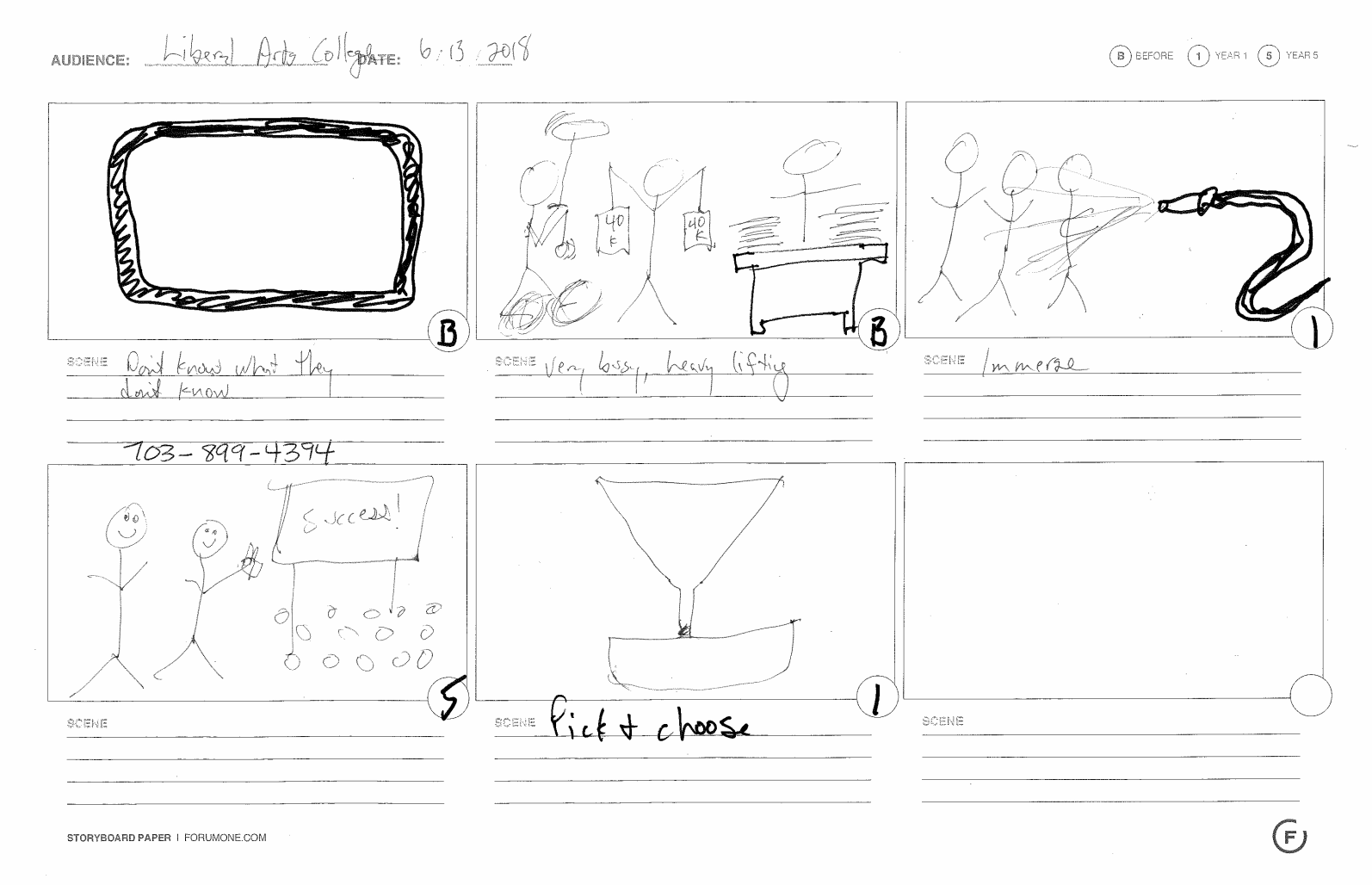 Here's an example of a low-fidelity prototype represented as a storyboard.
So how do you get started?
We just reviewed the general process, so what can you do today and where do you begin?
Today, make a list of the primary service or services your organization delivers.
This week, find time to identify the actors who are involved in the service. This includes both the customers and the employees.
This month, gather your teams together to discuss how actors move through the service. You should try to get at least one representative from each team. As you map out the service, we recommend starting with the front stage.
Once you've got a good rhythm going with your team, you're well on your way through the Alignment Phase! Continue working through the phases and you'll be doing service design!
Resources
Here are some online articles, events, and books that you may be interested in, depending on your style of learning.