Blog Insights

Using Art and Motion to Expand a Powerful Brand
Forum One's recent design work with the Smithsonian National Museum of African American History and Culture (NMAAHC) Simmons Talks series was a dream come true: an opportunity to put passion behind a design that I believe in and honor the work of others who inspire me.
We've been fortunate to work closely with NMAAHC on a number of initiatives, including their award-winning Seat at the Table events and the Freedmen's Bureau Search Portal. The Simmons Talks are an opportunity for the museum to reach new and different audiences and engage them outside of the structure of a museum visit.
Endowed by Dr. Ruth J. Simmons, the talks named in her honor are a planned series of moderated discussions with African American innovators in art, business, science, literature, medicine, social justice, technology, and more.
Our challenge was to create a visual brand system that promoted and established the event, as well as videos and projected designs used during the live event to introduce speakers, establish biographies, and create a cohesive experience for audiences in person and online.
Drawing from inspiration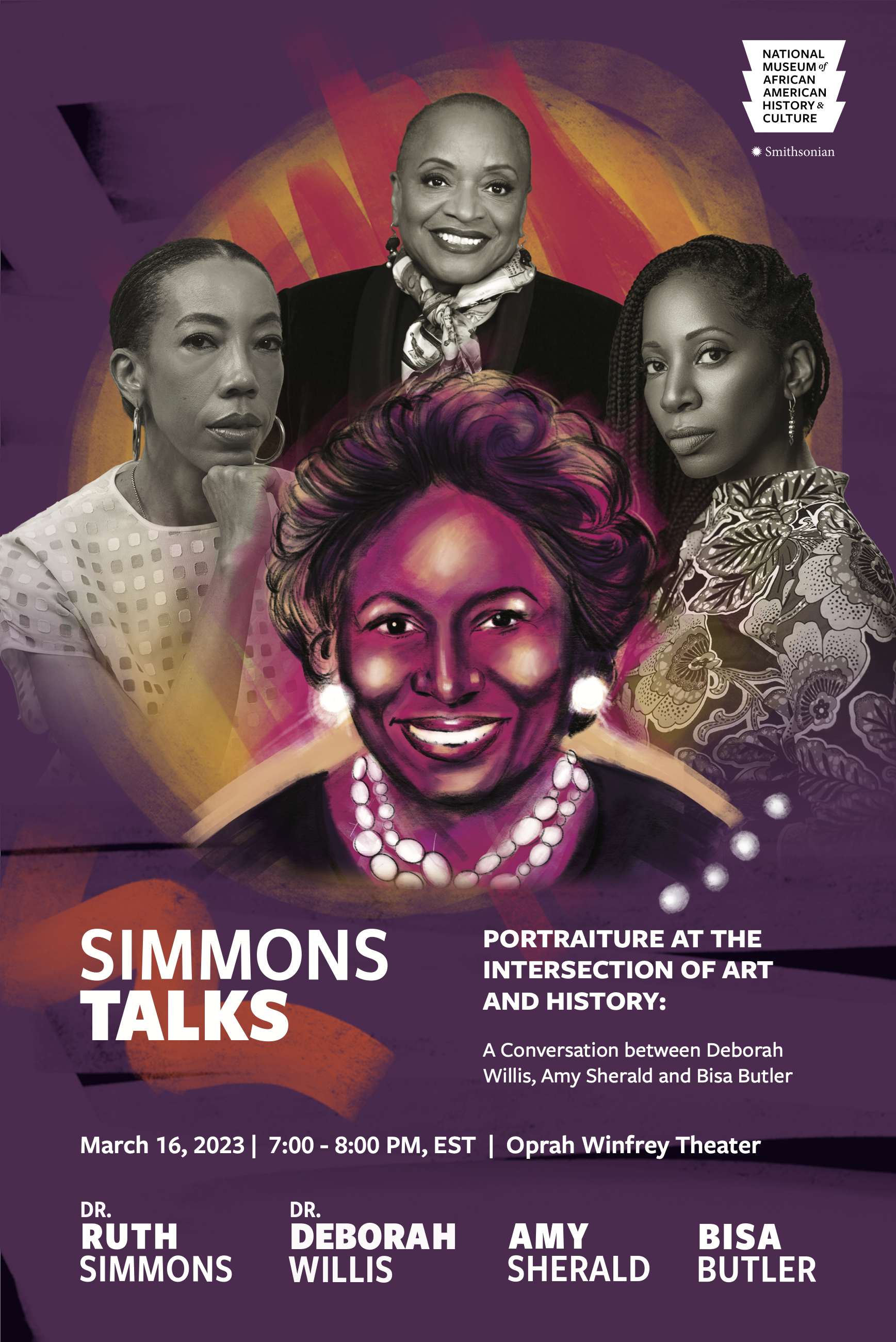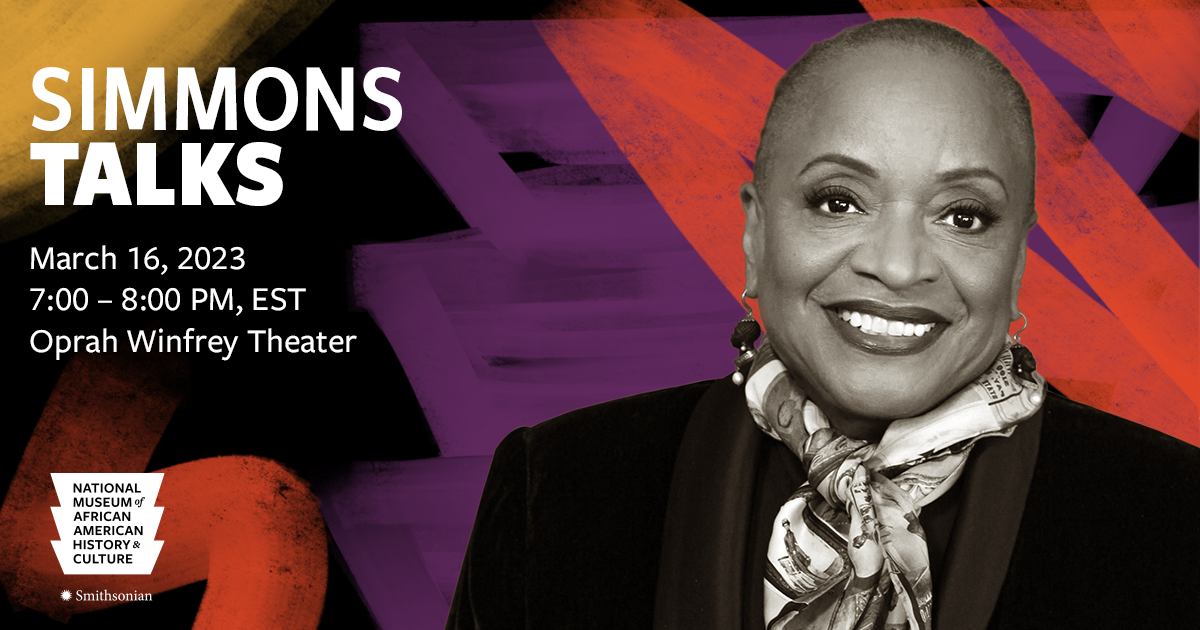 I drew inspiration from Dr. Simmons herself: a distinguished member of the NMAAHC National Council and an esteemed educator—President Emerita of Brown University, President Emerita of Smith College, and former President of Prairie View A&M University—she is also known as a warm, supportive leader. Her drive to extend learning and recognition to others inspired me to put her in the center of the design, creating a custom hand-drawn portrait in a style that extended through the painterly lines and circular "suns" in the materials, echoing her work to shed light and raise awareness.
The inaugural event in the series also happened to feature artists who are personal heroes of mine. Photographer and scholar Deborah Willis moderated a conversation with painter Amy Sherald, known widely for her portraits of Michelle Obama and Breonna Taylor, and fabric artist Bisa Bulter, whose quilted works layer history and representation. While future Simmons Talks guests will explore topics outside the art world, it felt right to draw on the emotional impact of these artists' dynamic, multi-faceted portraits to establish the look and energy of the Simmons Talk series.
Extending an established brand
Constraints can be as important as inspiration for good design, and we're fortunate to work closely with NMAAHC's design team and understand the careful design system they've established. Knowing their brand and visual guides well, while also pushing at the edges of their standard design, makes it possible to create something that feels both new and deeply grounded within NMAAHC.
NMAAHC uses the font family Freight Sans, developed by African American designer Joshua Darden, and so the choice for typographic connection between the Simmons Talks and other NMAAHC materials was made easy by the weights and variety available in that font family.
Choosing the deep purple, warm gold, and vibrant reds from within the NMAAHC color palette—and using only these colors alongside black and white for portraiture—was a purposeful choice to give the Simmons Talks its own distinctive and instantly recognizable style. It was important to me to showcase the bold colors from NMAAHC's palette that aren't always featured in their standard materials and allow for the brand to extend in new directions.
Movement to meet client and audience needs
In addition to illustration and color, motion is the final critical part of this design. While our brief included posters and rack cards, motion graphics in social media and during the event brought the brand to life.
Movement is required to stand out on social media, so our templated designs provide options for NMAAHC in this and future events to promote individual speakers and the event with vibrant but simple social graphics.
At the event itself, we provided NMAAHC with several options in response to their planned run-of-show. With the opportunity for live music to open and accompany the talk, I was thrilled that musician Nova Y. Payton and her accompanist performed live during the videos, perfectly complementing their message. With such a rich in-person experience, our video introductions utilized moving graphics and text to invite the audience in and create a cohesive, theater-like experience.
I'm so excited to see the continuation of the Simmons Talk, knowing we played a role in its establishment. The combination of design, illustration, motion graphics, and event engagement, all backed by a passion for the work and collaboration is the epitome of the work my team strives for at Forum One.