Blog Insights

Using Service Design to Map Your Digital Ecosystem
Two of our most used service design activities are ecosystem mapping and service blueprinting. These tools employ collaborative methods that engage both end-users and the organizations serving them.
Ecosystem mapping is a visual representation of all the components of an ecosystem, physical or digital, while service blueprinting creates a visual representation of a journey from both the "front stage" and "backstage" perspectives. The easiest way to think about service blueprinting is through an activity a lot of people have experience with, like getting a haircut.
Front stage, backstage
The "front stage" journey is what you, the customer, experiences. This means researching hair salons, choosing the best option for you, calling to make an appointment, then receiving a haircut and paying for the service.
The "backstage" is everything that happens behind the scenes at the same time as the customer is experiencing the "front stage" journey. While the customer is researching salons, the salon owner is executing an SEO strategy, cultivating positive reviews on Google and Yelp, and ensuring their business's social media presence is up to date. When the customer calls to make an appointment, the corresponding backstage step is the salon staff utilizing their scheduling system to book the new customer's service. It even extends to the service experience—while the customer gets their hair cut, the hairstylist is confirming inventory, keeping on schedule for the day, and doing the other necessary things to ensure a positive experience for the customer behind the scenes. Finally, when the customer pays for the service, salon staff will likely use a point-of-sale system to complete the transaction.
Together, separated by the line of visibility, this creates a service blueprint.
Service blueprinting is a key step in mapping your digital ecosystem. Once you've created a basic service blueprint that documents the human or technological elements of an experience, as we did with the haircut example, you can expand upon the blueprint to capture integrations, marketing funnels, and other relevant considerations. This gives you a good understanding of how each element in the ecosystem connects and highlights where bottlenecks exist and how improvements can be made. As you build out your service blueprint, adding more and more elements, you are laying the groundwork for your ecosystem map. A robust ecosystem map would be made up of many different service blueprints, not only documenting how different technologies interact but also the front and backstage journeys involved.
Personalizing your approach
The beauty of service blueprinting is that you can adapt it to best suit your situation. Are you looking to improve a service experience? This is an opportunity to build out a service blueprint detailing various customer or user journeys, annotated with quotes from your audience research. You can color-code annotations based on whether they are positive or negative. As you zoom out of the blueprint, you will have a good sense of where the customer or user experience can be improved. Are you looking to improve the way users find and interact with your brand digitally? Create a service blueprint detailing different ways users find you and your digital products, and map them to what your organization is doing behind the scenes to capture a wider audience.
Here are a couple of ways we have used service blueprinting for clients across sectors and industries to solve their problems.
Case in point: the National Council for Mental Wellbeing
The National Council for Mental Wellbeing was struggling with its content development workflows. One of their large organizational goals was to improve thought leadership within their space but found that as they tried to increase their blog posts and other marketing efforts, off-brand content was slipping through the cracks, and assignments were being lost between teams.
We conducted interviews with internal stakeholders—anyone who had a hand in content development, from ideation to pressing publish in their website CMS. We created an ecosystem map to visualize when touch points existed in the publishing process. This allowed us to clearly identify bottlenecks and areas for improvement. Once we confirmed the ecosystem map was accurate, we moved on to creating a future state service blueprint of the content workflow. Within the blueprint, we could identify changes that needed to be made to staff roles, the flow of information, and any technical requirements or documentation needed to put the plan into action.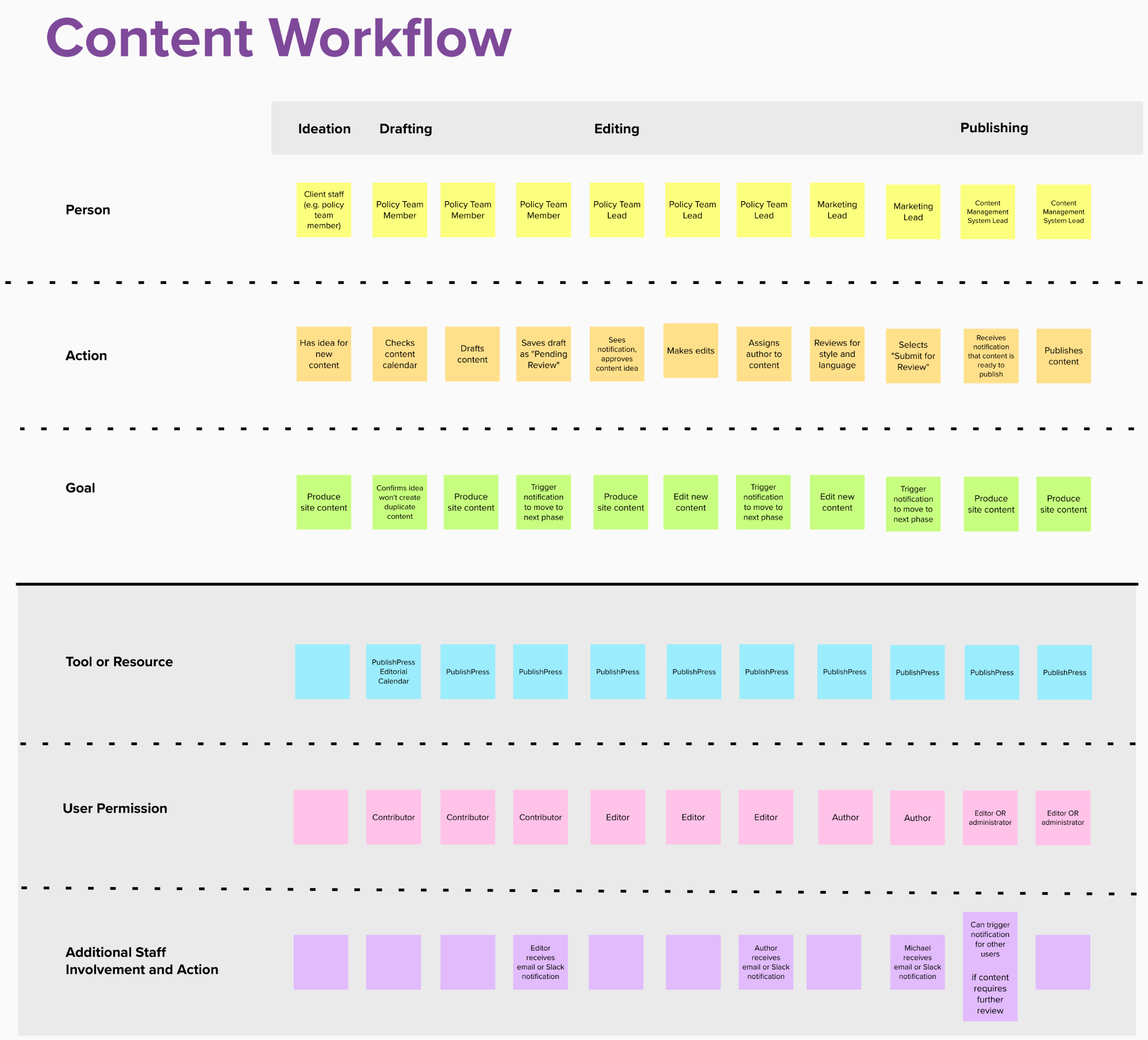 Case in point: the Washington State All Payer Claims Database
The Washington State All Payer Claims Database (WA-APCD) was struggling with the process they had in place for distributing data to their constituents. They were legally allowed to provide certain types of data if the requesters met specific criteria. The team was struggling to present these regulations, qualifying criteria, and instructions for requesting data in a digestible format on their website. This resulted in the organization being inundated with emails from everyone who wanted data or had a question about the process.
We spoke with previous data requesters, both those who had successfully completed the process and those who hadn't been able to receive the data they sought, to identify specific pain points and understand their most important needs. We also conducted research with the client to understand the existing processes and what solution would provide the best experience for them. This work resulted in a service blueprint that incorporated several new tools and better-utilized tools they were already using. We helped them better organize the presentation of information on their website and drive visitors to the automated process, resulting in less administrative drain for their staff.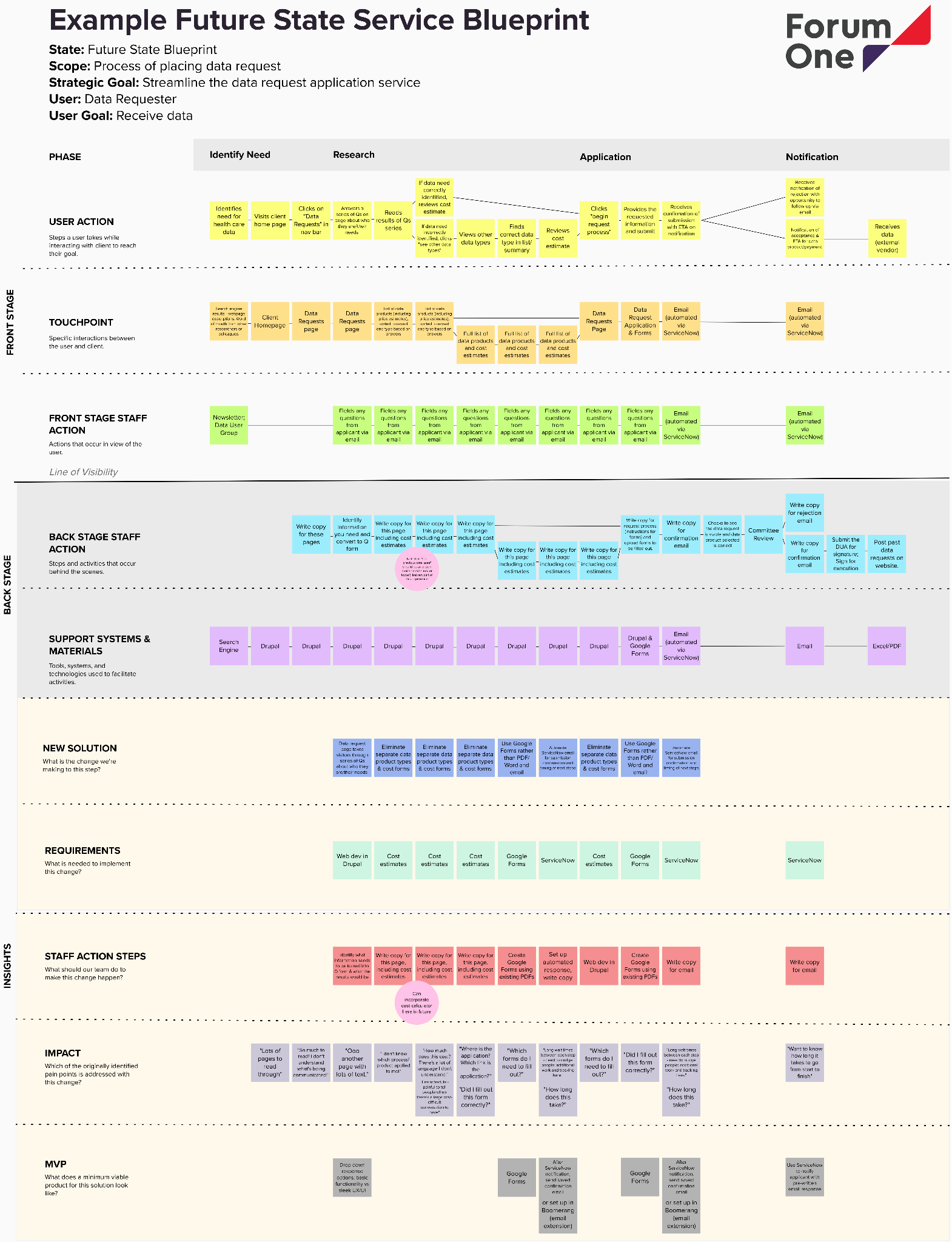 Tackling your next problem
No matter how small or large your business challenge is, service blueprinting and ecosystem mapping are great first steps. They allow you to capture the information available to you and identify areas of improvement. Service blueprinting and ecosystem mapping provide the blueprint to create a solution. Next time you face a problem and aren't sure how to begin, try one of these service design methodologies to get started.
Get in touch!
Forum One partners with some of the most forward-thinking organizations to help solve big challenges. We'd love you to join our innovative community of nonprofits, foundations, and government agencies.