Blog Insights

Vote Today for Our #23NTC Sessions!
Forum One and friends have five great submissions for next year's #23NTC in Denver. Take a look and cast your vote so that we can share some pretty spectacular and helpful insight and stories with you next April!
The annual Nonprofit Technology Conference (NTC) is NTEN's signature technology event. It brings together over 2,000 of the best and brightest nonprofit professionals from around the world. Together, participants collaborate, innovate, and discover new ways to spark change with technology.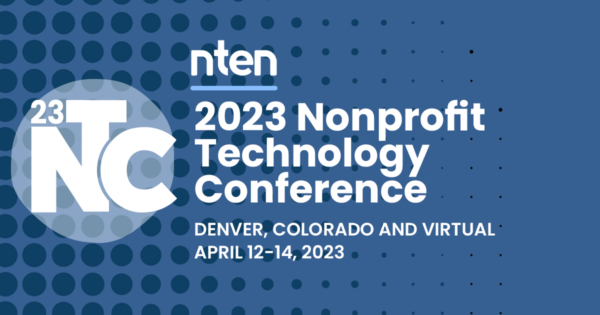 Every year NTEN uses a community-driven process to develop the agenda. It starts with a six-week period to gather session proposals from the community, followed by two weeks of voting — which just started this week! Go ahead and vote on the sessions you'd love to see at the conference. Voting is open to everyone and ends October 25th, so be sure to mark your favorites now!
What does Forum One have in mind? Here are our five submissions that we'd love for you to support!
---
Create Impact with Inclusive Audience Research
Presenter(s): Amanda Halacy, Senior Strategist, Forum One; Julia Bradshaw, User Experience Design Lead, Forum One
Many organizations understand the value of speaking directly to their audiences. You may even be planning some audience research in the near future. Who you speak to and how you structure your research has a big impact on the findings you gather and insights you can take action on. What does it mean to conduct this research in an inclusive way?
In this session, we'll discuss what inclusive research looks like and give you concrete tips for how you can ethically structure your research to ensure you're designing impactful solutions for your audiences. Specifically, we'll cover:
How to think critically when you consider the research participants, methodology and moderator.
Ensure that your communications from recruitment to follow-up are based on inclusive principles.
How to mitigate the extractive nature of research.
During this session, you will have the opportunity to put what you've learned into practice through case studies and activities. You'll walk away from this session with a new perspective on conducting research and the right tools to ensure the inclusivity of your research practice moving forward.
---
Paid Social and Search: Worth the Investment for Nonprofits?
Presenter(s): Steven Bond, Managing Director of Digital Marketing, Forum One; Christina Crawley, Managing Director of Marketing, Forum One
Over the last few years across the board, communications and marketing teams are having to increase their investment in digital advertising—from Google Ads to social media spend. For the nonprofit sector, while there is a lot that can be done within SEO and organic social media, "pay-to-play" is, for better or worse, becoming a more valuable avenue to get audiences to engage, volunteer, and donate.
The current state of SEO and organic social media and the reality that what you post is likely not being seen by as many of your followers as you may think.
We'll share benchmarks from other nonprofits you can use to evaluate your own communication.
Real-world examples of how nonprofits are already investing more deeply in their advertising budget and seeing valuable ROI.
What an advertising budget looks like based on the size of your organization and audience.
You'll walk away with some practical questions to address within your own nonprofit's marketing strategy, and what next steps are necessary to move your digital advertising strategy forward.
---
Increasing Your Nonprofit's Impact with Service Design
Presenter(s): Julia Bradshaw, User Experience Design Lead, Forum One
Now more than ever, people rely on technology. It can get complicated quickly since there are so many touchpoints for people to get information—from engaging with your website, to following you on social media, contacting you by phone, meeting you in-person, receiving your printed materials in the mail, etc. With so many avenues, how can you ensure that your audience touchpoints are consistent, connected, and helpful? Enter the service blueprint!
During this session, you'll learn:
What a service blueprint is and specifically how it's valuable for nonprofits
How to create and customize a service blueprint within the context of your own organization.
How to use your service blueprint to identify gaps and opportunities in your organization's service and information delivery.
By the end, you'll be able to create your own service blueprint and understand how service design can help you improve your audience's experience with your organization, and in turn amplifying your impact.
---
Transforming an 85y.o. Institution into a Digital Powerhouse
Presenter(s): Cindy Rahman, Chief Marketing Officer, March of Dimes; Elisabeth Bradley, Chief Strategy Officer, Forum One
The March of Dimes is an 85 year old organization with broad name recognition and a proven track record, but limited public understanding of the organization's current work on maternal and infant health equity. When new leadership came in in 2017, they prioritized digital, looking to tech companies like Amazon and Uber for inspiration. But how do you translate commercial trends to the impact space, and how do you actually get it done in a complex organization with entrenched ways of doing business? In this session, we'll talk about:
Effective stakeholder engagement
How to think omnichannel in a siloed organization
The importance of an audience-centric approach
Data, data, data
Building a solid foundation when leaders are eager for results
---
Rethinking Your Digital Ecosystem from the Ground Up
Presenter(s): Katelyn McArdle, Digital Strategy Manager, Children's Hospital Colorado Foundation; Jenn Johnson, Managing Director of Client Servicies, Forum One
While undergoing a recent online storytelling strategy refresh so that digital content more closely aligned with an in-person experience, the Children's Hospital Colorado Foundation realized it needed to rethink its entire digital ecosystem from the ground up to better attract, engage and grow their target audiences, including donors and supporters.
In this session, we'll discuss how they went about doing that. Specifically, we'll explore:
Audience research: how speaking with current and potential audiences (donors, stakeholders, etc.) was a huge part of knowing what digital tools and platforms mattered.
Conducting a comprehensive landscape analysis: undergoing a full technical ecosystem, communications, and analytics audit to understand the state of play.
Goals and priorities setting: using both audience research and the technical audit to determine the right digital goals and priorities needed for a successful, new digital strategy.
By the end of this session, you'll have a good sense of a 3-step approach to better understanding how to map and review your organization's digital ecosystem.