ALS Association

From the Ice Bucket Challenge to a Lasting Digital Strategy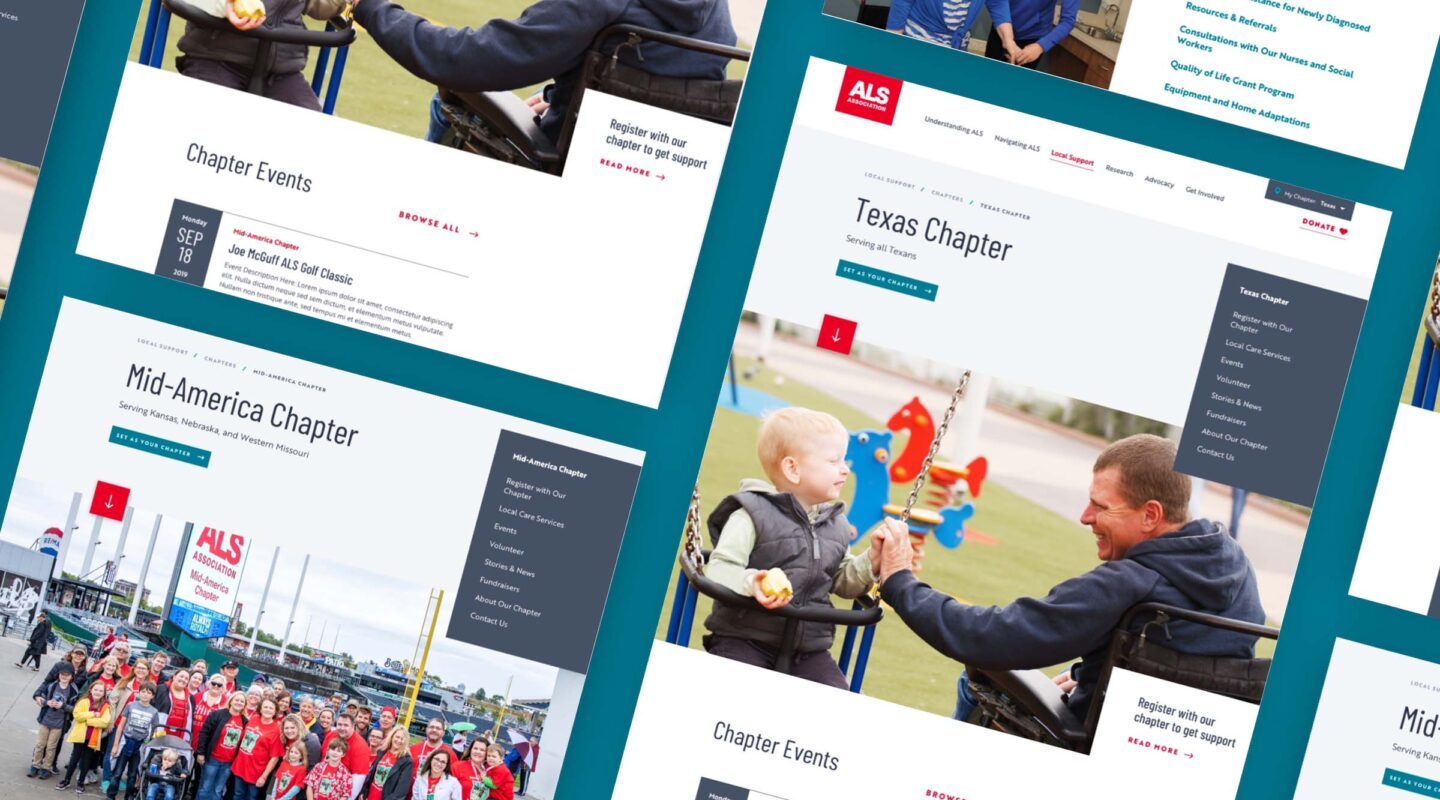 Following the success of the well-known Ice Bucket Challenge, The ALS Association was faced with the question, "what's next?" The Association looked towards its digital properties and strategy to embark on a major digital transformation.
See Impact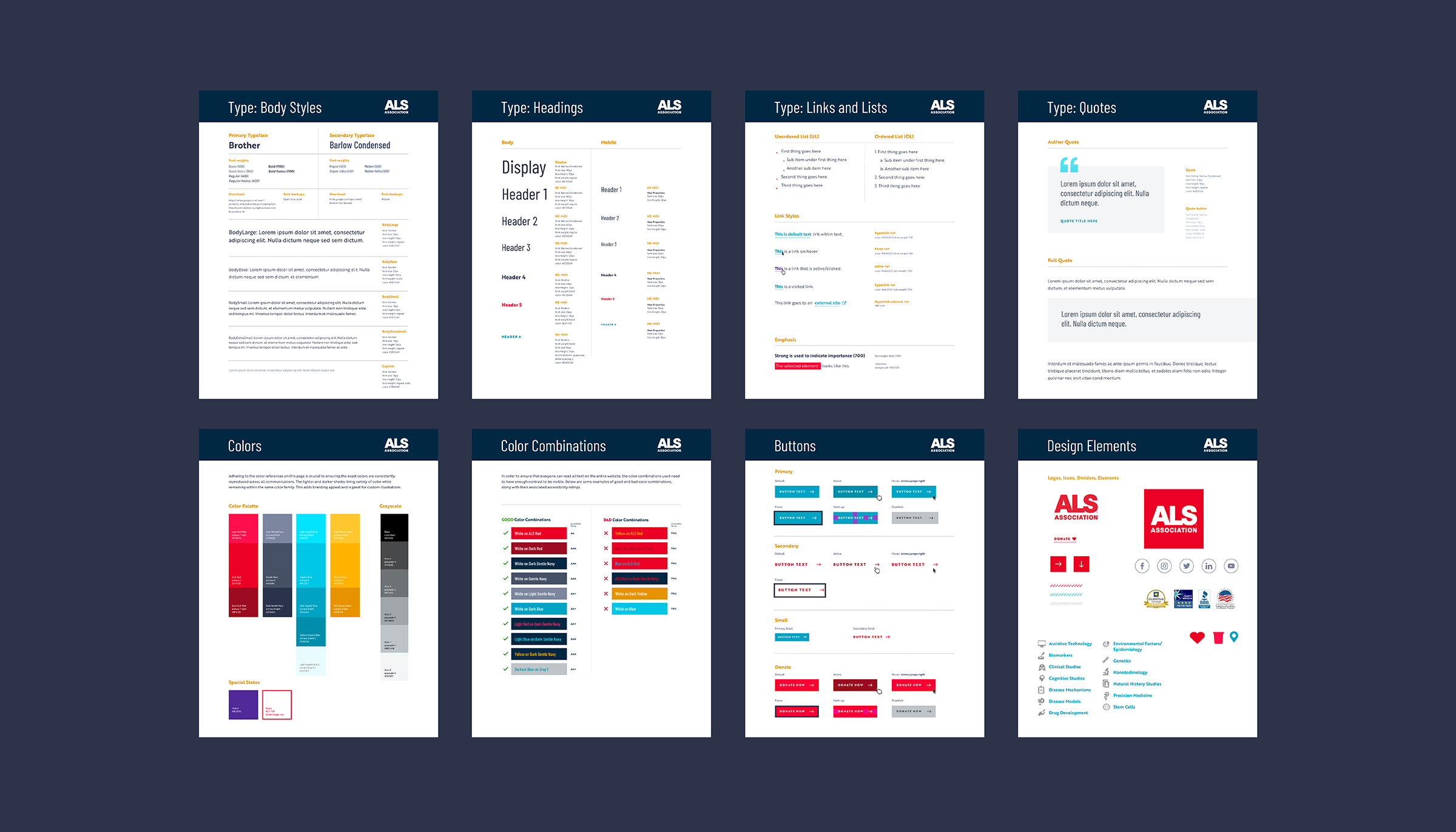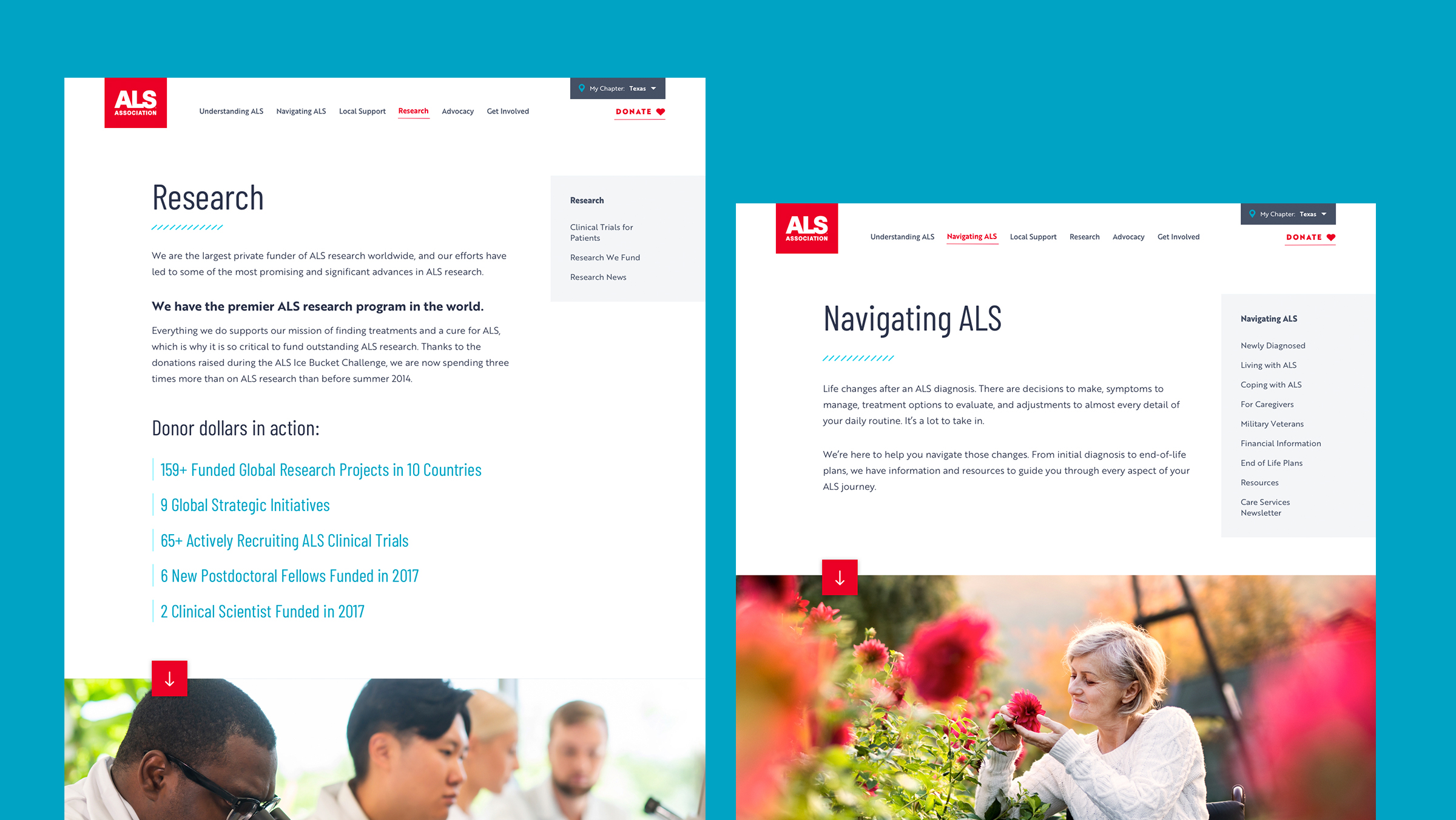 The ALS Association is a national nonprofit with a mission to discover treatments and a cure for the progressive neurodegenerative disease Amyotrophic Lateral Sclerosis (ALS), while also supporting and advocating for people with ALS to improve their quality of life. In addition to serving as the largest private funder of ALS research worldwide, the national ALS Association provides support through a network of 39 U.S. chapters, coordinates clinical care, builds partnerships, and advocates for government action to support and empower people affected by ALS.
Following the success of the well-known Ice Bucket Challenge, The ALS Association was faced with the question, "what's next?" The Association looked towards its digital properties and strategy to embark on a major digital transformation, including a major CMS and CRM migration from Luminate and Blackbaud to Drupal 8 and Salesforce, as well as implementing Classy for donations. These changes were paramount in creating a unified digital ecosystem that in turn provided a more engaging experience for their audiences.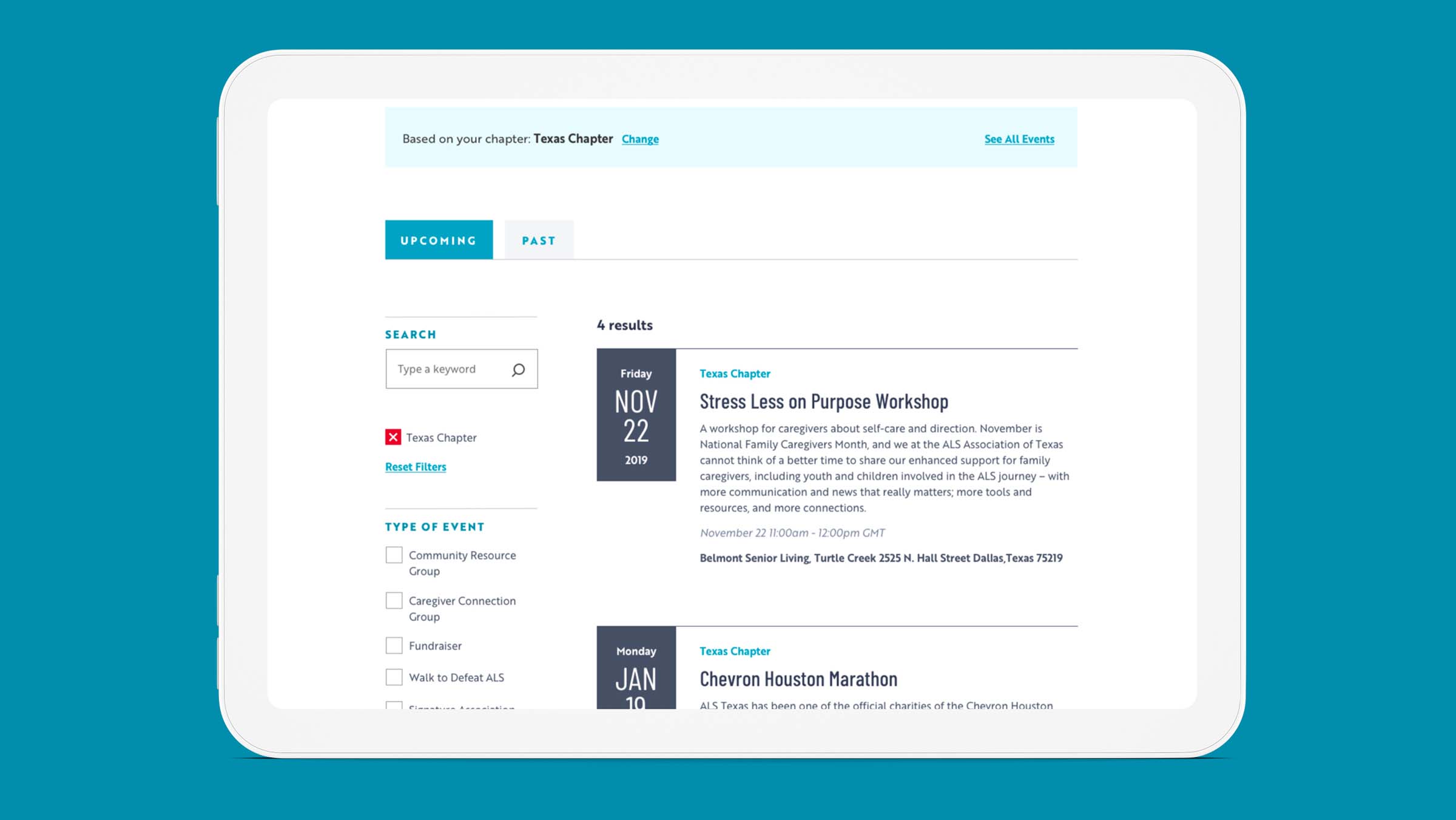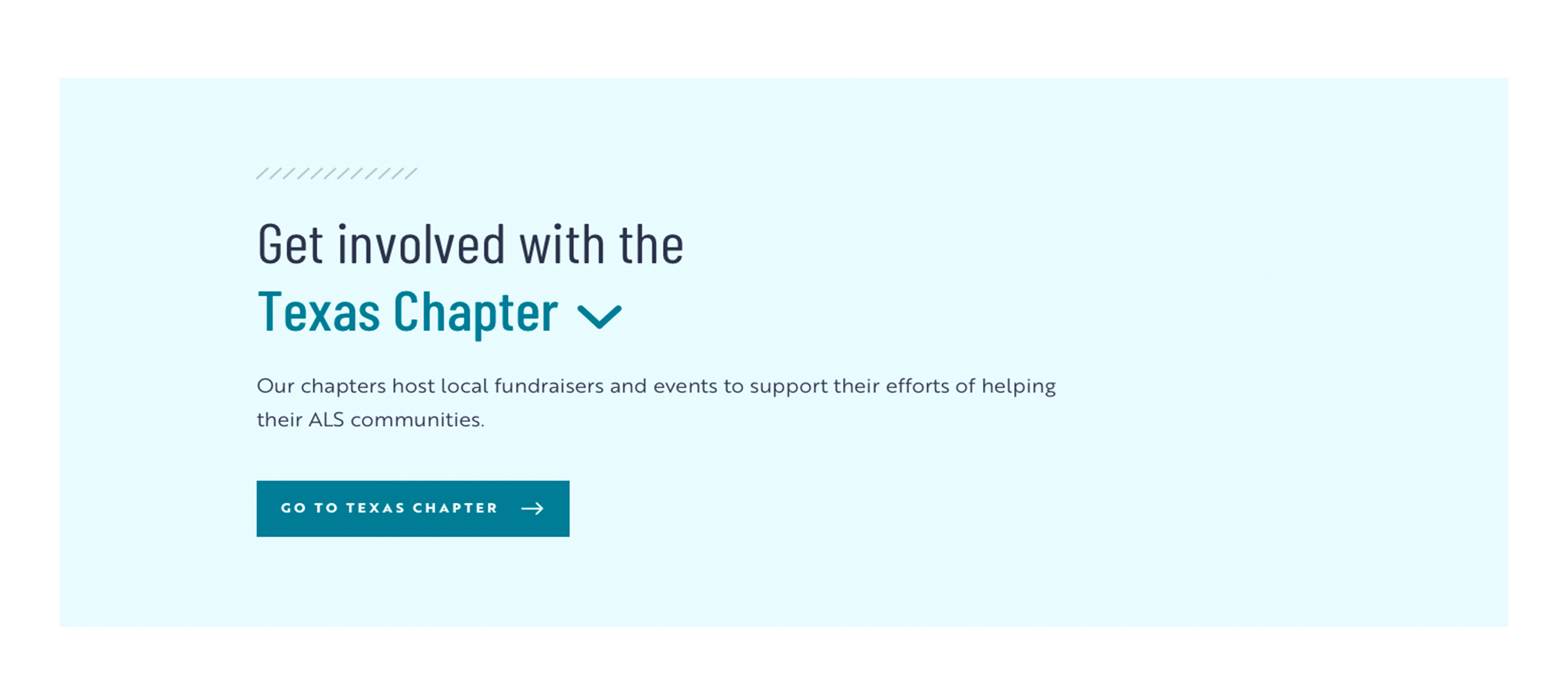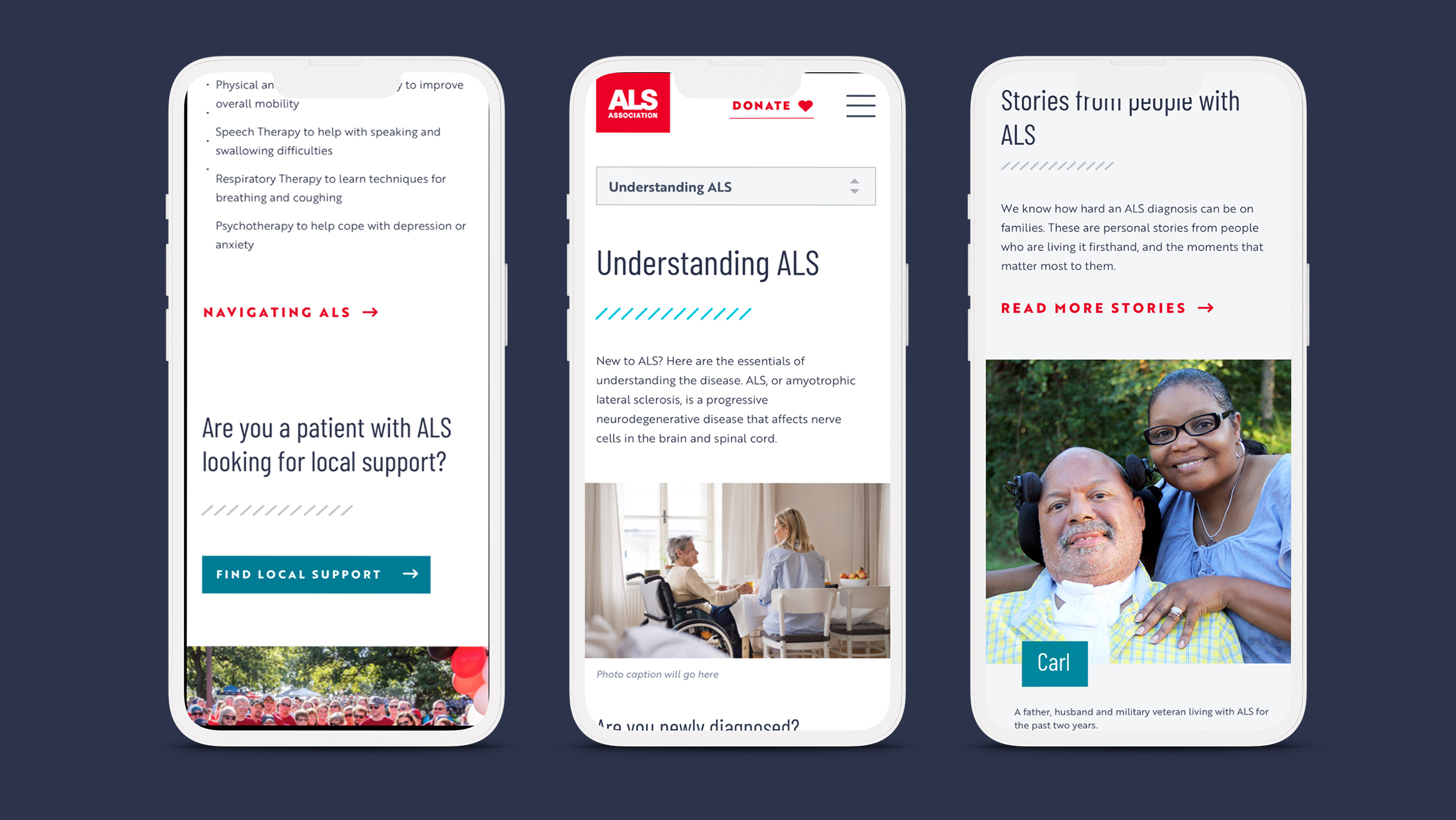 After an in-depth discovery phase—including research, workshops, and interviews with both national and chapter audiences and stakeholders—recommended a strategy to improve the user experience for all audiences, redesign and develop the main ALS website in Drupal 8, and integrate the organization's digital ecosystem and governance systems to make it easier and more efficient for national and chapter staff and volunteers to manage content and measure their success.
Addressing version control for a better user experience
Before the digital transformation project, the ALS Association had a national website and individual sites for each regional chapter, which was causing issues with version control. If a piece of content was updated on the main ALS Association website, each chapter website would then need to update it as well. The potential of having outdated information on some of the sites was, understandably, a major concern due to the complexity of the disease.

A standardized and flexible digital ecosystem
Forum One led the development of the new ALS.org digital ecosystem. With Drupal 8 as the new CMS, the team planned and oversaw content migration and provided technical architecture planning and implementation support to integrate the Drupal 8 CMS with Salesforce and Classy. Forum One also conducted usability testing to implement the most effective donation pathways on the new site, and led staff training to set national and chapter stakeholders up for success with the new digital ecosystem tools.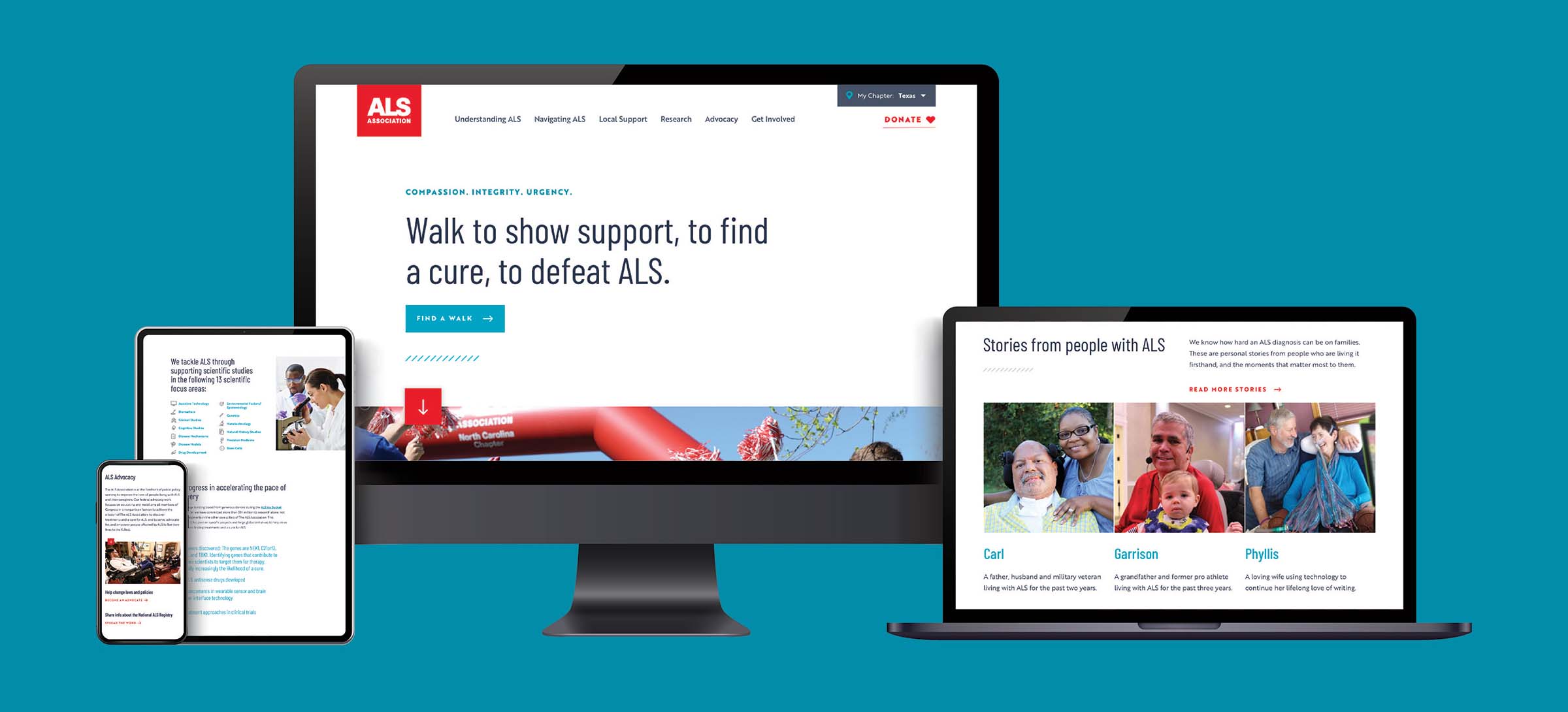 Publish everywhere and geolocation
Under a common digital umbrella, content can now be updated in one place thanks to the implementation of a Create Once Publish Everywhere (COPE) solution in Drupal 8, allowing content to be published to other destinations and websites. As a result, ALS Association content contributors are more efficient and consistent, allowing the team to focus on conveying reassuring and comforting messaging to people who are feeling anxious about this disease and amplifying the association's voice and message across the 39 geographically dispersed chapters and beyond.
Personalization through geolocation
The implementation of geolocation now makes it easier for the ALS Association to identify potential donors and provide them with custom options to get involved. The new donation pathway allows users to choose exactly where their donation will go, whether it is to the overall association or a specific local chapter. Having the chapters all on one site allows this messaging to be consistent while still providing personalized location information and resources.
Forum One also developed a custom module and interface to determine a user's geolocation based on their IP address. Using the Google Maps API to transform data as necessary, the module is able to look up zip codes to associate with a local chapter and configures the Smart Content module to provide localized content. Forum One's technology team also developed a custom module to control redirects to Classy based on geolocation.
What's next?
Because the website redesign and digital ecosystem create a centralized and easier to manage platform for the Association to serve its diverse audiences and stakeholders, the organization is able to focus less time on technical issues and more time on how they can use their digital platforms to assist in carrying out their mission. Our team continues to support the ALS Association to extend this digital transformation across the chapter sites, and support and continuously enhance how its digital ecosystem generates greater impact to achieve its wide-reaching mission.