Happy Holidays, ETS NAEP Team!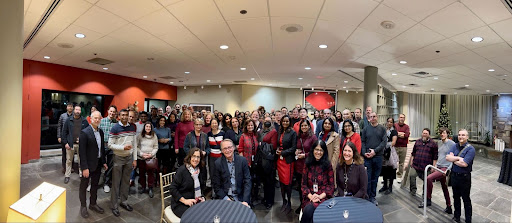 Thank you from all of us at Forum One!
It has been such a pleasure working with you all and supporting the great work this past year. Thank you for your constant support, vision, and dedication. We hope this holiday season you have time to reflect on all the hard work of the past year and look forward to all the opportunities of the coming year. We're excited to support your continued success in 2023!
Why we love working with you.
When we chatted as a team, here are a few thoughts and reflections that were shared that show just how grateful we are to have the honor of working with your team.
I'm grateful for the way that ETS works collaboratively with us. It has been rewarding to work with a client where we can learn from each other, and where there is a level of trust that allows us to do our best work.

Elyse Coberly, Senior Data Analyst, Forum One
This year was a particular battle, what with the pressure and timelines and all, but it's always great to go into battle with this team! We have developed a great collaboration level and it allows us all to work for the best outcomes! Thanks for being awesome!

Tim Shaw, User Experiece Director
ETS is a great partner and I wouldn't want to be in stressful time-crunch situations with any other team. Thank you for your collaborative efforts, managing expectations and timelines, and being an amazing team for us to work with. Happy Holidays to you all!

Aki Jain, Senior Project Manager
Thank you ETS team for being such a supportive and collaborative partner! It has been a pleasure working with you all this past year and looking forward to working with you in the year to come. Wishing you a joyous holiday season with peace & cheer in the New Year!

Angele Malhotra, Account Manager
The focus, precision, expertise, level-headedness, and humor you bring to this work amaze me every day. Where it could be horrible, this work is a joy because of each of you.

Bridget Veerhoff, Practice Director
Happy holidays from our team to yours!
Looking forward to another great year working with you!
Aki Jain, Senior Project Manager (Arlington, Virginia]
Angele Malholtra, Account Manager (Fairfax, VA)
Tim Shaw, UX Lead (Alexandria, VA)
Bridget Veerhoff, Project Manager (Seattle, WA)
Michael Drayer, Tech Lead (Washington, DC)
Rachel Feltes, User Experience Designer (Madison, WI)
Elyse Coberly, Senior Data Analyst (Denver, CO)
KJ Monahan, Front-end Developer (St.Louis, MO)
Cody Pitts, Front-end Developer (Seattle, WA)
Jack Gold, Front-end Developer (Queens, NY)
Stephanie Gutowski, Quality Assurance (Contractor)
Corinne Colley, Quality Assurance (Contractor)