Blog Insights

Conversational Marketing is the Norm, Not the Exception
Conversational marketing is the norm, not the exception. As organizations explore heading back to the office, cultural institutions re-open, and nonprofits relaunch in-person opportunities to connect, conversational marketing is a valuable way to deepen connections with online visitors.
Digital platforms are the primary tool organizations use to communicate, engage, and interact with their audiences. According to Drift's 2021 State of Conversational Marketing Report, 8 out of 10 respondents reported having a Conversational Marketing solution, proving to be an invaluable engagement method for many companies and mission-driven organizations during the pandemic. Conversational marketing is a quick and personalized support mechanism for an organization's website visitors.
From our discussions with nonprofits, foundations, associations, think tanks, and government agencies over the last two years, a common challenge is the ability to communicate changes, updates, and brand-new information to visitors and contacts. As you look to build out your 2023 digital strategy, here are three big areas we see conversational marketing playing a significant support role.
Modernized communication
Conversation-based communication has become the norm in most aspects of everyday life. We email a lot less and chat a lot more with co-workers, friends, and family via text or instant messages. The result is an increasingly informal communication style, where we forgo using formal phrases with a more informal "hi there!" While beneficial to many organizations, this shift presents challenges—users expect organizations to be available off-hours, and to be able to provide information instantly.
With conversational marketing, mission-driven organizations are able to provide real-time live or automated support that can answer FAQs, solicit information, and provide extra support that is both friendly and prompt. With roughly 90% of consumers having a neutral or positive experience with conversational marketing, this form of communication is an invaluable resource to companies that want to provide services in a more modernized and informal fashion.
Multilingual chatbots
A recent study conducted in 10 countries found that 67% of consumers prefer navigation and content in their language, making multilingual conversation marketing strategies critical to organizations with audiences that speak different languages. If your website needs to cater to users who do not speak English, a number of conversational marketing platforms allow you to configure your chatbot to support different languages so that non-English speakers can experience the same real-time engagement. Veloce's website, which provides a seamless conversational marketing experience in both English and French, is a great example.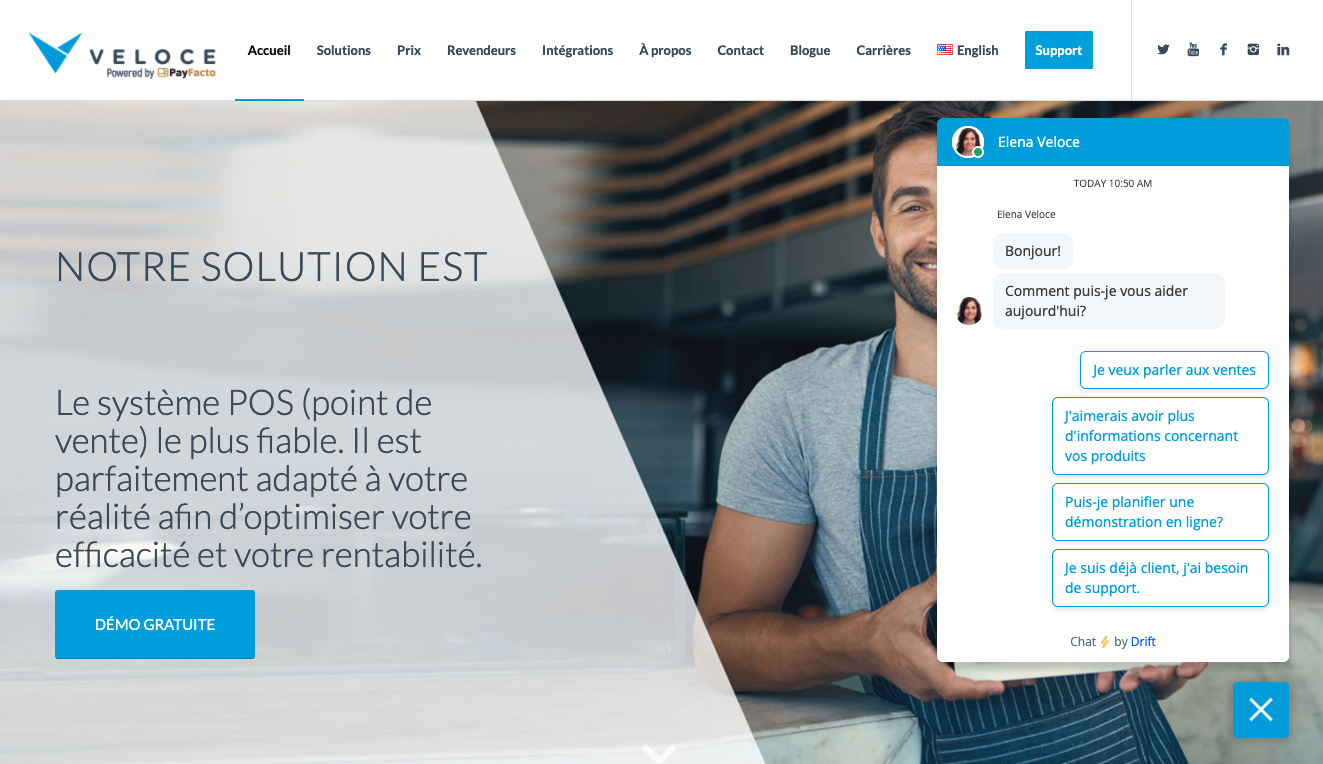 Website accessibility
Conversational marketing allows your websites to be more accessible and breaks down accessibility barriers that other forms of digital marketing have previously struggled to tackle. For example, with a widget that helps online users to navigate the conversational marketing chatbot on a website, visually-impaired users are able to engage in a real-time conversational experience that better connects them to a mission and supports their navigation and information search.
Conversational marketing is customizable by nature, enabling organizations to provide an experience that incorporates fonts and colors that make the website more accessible to its users.
Customization and personalization
Digging deeper into customization, conversational marketing allows for more unique approaches and experiences that will resonate with different types of online visitors. Creative examples of this include Casey, a Wombat conversational marketing chatbot that our partners at the Council for Advancement and Support of Education (CASE) use on their website. Since launching Casey in 2020, CASE has seen a major increase in member engagement and event registration.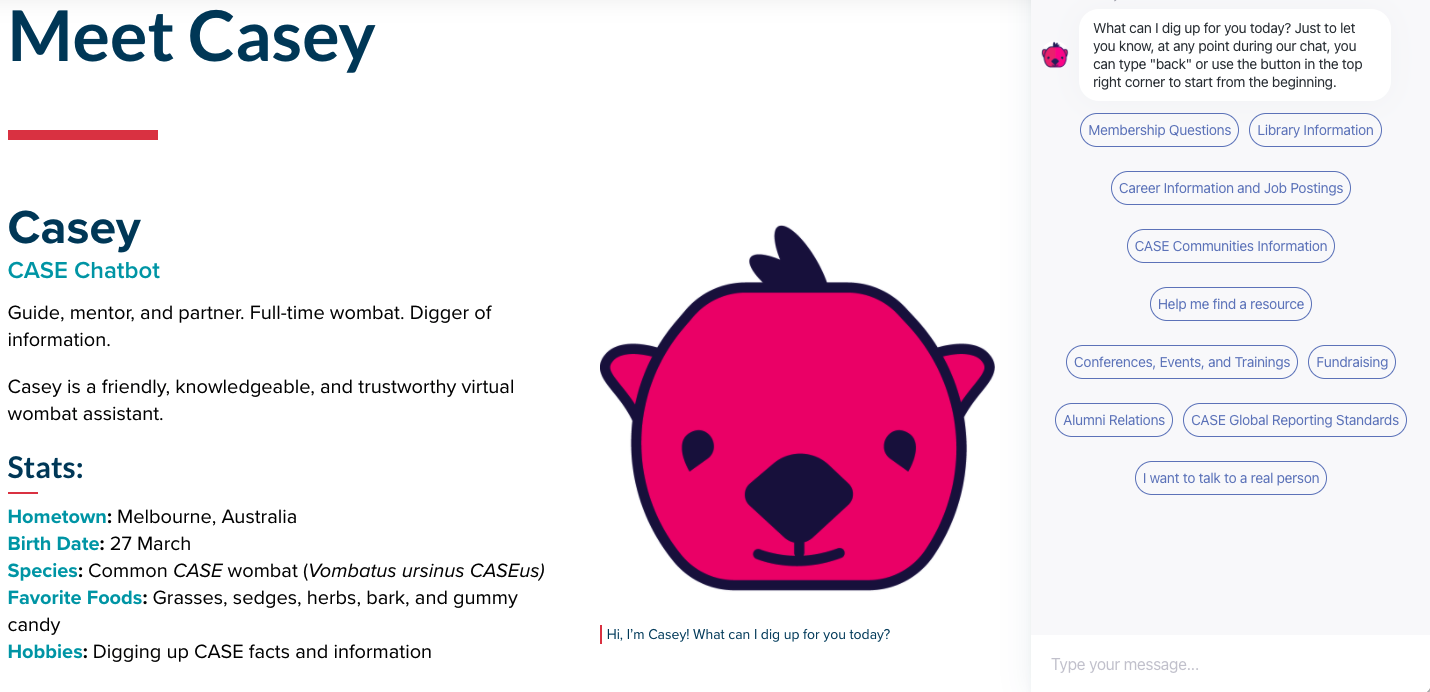 The creative strategies organizations can employ with their conversational marketing are numerous. Connecting this engagement with your overall brand and mission—as CASE did with Casey—can amplify the connection your users feel when on your site.
Conversational marketing is a norm that many people are both comfortable with and expect when they have a particular question that they went to your site to answer. It allows you to communicate with your audience base in an informal yet welcoming way while making your website more accessible and unique.
With so many benefits, we recommend that you seriously consider integrating conversational marketing into your digital strategy.
Looking to integrate conversational marketing into your web strategy? Let's talk.
Forum One works with mission-driven organizations and government agencies to create connections with users in real-time through thoughtful conversational marketing strategies. Get in touch today.