White Paper

Putting People First: Improving the Customer Experience of Government Services
CX has the power to change how government works.
A positive customer experience greatly affects an organization's success. Successful companies have long understood the importance of focusing on customer experience (CX) to create user-friendly online experiences and improve their bottom line.
Government agencies are now catching up by adopting innovative technologies and hiring chief experience officers to enhance citizen trust and satisfaction. A December 2021 Executive Order mandated that the federal government learn from companies like Amazon, Nike, and Apple to invest more in the customer experience. This shift in mindset acknowledges that the public should be treated as customers who expect excellent service.
But many agencies are still falling short.
While citizen satisfaction in government services increased by 4.6% in 2022, it remains lower than satisfaction in other industries. To address this, agencies must deliver faster, better, more accessible, and more inclusive digital services that meet or exceed citizen expectations.
Putting people first: a white paper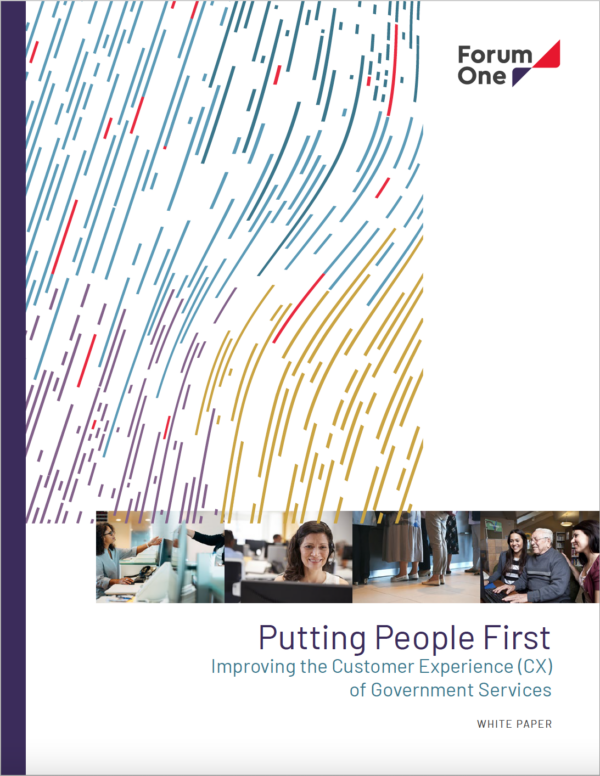 In this white paper, we share insights from Forum One's digital strategy experts who have spent decades working with government agencies to improve customer experience and user experience.
What we cover
Why putting people first improves digital experience
What we can learn from successful agencies and CX projects
How to implement CX approaches in government services