Blog Insights

Healthcare Ad Awards Winners Announced
We are excited to share that Forum One received 8 awards in 3 different categories from the Healthcare Ad Awards!
The Healthcare Ad Awards began forty years ago as a national competition to recognize the field of healthcare marketing and advertising. Today, the industry has matured into a sophisticated and competitive field. For the 40th Annual Healthcare Advertising Awards, over 4,300 entries were received, making the awards the largest and the most well-recognized healthcare advertising awards competition. A national panel of judges was engaged in reviewing all entries based on creativity, quality, message effectiveness, consumer appeal, graphic design, and overall impact.
This year, Forum One took home three gold, two silver, two bronze, and one merit award in the website, apps, and interactive, and annual report categories. Read below to learn more about each of the Healthcare Ad awards projects.
Support Children's Colorado Foundation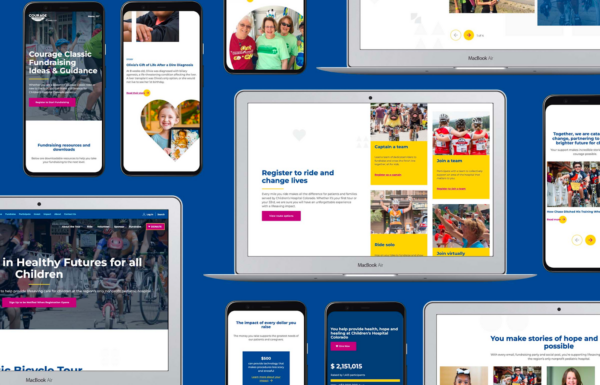 Established in 1978, Children's Hospital Colorado Foundation is dedicated to advancing the mission of Children's Hospital Colorado through family-centered care and cutting-edge research and treatment. The goal of the Children's Hospital Colorado Foundation is to care for and cure children through the provision of high-quality care, education, research, and advocacy.
The Children's Hospital Colorado Foundation came to us with the goal of rethinking its digital ecosystem from the ground up and optimizing how they attract, engage, and grow their target audiences, including donors and supporters. To achieve this, Forum One conducted a comprehensive landscape analysis and full audits of their technical ecosystem, communications, and analytics as well as stakeholder interviews. All of this work ultimately informed the redesign of the Support Children's Colorado Foundation site which now helps the organization to understand the organization better and see the value of digital philanthropy.
Compass by March of Dimes
Gold – Apps and Interactive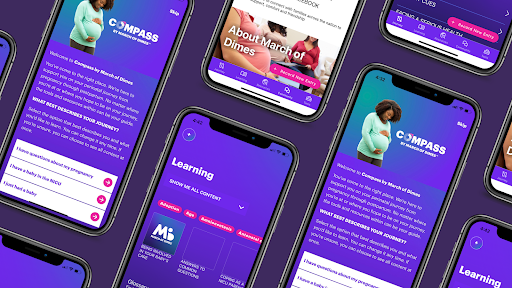 As part of March of Dimes' mission to fight for the health of all mothers and babies, March of Dimes came to Forum One with the goal of being the digital leader in providing families across the birthing continuum with comprehensive support at the right time to meet their needs. To achieve this, March of Dimes and Forum One worked together to develop Compass by March of Dimes. Compass is an app designed to support parents in their journey from pregnancy through postpartum by providing answers, resources, and compassion at every step.
City Health Dashboard
Gold – Apps and Interactive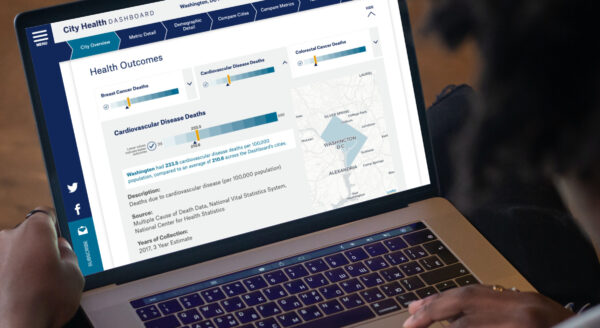 The City Health Dashboard's goal is to improve the health and well-being of people in communities throughout the United States. To do this, the dashboard provides city leaders and communities with an array of regularly updated data that is specific to neighborhood and/or city boundaries. Forum One designed and developed the City Health Dashboard with NYU Langone Health's Department of Population Health to share and compare data on 37 measures of public health across more than 500 U.S. cities.
County Health Rankings & Roadmaps
Silver – Apps and Interactive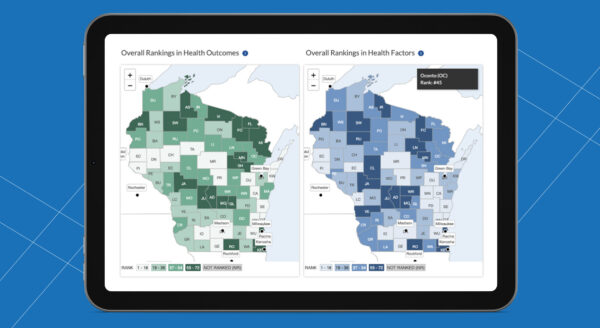 County Health Rankings & Roadmaps, a collaboration between the University of Wisconsin Population Health Institute and the Robert Wood Johnson Foundation, uses data to show how where we live matters to our health. For the past 11 annual Rankings, Forum One has developed responsive, increasingly sophisticated data visualizations and maps that let users explore and compare detailed public health information across more than 65 health factors and outcomes for more than 3,000 counties.
AARP Livability Index
Silver – Apps and Interactve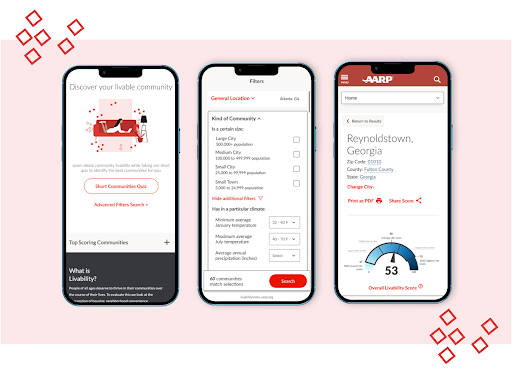 AARP is the nation's largest nonprofit, nonpartisan organization dedicated to empowering Americans 50 and older to choose how they live as they age. Within the organization, the AARP Public Policy Institute maintains the AARP Livability Index, a key tool in their mission to promote the development of sound, creative policies to address common needs for economic security, health care, and quality of life. Forum One helped the AARP Livability Index meet the needs of their audiences with an easier-to-use website and accessible data that informs consumer and policy decisions nationwide.
2022 State of Babies Yearbook (Zero to Three)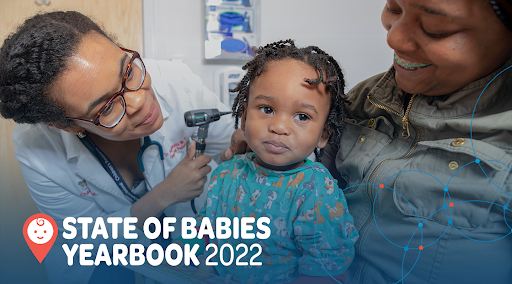 Zero to Three works to ensure all babies and toddlers have a strong start in life. Their annual report, the State of Babies Yearbook, frames rigorous research, unbiased analyses, and clear communications to influence decision-makers positioned to improve public policies and interventions in support of children and families. For the second year in a row, Forum One developed a brand-aligned design that was both easy to read and inviting. This 157-page report created a useful tool for Zero to Three's advocacy at any stage.
March of Dimes
March of Dimes is dedicated to leading the fight for the health of all moms and babies. Their goals are to end preventable maternal health risks and deaths, end preventable preterm birth and infant death, and close the health equity gap. Their work includes research, education for families and health professionals, support for families directly affected by the maternal health crisis, and advocacy. Forum One partnered with March of Dimes to consolidate their more than 40 web platforms to develop an easy and streamlined experience for audience members to engage as they like, as well as create a website that could clearly communicate their mission.
Washington All-Payer Claims Database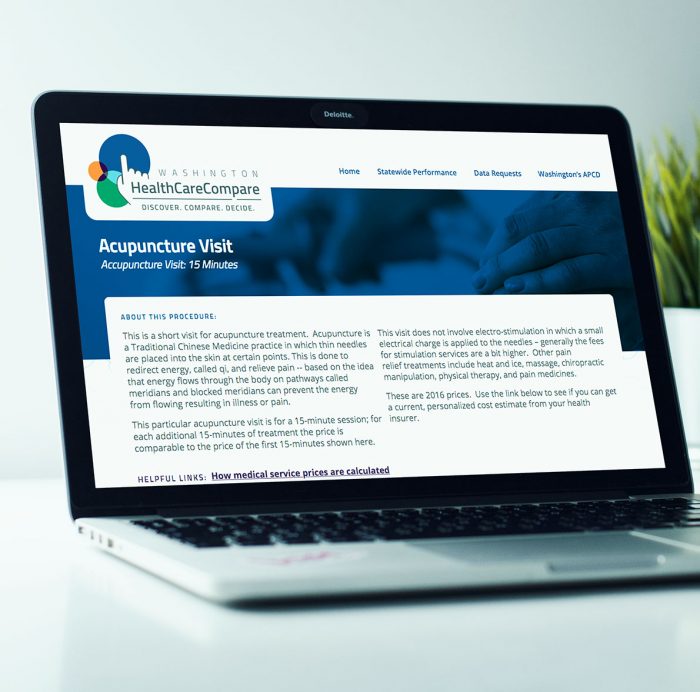 Forum One designed the brand identity and built the web application for the Washington All-Payer Claims Database (WA-APCD), a Washington State Governor's initiative to bring greater transparency to healthcare costs in the state and give residents powerful tools to make data-driven, informed decisions that maximize healthcare quality and value. The database provides actionable information and best practices for patients, providers, hospitals, and communities to understand the state of healthcare in Washington, and continuously improve healthcare quality and value through performance benchmarks and metrics.
We are honored to receive recognition in the 40th Healthcare Ad Awards and proud of the impactful work done by our teams and client partners.